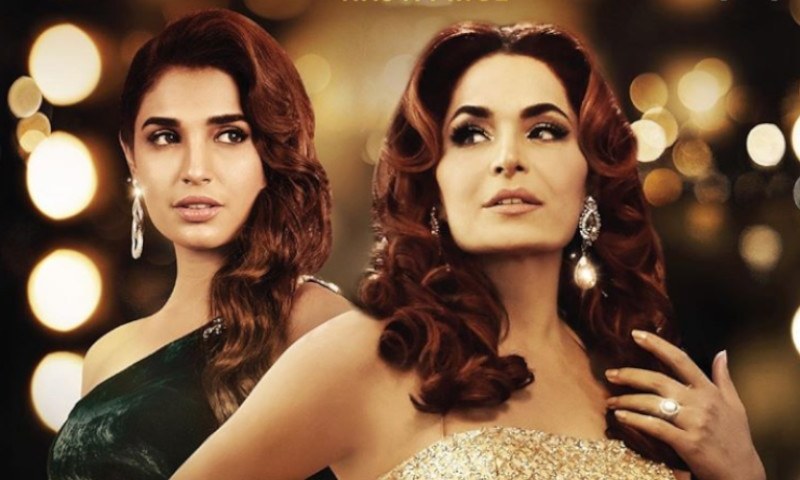 It is something that we have been long waiting for. A film that pushes the boundaries of Pakistani cinema while staying true to its roots and also bringing a sense of ownership to the period when the film industry struggled to produce quality content. The teaser of Saqib Malik's Baaji promises all this and much, much more. This is quite literally everything you have wanted Pakistani cinema to be, so brace yourself for the ride...

Showcasing a larger than life canvas....
The film's storyline about the journey of a superstar (Meera) on the wane, whose paths cross with "a girl who dares to dream big" (Amna Ilyas) literally has 'drama' written in big, bold letters all over it. Top that up with a "director with a grand vision" (Osman Khalid Butt) and Ali Kazmi in an edgy, racy role, and you have all the ingredients to set the silver screen on fire.

The teaser showcases the decadent lifestyle of a superstar, a potential rags to riches story, a director who finds his ultimate muse (probably with a catch), a jilted ex-lover out to scandalize a star….need we say more?! This is all the stuff of engaging, gripping cinema, and to think Saqib Malik managed all this while….
Staying true to Reality...
The minute and a half long teaser has a shot of Lahore's bawdy theater dance routines, and also shows the starry-eyed ambitions of those striving to make it big in the film industry. Also shown are what we believe are the unsavory elements, such as the characters played by Nayyar Ejaz and Ali Kazmi. Moreover, the film's unique storyline reflects the modern reality of Pakistani cinema where a paradigm shift has taken place following the end of the Lollywood era. And while the stars are definitely not playing themselves, some characters have…..

Echoes of Real Life Personas of its Stars...
A former star with a career witnessing turbulence following the emergence of new age Pakistani cinema? Does that sound familiar? Well, we hesitate to take names, but let's just say the casting of the film's leads is spot on. Amna Ilyas who will be playing the starry-eyed newbie in the film is pretty much the star with potentially big things on the horizon, and Osman Khalid Butt while looking every bit the new-age cinema director in the teaser, also has directorial ambitions in real life. And the film takes all of this one step further, by…
Paying Homage to Pakistani cinema's Heritage….

The clip sets a nostalgic tone with Amna Ilyas and Meera grooving to the reworking of "Yeh Aaj much ko kya huwa", Naheed Akhtar's iconic number from Naukar. We also get to see some shots mirroring the swiss-alps-and-sari routines of Yeh Dil Aap Ka Hua. And the teaser's concluding shots where Meera threatens "Love me or hate me, you can never replace me" seem to be a homage to the rather iconic final reels of the star's 2001 hit Khoey Ho Tum Kahan.
All in all, the teaser promises everything that we wanted Baaji to be. Watch it below, and let us know what you think!