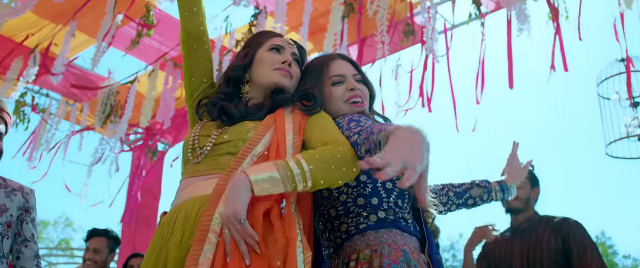 Get ready to move on Chhalawa's fun Shaadi dance number this Eid-ul-fitr...

What is Shiraz Uppal's secret of dishing out songs that have got us grooving? Sung by Nirmal Roy, Neha Chaudhry, Aashir Wajahat and Jabbar Abbas, Chhalawa's title track is out now and has all our attention. The video for the track checks out for both insanely lively and colourful eye candy, and upbeat music. You might have come for the music, but you will definitely stay back for the dance!
The fun, peppy song penned by Shakeel Sohail has a catchy tune accompanied by a brilliantly choreographed dance performance. The singers' rendition is bang on and gives off that typical happy flavour perfectly apt for the situation, which looks like a wedding. The composer deserves applause for this catchy dance track, that might just be the next shaadi song of the season. The lyrics are quirky and situational, and the racy beat will prompt you to break into bhangra too!
The song will set the mood right this festive season, as we see Mehwish Hayat and Zara Noor Abbas dancing to the music dressed in all happy, vibrant colours. With the very shadi-esque storyline, the track was definitely predictable, with the typical musical composition that you might be dancing to this shaadi season. Though, the music video gives happy vibes that have got us excited for the movie.
Chhalawa is a romantic comedy that stars Azfar Rehman and Mehwish Hayat with Zara Noor Abbas and Asad Siddiqui in pivotal roles. The movie will hit the cinemas this Eid-ul-Fitr and as of now, it looks like the perfect coming-of-age family entertainer that celebrates love, family and everything in between.