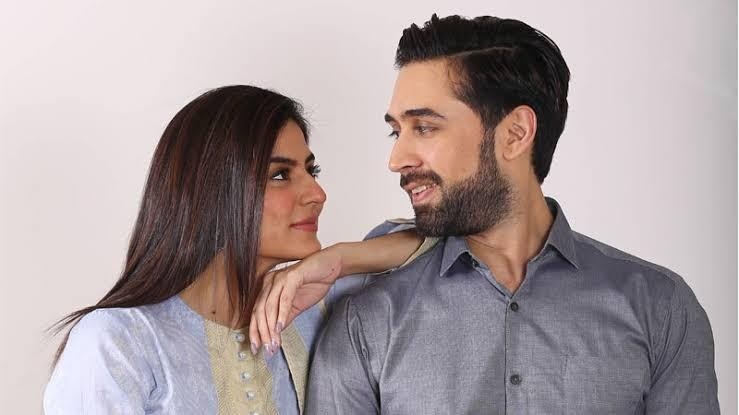 The episode was very light-hearted and entertaining...

The light-hearted and romantic play Khaas had its third episode aired last night taking the story forward a little while also making us more familiar with the lead characters. Ammar (Ali Rehman) is very egoistic and a narcissist who thinks no girl in this world can reject him while Saba (Sanam Baloch) is a very sensible and confident girl and also very good-natured.
The episode begins with the arrogant Amaar saying no to the proposal when Saba's family gives them a positive reply as he was expecting a prompt reply from them, on which his entire family gets mad at him especially his mother. Later when Saba interacts with her over the phone, his ego gets satisfied and he gives his consent for the proposal. A small engagement ceremony is organized and the two get hitched.
The interaction between Ammar & Saba on the day of their engagement was very cute and made us fall in love with this new on-screen couple. We would definitely love to see the duo together in the future as well. Sanam Baloch has proven her mettle for a very long time now, and Ali Rehman Khan compliments her well, after his success in Diyar-e-Dil and Main Khayaal Hoon Kisi Aur Ka.
After the engagement, Saba is in a state of confusion. She predicts Ammar to be very self-centered but her sister Samreen makes her realize how lucky she is on getting hooked to a jolly and humorous man rather than a boring and serious one. Ammar, however, is happily distributing his wedding cards while also flirting with other girls. The other main lead Fakhir (Haroon Shahid) is very depressed over getting to know of Saba's engagement as he had developed feelings for her.
Overall, the episode was very light-hearted and entertaining but there is nothing so Khaas about the drama so far other than its name. The only interesting part about the drama is its stellar cast. Not just the main leads but the supporting cast are also very strong with the likes of Behroze Subzwari and Saba Faisal and this is the only element which has us hooked to the play so far.
Well, it's still too early to form a firm opinion as the drama is now in its initial stages and no conflict has risen as of yet. Let's watch a few more episodes and see what Danish Nawaz has in store for us with this romantic story.
Read: HIP Reviews Khaas Episode 1: A Directorial Triumph of Danish Nawaz