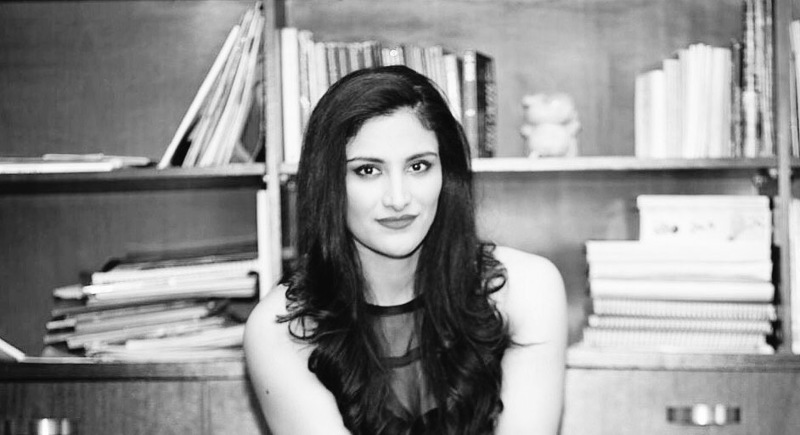 "People will always talk and comment. You should focus on moving forward," believes Kiran Khan

Known as the "Golden Girl" for her various achievements, Kiran Khan, has achieved more in swimming than any other female swimmer. She was the first female Pakistani swimmer to win multitudinous medals inside Pakistan and abroad. She is also is the youngest ever to receive the prestigious, Tamgha-e-Imtiaz (2012), which led to her being in the Guinness Book of World Records, as well. She is also one of the few that are the MHM (Menstrual Health Champion) for the UNICEF, from Pakistan.
Official Website: Kiran Khan
HIP had the honor of talking to her, and this is how it went…
HIP: Describe Kiran Khan in a few words.
Kiran: Well, I am always the first person that my friends call, because they know I am always there for them. Also, Kiran Khan is an energetic and wild child!
HIP: When did you decide to become a swimmer? Was what always what you wanted?
Kiran: I did not decide that I wanted to be a swimmer. It just happened! I was just a random child, who went to a pool and played from the age of 3 till 7. I never knew this was what I wanted. I did everything for fun, as I was very competitive. I loved every bit of racing in the pool and my father thought, why not make me a swimmer…and I became one! For many years, I did not understand the statics of the critics. It's not an easy sport, and to stand on top for a long period of time, wasn't easy either.
HIP: How has being a sportsperson in Pakistan been?
Kiran: It really tough, since it's a male-dominated society. It's difficult for them to accept. On the other hand, women also find accepting a female swimmer difficult. Thus, there isn't much support from either gender.
HIP: You have an academy as well. What prompted you to start that. How different does it feel being the coach now?
Kiran: When I found public clubs becoming less accepting of me swimming in their pools, I decided to build a pool in my own home. I didn't keep it for myself. I opened it for other children, too.
My father was always my coach. There is something in him, and he just knows how to do it. He has always trained me and now we train together. It's fascinating when people approach me for training. I haven't yet encouraged competitive swimming, but when someone does ask for that, I will be more than happy to help.
HIP: Having achieved so much, what aspirations does Kiran Khan have now?
Kiran: First, I've never really believed I could achieve so much! It's only when you look back that you realize, that you have really done a lot!
Goals…I think I want to become a better coach, who can produce more Kiran Khans. It's a lot of pressure since I have achieved a mark. People know me as Kiran Khan, the swimmer. Now, I hope to become the coach that people remember. I would really like to improve myself into making better Pakistani swimmers.
HIP: Other than swimming, what do you enjoy a lot?
Kiran: I play a lot of sports, like badminton and a little rugby. I'm a big fitness freak. As a sportsperson, I love to keep fit.
Other than sports, I love to cook and eat too. I'm a big foodie since I'm a Lahori!
I love exploring new places and historical ones, too. I love reading history. Recently, I read a book about the Ottoman Empire, and visiting Turkey after that was just so much more fascinating!
I also have a degree in Fashion Design, so I love designing clothes. I don't ever like to sit free though, has always been so busy. So, I keep doing these things I love and keep myself occupied.
HIP: What is the best advice you have received?
Kiran: (Laughs) None! I was on my own the entire time, and still, am.
The best advice I've given myself is never to give up. Also, I always believe and diligently follow my gut feeling. If I feel I can achieve the task, I will. If I feel I can't, I won't approach it. My husband always tells me the same too – always do what you feel you can achieve.
HIP: Having faced various challenges as a swimmer, what advice would you give to the aspiring athletes?
Kiran: I would like to remind them that they should never feel alone. I have faced the same challenges they have. I still do. People have told me off for swimming as a female, and I'm sure these young athletes get that too. But they should remember to always do what makes them happy, regardless of the voices surrounding them. People will always talk, comment and give opinions. You have to keep moving. If you have it in you, you should do it.
Sharing these words that have always driven her forward, and have been the secret to her strength, we signed off with Kiran Khan, the first Pakistani swimmer, who has earned more than just a medal, locally and internationally.