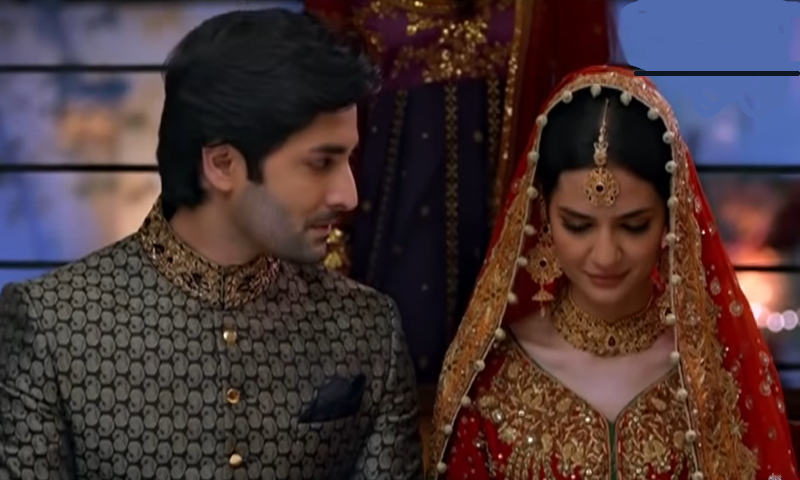 'Mera Rab Waris' under the banner of 7th Sky Entertainment with the production maestro Abdullah Kadwani and Asad Qureshi, its is a serial that revolves around a girl Ayesha, the confident, lively and pious soul who covers herself from head to toe. Having a combination of skilled actors, unique plot and aced director. The last episode brought the much-awaited news of Ayesha and Harris getting married. The ceremonies of which were shown in the double episode that on-aired this week.
Directed by Asad Jabal, the drama is based on two contradicting characters Ayesha and Harris played by Madiha Imam and Danish Taimoor respectively. The serial also features Mirza Zain Baig, portraying secret beau of Ayesha. Fazila Qazi, Abid Ali, Seemi Pasha, Tanveer Jamal, and others are also part of this unique plot.
In the last episodes, we saw that Ayesha and Harris are two opposite characters belonging from two different backgrounds. Ayesha is a vibrant girl, but a niqabi who hides her face from all men, except her father. Harris belongs from an open-minded family, whose mother and sister are not in support of such women. Harris once got a glimpse of Ayesha's beauty and decided to marry her, this decision of him was not welcomed by the family except his father, but his insistence forced his mother and sister to let him do what he wants.
The double episode that on-aired on Thursday was based on the wedding ceremony of the couple and how their marriage has broken hearts of one-sided lovers of both. The episode emphasized the difference in celebration of the two families. It also showcased that despite being a niqabi, Ayesha is not meek. She can speak for what she considers wrong.
The on-screen chemistry of the new couple Madiha Imam and Danish Taimoor is commendable and so is their acting. Madiha is depicting Ayesha perfectly giving life to the character. Danish is perfect with his expressions, from romance to irritation, all is expressed flawlessly by him.
As seen in the episode, the family of Harris is clearly not happy with Ayesha and her confidence, Harris's mother also said that Ayesha will learn the traditions of their family soon. To see if Ayesha will change accordingly to her in-laws or will they create problems for her, for being the way she is, tune to Geo Entertainment every Thursday at 8 pm.