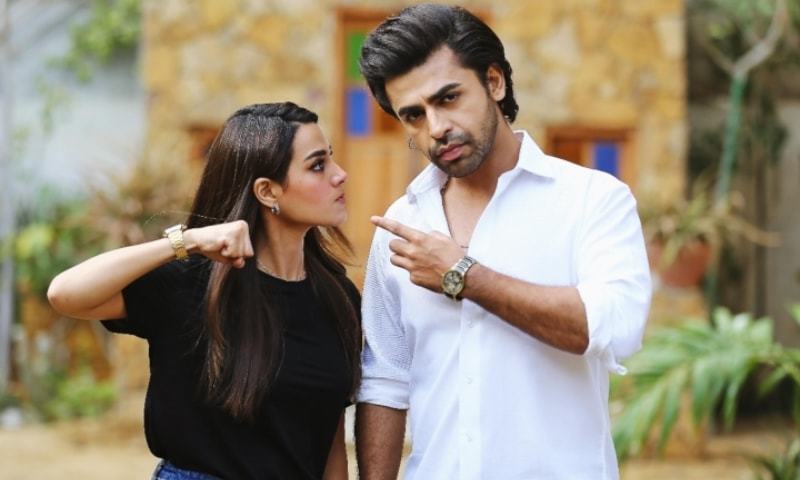 We are so glad to see it comes back with even a stronger storyline, new characters plus witty one-liners...

One drama which we loved watching last year every day during Ramzan was the Farhan Saeed and Iqra Aziz starrer Suno Chanda which saw two cousins engaged and about to marry but with differences between the two, the light-hearted comedy managed to keep everyone engrossed till the end. With Arsal and Ajiya finally married, the amazing response from the audiences urged the makers to come back with a new season this year and we for one are so glad to see it come back with a bang.
Written by Saima Akram Chaudhry, she is the female version of Vasay Chaudhry as both handle wit and emotions beautifully in their plays which leaves you wanting to see more and more of their brilliant work. With the story having taken off from the day after Arsal and Ajiyas wedding, Saima so far has not disappointed with her story as despite having introduced new characters like Pari (Arjumand Rahim) and her son Mithu (Raza Abbas) last night they have blended perfectly in the family and watching them is nothing but short of a delight .
Read: Farhan Saeed's Yet Again Impress Us with Suno Chanda 2 OST
Directed by Ahson Talish , the man is in a league of his own as we have seen him do outstanding work in dramas like Alif Allah aur Insaan and Tabeer to name a few. Here in Suno Chanda 2 what we like the most is the fact that he allows each character their own screen time and importance which is not easy considering the fact that the cast is immense but despite that each and every actor does manage to shine through and the credit for that definitely goes to him.
Coming back towards the drama, as we said the new season begins with Arsal and Jiya married now if you are thinking that they are the loving couple then rest assured that their little catfights are still going on. Now where we honestly felt that Iqra was trying a bit too hard to carry Ajiyas spark right there Farhan is a natural and has blended back into playing Arsal brilliantly.
With all the old members back in the house we were also glad to see Kinza ( Mashal Khan ) and Sherry (Nabeel Zuberi) now engaged sharing some madly in love glances but the star of the two episodes so far has to be Shahana played by Nadia Afgan who has lit up the screen with her presence and her chemistry with Arsal is by far one of the best we have seen especially when she walks in to his room without knocking and he is seen standing close with Ajiya just made us laugh our heart out .
Now the twist in the plot is that Ajiya is not willing to let go of her dream of studying in London, but with her now married Arsal does not see that happening but since we all know how feisty she is let's see whether she gets her way or not.
With the drama on air every day till end of Ramzan , another character whom we have fallen in love with is Pari being played perfectly by Arjumand Rahim as she is Shahanas cousin who fell in love with Nazakat when young but with Bee Jan ( Samina Ahmed) not liking her one bit her entrance in the house has caused a bit of a problem for all .
So will Bi Jaan be willing to accept Pari to attend Arsal and Ajiya's valima or not? We can't wait to see what happens tonight as Suno Chanda season 2 will go on air at 9:10 pm only on HUM TV.