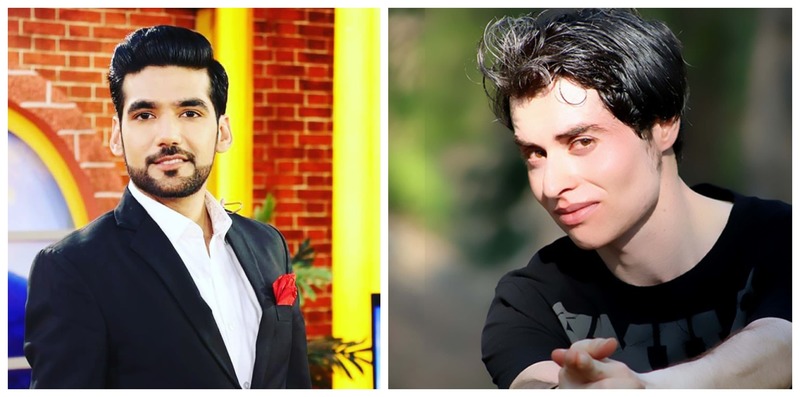 Shuaeb and Kiran Aftab started asking awkward questions which clearly made Nasir Khan Jan uncomfortable...

Although there are hundreds of social media influencers and personalities, not all are famous for the right reasons. Similarly, whether you like him or not, Nasir Khan Jan is a social media sensation. With 17k people following him on Facebook, his videos are viewed by people all over the world. Despite his popularity and the great number of followers, he has been mocked and teased.
Recently, Nasir Khan Jan was invited to the morning show of Samaa TV. During the interview, the anchors, Muhammad Shuaeb and Kiran Aftab started asking awkward and inappropriate questions which clearly made Nasir Khan Jan uncomfortable. Muhammad Shuaeb kept emphasizing that a 'sensible' person can never make 'vulgar' videos. Although Nasir Khan Jan kept his cool and remained calm, Muhammad Shuaeb raised his voice several times and adopted a harsh tone. Shuaeb referred to the shirtless videos Nasir Khan Jan uploaded on his social media. However, he forgot that many superstars of the world have made their entire careers based on their bodies which they frequently reveal in their films.
After this disrespectful interview on-aired, the Samaa anchors faced major backlash by the people. Twitterati supported Nasir Khan Jan and demanded the channel to officially apologize for their rude behavior. Many celebrities joined in and raised their voice against this injustice against Nasir Khan Jan. The talented actress, Armeena Khan, demanded a public apology from the channel for the bullying and humiliation he had to face.
Meanwhile, the singer, Annie Khalid, called out the channel for acting disgracefully just for the sake of ratings. She also insisted that other hosts and anchors of Samaa take notice of Muhammad Shuaeb's behavior.
Since the interview, Nasir Khan Jan has gathered a lot of support and encouragement from people. In his social media post, he responded and said that he is grateful to everyone supporting him and will keep on entertaining the people. He also mentioned that when he was called for the interview, he expected to be treated with respect and aimed for positive reception. Furthermore, he urged that if the channels want to invite the guests, they should learn to treat them nicely.
Ultimately, the host, Muhammad Shuaeb came forward with an unconditional apology. While recording a segment, he confessed that he did not respect the guest and wants to apologize for his behaviour. He also said that asking such harsh questions in an unsympathetic way was wrong and it has hurt the sentiments of Nasir Khan Jan, his fans and the viewers. Furthermore, he spoke to Nasir Khan Jan himself and personally apologized. Muhammad Shuaeb made it clear to him that he felt ashamed of the way he conducted the interview. Eventually, Nasir Khan Jan accepted his apology wholeheartedly and emphasized that he did not hold any grudge against the host.
This is not the first time when a famous personality has been humiliated by the hosts. Previously, the singer Taher Shah was treated badly by Aamir Liaquat in his show. But, times have changed and the audience is rational enough to call them out on such behaviour and will not tolerate it. However, Muhammad Shuaeb's apology is a lesson for all anchors that sometimes realizing your mistakes is enough to make amends.