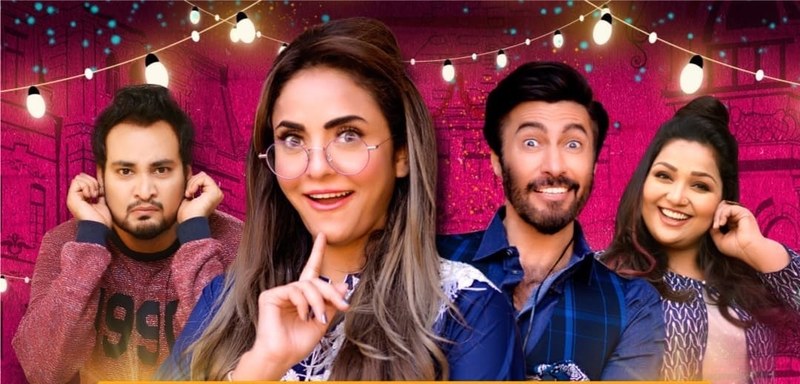 The Nadia Khan and Aijaz Aslam starrer Dolly Darling is the perfect mix of funny and whimsical-all thanks to the brilliantly comic characters. Produced by the dynamic duo Abdullah Kadwani and Asad Qureshi, this lighthearted comedy is the perfect drama to unwind from a long day. Written by the Hum Sab Umeed Say Hain famed writer Dr. Younis Butt, Dolly Darling is sure to give you a much-needed laugh.
Nadia Khan plays Dolly, a dumb comedic character- a staple for comedy dramas. With her ability to morph into any character she is handed, Nadia Khan plays Dolly with the utmost charm, you can't help but giggle at her extremely neurotic ways of dealing with her everyday life. Married to Mustaqeem played by Aijaz Aslam, Dolly struggles to get her husband's attention with some extremely silly and sometimes annoying plans.
Mustaqeem is a director who is glued to his smartphone- as Dolly whines about it right from the beginning. In trying to win over her husband again, Dolly does some questionable stuff- which is sometimes funny but other times downright annoying. More of terminally naïve than downright dumb, Dolly isn't exactly stupid- just gullible and childish. Nadia Khan and Aijaz Aslam have done a splendid job in bringing these characters to life, throwing in their inherent comedic charm, need we say anymore?
Read: Aijaz Aslam and Nadia Khan pair up for upcoming comedy serial 'Dolly Darling'
With all the dramas revolving around social issues, it is a staple in the Pakistani drama industry to bless us with some light-hearted comedic shows every Ramazan. Dolly Darling might not be downright hilarious, but it is light and chuckle-worthy, and might just be your cup of tea after a long day.