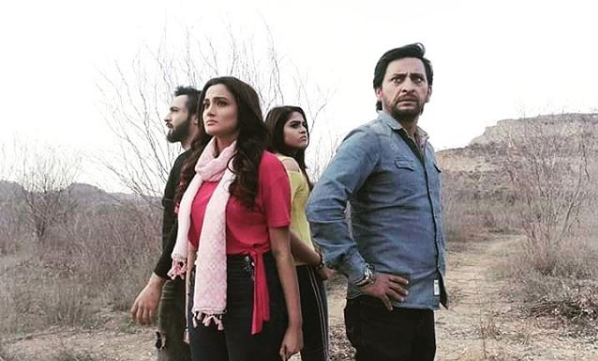 Pakistan's first ever psychological horror film is all set to be released on 21st June...

After a long dry spell, when Pakistani cinema finally revived, film-lovers all over the country rejoiced. Since then, Pakistani filmmakers have been working incessantly to make entertaining and thought-provoking films for people. Although our film industry is still in the initial stages, Pakistani filmmakers are not afraid to experiment and explore new genres. Whether it's a romantic comedy or crime thriller, the filmmakers are not shying away from telling their stories in unique ways. Similarly, a teaser for the first psychological horror film, Kataksha, came out and has people talking.
Read: HIP Exclusive: I Am Enjoying Every Bit of My Success - Hira Mani
Pakistan's first ever psychological horror film is all set to be released on 21st June. According to sources, Metro Live Movies has acquired the distribution rights of the film and plans to launch it nationwide with a bang. While the genre of the film is distinctive, so are the locations where the film is shot. The shoot took place at the ancient and popular tourist spot, Katas Raj Temple, Kalar Kahar, Soon Valley and other scenic areas of Islamabad.
The film's cast includes Salim Meraj, Nimra Shahid, Mubeen Gabol, Qasim Khan and Kiran Tabeer. While Salim Meraj, who has countless films to his credit like Na Maloom Afraad, Actor-in Law and Laal Kabootar, will be playing the lead role in the film, Nimra Shahid and Mubeen Gabol are making their film debut. The writer and director of Kataksha, Abu Aleeha, has informed that the film is in the post-production stage. The trailer will be released in the cinema on Eid-ul-Fitr.
Although Pakistani filmmaker have explored many genres, very few horror films have been made in the past. Hopefully, Kataksha will be a remarkable addition to the small list of horror films.