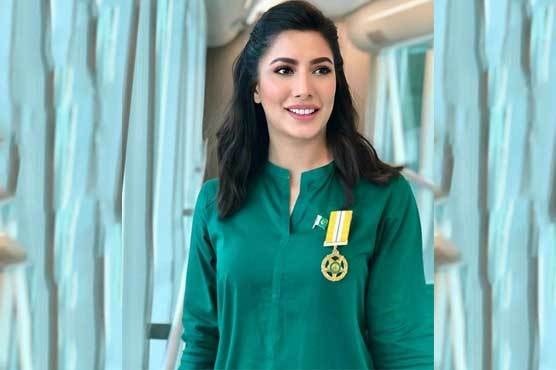 Among all the Pakistani actresses, Mehwish Hayat is considered to be the most flourishing and thriving film actress and rightly so. Her work speaks for itself as she has some of the most successful films like Load Wedding, Punjab Nahi Jaun Gi, Jawani Phir Nahi Ani and Actor-in-Law. While the films have been successful at the box office, Mehwish Hayat has proved her mettle with the diverse characters and brilliant performances. It is safe to say that she has played a major part in the revival of the Pakistani film industry.
Therefore, she was recently awarded the prestigious Tamgha-e-Imtiaz.
In an exclusive interview to Haroon Rashid of BBC Asian Network, Mehwish Hayat talks about Bollywood, her work and women's role in the entertainment industry. When asked about her recent strong stances on various issues, she said that although she had always been outspoken and fearless, she has realized that being an actor is not enough and she should use her voice for the issues that are close to her heart. Although Mehwish Hayat has always been fearless in the selection of her film characters, she felt that it was important to be vocal about certain issues.
While talking about her diverse characters, she said that in her opinion, films are an institution and can help change the mindset of our society. That is the reason she tries to choose the roles which will be impactful. Similarly, Load Wedding talked about the issue of dowry and stigma attached to the widows. It is important to raise awareness about these issues while providing entertainment. Mehwish also talked about choosing characters which help in the empowerment of women. Although TV dramas are still portraying a stereotypical image of women, the film industry is focused to present a variety of female characters.
When talked about Bollywood, Mehwish Hayat said that despite working in various Bollywood films, our actors do not get the deserved respect. It is not fair to stop the actor from attending the premiere or promote their film. Talking about herself, she said that it was her conscious decision to not work in India. Mehwish emphasized that Pakistani actors need to focus on building our own film industry and help to grow. Despite being offered the roles in famous films like Dedh Ishqiya and Fanney Khan, Mehwish decided to stay in Pakistan and work for the rehabilitation of our film industry.
Not only is she an exceptional actress, but Mehwish Hayat is also rapidly becoming a role model and breaking stereotypes. In the future, Mehwish Hayat will be seen in Wajaht Rauf's film, Chhalawa.