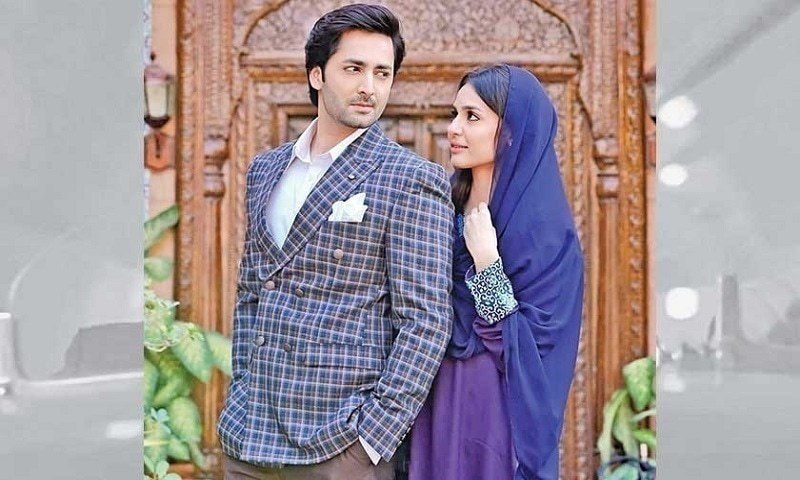 The dynamic duo of Abdullah Kadwani and Asad Qureshi, who are always up with a unique yet close to reality serials, this time brought drama serial Mera Rab Waris based on a Niqabi girl who marries a guy from an independent background, These contradicting characters together along with unhappy family of the guy comprises a peculiar plot awaited by the viewers every week.
The plot revolves around Ayesha (Madiha Imam), a lively girl who chooses to cover herself from head to toe in order to please her Lord. Harris (Danish Taimoor) on the other hand is the guy from the liberal household, where practising religion is not to be seen. Fathers of Harris and Ayesha are childhood friends and the father of the former wanted to make the latter his daughter-in-law. The idea was rejected by the whole family after their first meeting with Ayesha, but Harris coincidently saw Ayesha's face once, and a glimpse of her beauty made him fall for her. He fought from every member of his family and got married to Ayesha. Family of Harris is against the veil of Ayesha, biggest enemy of which is the husband of Harris's sister Mazhar
Read: HIP Reviews 'Mera Rab Waris' Episode 11-12: Tipu Sharif Steals the Show!
The Mega episode that on-aired this week consists of exceptional writing, brilliant performance, and phenomenal dialogues. Every conversation of Ayesha be it with Harris or any of his family members were deep and contains a message, also the dialogues of Harris in the episodes contain a strong message for the audience.
Till now we have seen the romance between Harris and Ayesha, but the first fight, or misunderstanding between the couple as seen in this episode which was intense and adoring at the same time.
Talking about the acting performances, Tipu Sharif is commendable in the negative role, his expressions were perfect on his villain persona.
This new on-screen couple of Madiha and Danish is miraculous. Every scene that features the couple will surely leave you spellbound. Danish's character went through many phases in a single episode, from confused to loving and he performed them flawlessly. Madiha's character was phenomenal too, her dialogue delivery throughout is commendable.
The Niqab of Ayesha is the biggest problem for the family of Harris, while he in the other hand is in full support of his wife and her veil. To know Harris will continue to support Ayesha the way he does, or the influence of his family will affect their bond, tune into Geo Entertainment.