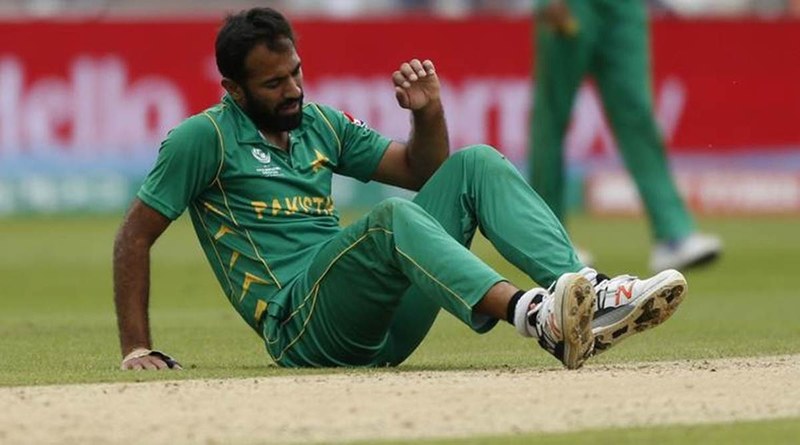 Left armer is determined to prove Mickey Arthur wrong...

In Pakistan, you don't need to be Shahrukh Khan in a Farah Khan movie, for the world to conspire to make your dreams come true. A pace bowler, suspected of bowling fast could be enough. Just ask Wahab Riaz.
"I can't explain in words the pain I have gone through, but I don't want to live in the past. That's history now," Wahab said at a press conference before leaving for England. "Now it's about what we are going to do in the World Cup. Obviously, it's the coach's duty to get the best results from the players, and he wants players that can win matches for the team. I also wanted to be in the team, the only difference is I missed two years of [international] cricket. Now I am in and want to prove him [Arthur] wrong and justify my opportunity," Wahab said after making a dramatic comeback to the side.
The last bit if you are wondering is in response to what Mickey Arthur said after dropping of Wahab. 'He hasn't won us a game in two years' and questions about his work ethic in training were the two main takeaways from that interview of the coach.
The left arm has not been part of Pakistan's ODI squad for around 2 years. He wasn't part of the 23 World Cup probables either. Even, during the Australia series where front liner players were rested, Wahab did not get a look in.
However, Wahab Riaz did have a decent Pakistan Cup, picking up 10 wickets in five matches. The wickets in the tournament were flat, although also lacking bounce. Some people have still questioned his selection. "You can't say it was unfair [that I was selected]. I kept on hearing that I might be chosen for the Australia series or the one against England, but it didn't work out. It was Allah's will that my selection was meant for the World Cup directly, but I have been praying that whatever happens should happen for good. Being named in the squad and then not being able to perform will be another unfortunate thing as there is a lot of expectation. I hope for the best and want to take this opportunity to move on and perform."
I was extremely disheartened as I was performing for the past two years," he said. "But since I couldn't perform in the Champions Trophy, I had to sit out because you need to do well continue to be a part of the team. I was trying to push my case for selection by performing wherever I could. I was very disappointed and frustrated too. I felt that I was hard done by, but at the same time, the team was doing well. But I never lost hope. Now, I feel I have been rewarded."
"I kept myself fully prepared for this World Cup even knowing that I am nowhere near the team. I even had dreams I was meeting Mickey Arthur and Sarfaraz Ahmad, and sometimes they would pick me, and reject me at other times. Around ten days ago, I had a dream that Inzi Bhai [Inzamam-ul-Haq, the chief selector] gave me a call and told me that I have been selected and this is my last chance. It was exactly how it happened when I was called and told about the decision. It is nothing less than make or break for a player who gets an opportunity to play in the World Cup."
This would be Wahab's 3rd World Cup, making him a veteran. Against India in 2011, he was the tragic hero, replacing Shoaib and picking up 5 wickets. We all know the final results. In 2014, only if Rahat Ali had held on to that coach who knows. Well, that can sum up Wahab Riaz's career, fleeting moments of greatness and plenty of mediocrity. Yet this is another chance to have one final hurrah. Once again, it comes at the expense of presumably an inconsolable Junaid Khan.
"Every player wishes to play for Pakistan and the World Cup is the biggest challenge in your career," said Wahab. "Obviously, he will be saddened and very frustrated, and must be thinking he had been treated unfairly. But when I was out for two years, I was thinking the same. In the end, this is the Pakistan team and its selectors, coaches and captains make the decision. I am sure this wasn't meant to hurt someone but it's for the country, and whatever they think is good for Pakistan."
Junaid Khan, however, showed frailties in his game in the 2 matches he got against England. His complete lack of batting ability and shoddy fielding means he needs to be top class every match to be safe. He wasn't. Because of English wickets being as placid as they are now, the pace has become a vital factor now. But Wahab Riaz has already erred on the side of caution here.
Read: The Junaid Khan Conundrum
"Obviously, there's a lot of pressure since Inzi bhai has said that I have been brought back on the basis of my experience," Wahab said. "I have worked hard and matured as a bowler in the last two years. I have learned a lot and the results are visible to everyone. You can't judge anyone on the basis of one match. I am a bowler and there are chances that I may concede 60, 70 or 80 runs, and it has happened in the past as well. But that's doesn't mean that I lost my skills and ability.
"It is important to keep things simple on batting wickets. Variations and reverse swing are key in the death overs. With the conditions dry and wickets hard in England, there will be a reverse swing and the team that does it better will have the advantage. I have expertise in the reverse swing so I will try to restrict the flow of runs in the final few overs."
And reverse swing would be key if Pakistan have to progress in the World Cup. Seemingly, that is what the selectors have taken a punt on.