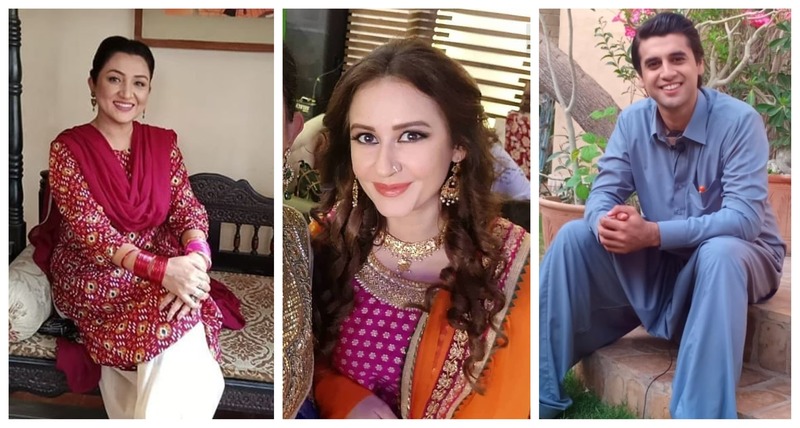 The fantastic trio is the real stars and keeps us entertained with their natural acting and of course witty dialogues...
One drama which we had been super excited to see ever since we heard it was being shot was the second season of Suno Chanda which began with a bang but with so much brand endorsements and overacting by Iqra Aziz, this time around the initial charm is missing but the trio which is keeping us glued to it every night is Nadia Afgan as Shahana, Arjumand Rahim as her cousin Parveen and her obedient son Mithu played to perfection by Raza Talish .
Written by Saima Akram Chaudhry, her dialogues are witty and make you laugh out loud immediately but with the drama having reached midway we felt that some characters were being dragged unnecessarily for instance the entry of Joji's (Ali Safina) mother, a character we did not really like and found her to be a bit annoying as she continued to make advances towards the graceful Agha Jan played brilliantly by Syed Mohammad Ahmed who in fact likes Bi Jaan ( Samina Ahmed) and she too seems to have a soft corner for him as with Sherry (Nabeel Zuberi) and Kinza (Mashal Khan) now married and off to Switzerland on a honeymoon, Bi Jaan tells Agha Jaan to stay for a while more as what would he do alone and that really made our heart melt towards the old couple .
Read: Most Awaited Show of the Year "Suno Chanda" Season 2 Begins with a Bang!
With 15 episodes down, a lot has happened as all weddings took place and last night saw Joji and family finally leaving Karachi to go back home. With Sherry and Kinza also gone, the rush at the house is now less and we for one are glad to see that as it will allow more focus on the interesting characters. With Arsal's visa for the UK rejected, times are tough between him and Ajiya as he does not want her to go without him but since she is so self-centred we are sure she will leave him behind but with a new twist introduced last night it seems that she just might be pregnant!
Yes, guys now that seems to be the latest hot topic in the house as Ajiyas flight is around the corner and she is busy throwing up, so is she really expecting as Shahana claims is what we have to wait and see.
Talking about other characters well we personally love the chemistry between Arjumand Rahim and Raza Talish as the duo play mother and son with perfection. From facial expressions to dialogue delivery, these two along with Nadia Afgan are a delight to view and the main reason behind the success of Suno Chanda 2 as let's face it the story of Arsal and Ajiya is not that exciting anymore.
One thing which we feel could have been avoided was the unnecessary promotion of Oppo phone as we saw that happen even on Sherry's wedding night with Kinza as well as a cricket match yesterday and somehow we got the feeling that Nabeel was in fact called back in the drama only for this as the actor was mostly busy praising his new phone!
Coming towards Farhan Saeed and Iqra Aziz well Farhan impresses as Arsal and his comfort in the character shows but Iqra this time around disappoints as she is overacting and her scenes of fake crying is really getting too much to bear and we hope that she goes to the UK alone so we can get a bit of a break from her too.
Directed by Ahson Talish, he is a master at what he does and despite having introduced his own son (Raza Talish) in the play we are glad to see that he took him on board only because he could really perform and not simply give him the chance as it was his own flesh and blood.
So a dedicated man to his craft, we are a fan of Ahson Talish and enjoy Suno Chanda 2 but from now on we hope the brand endorsements are over and more focus is on Mithu and Maina as well as Agha Jan and Bi Jaan as to have these couples come together would be a real treat and a happy end to the drama which is literally keeping all glued to their screens this Ramazan too.