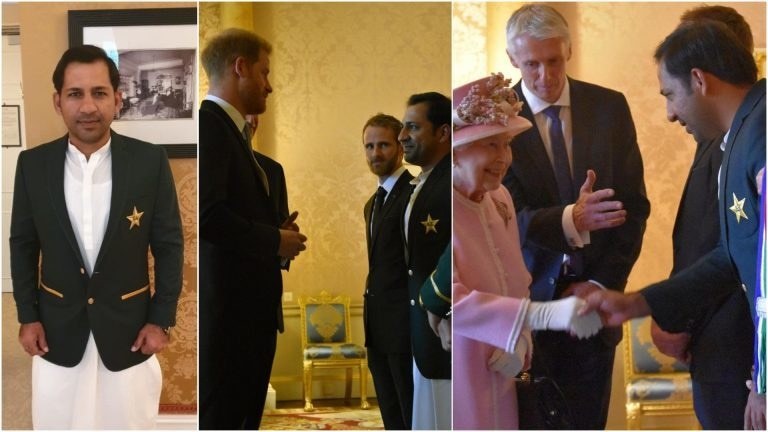 Celebrities are so happy that Sarfaraz Ahmed wore Shalwar Kameez to meet the Queen of England with pride...
Shalwar Kameez is our national dress and we should always promote our culture on International platforms. This is what our Prime Minister Imran Khan do and this what our cricket team captain, Sarfaraz Ahmed did in England.
The team captains of all the ten team participating in cricket world cup 2019 met Queen Elizabeth II and Prince Harry, Duke of Sussex at the Mall, in front of Buckingham Palace on Wednesday where everyone was wearing pant shirt/suit but Sarfaraz wore shalwar kameez and represented the culture of Pakistan.
His act was criticized by some people in Pakistan but most of the people including his wife appreciated this act and wished him good luck for the biggest cricket event starting today in England.
Cricket Haris Rauf appreciated the captains act of wearing shalwar kameez.
Hamza Ali Abbasi took to Twitter and was impressed that the captain wore the national dress.
So was the handsome, Fahad Mustafa.
Everything apart, we shouldn't really worry about what our captain wears. All we should worry, care and pray for is the team's performance in his captaincy as this is what matters the most in a tournament like a world cup. The team should look good in the stadium and we should not care about how they look outside because at the end of the day it is their personal life and personal choice.
Obviously, they are repressing our country and they should look good but we should appreciate Sarfaraz confidence that he wore the national dress on such a big platform where he was the only one doing something different and out of the box. It clearly shows that the captain is fully confident and won't be affected by any kind of pressure in the tournament.
Good luck Captain. You have already won our hearts. You have, you will. We have, we will. May the forces be with you!