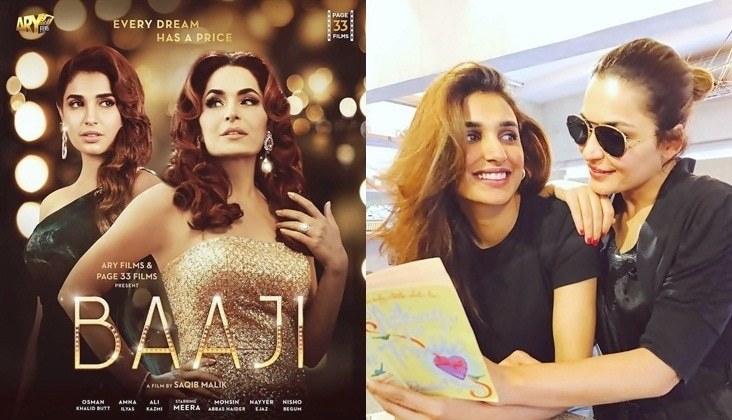 Saqib Malik's directorial debut Baaji's trailer gives a new definition to the word glamour...

Saqib Malik's directorial film 'Baaji' has just released its first trailer and it is at its finest. The protagonist Meera Jee is looking evergreen throughout the movie trailer alongside Amna Ilyas, and Osama Khalid Butt. Another cast also includes Mohsin Abbas Haider, Ali Kazmi, Nayyar Ejaz, and Nisho Begum.
The movie is about how an actor's life is a constant roller coaster of ups and downs. The times flies too fast that not one person can reason at the top forever. At one or another time, everyone's time is over and someone replaces them.
Read: HIP Exclusive: I Want to Explore Myself as an Actor by Doing Meaningful Cinema - Amna IIyas
Film 'Baaji' also revolves around such similar scenarios where we can see Actor Shameera, portrayed by Meera Jee, who is struggling to maintain her place in the centre of the Cinematic world, but people around her are pulling her down, saying that you were a star 10 years ago but not now. Heartbroken and lost, Shameera lightens up her hard and shares her life problems with a spa salon worker, portrayed by Amna Ilyas, who somehow gets close with Shameera. Shameera hires Amna as her assistant but the duo is broken off after a love triangle affair.
Read: HIP Exclusive: Osman Khalid Butt says "It has been my dream to work with Meera"
Watch the trailer here:
The movie has all kinds of twists and turns that will definitely hook up the audience. The story is written by Irfan Ahmed Urfi. The songs and acting are also on point. Cinematography, direction, and the bright colours of the movie is one thing to catch the eye of every viewer. The movie is all set to be released on the 28th of June 2019.
This movie is a must watch and we can wait for its released. Best of luck Team 'Baaji'.