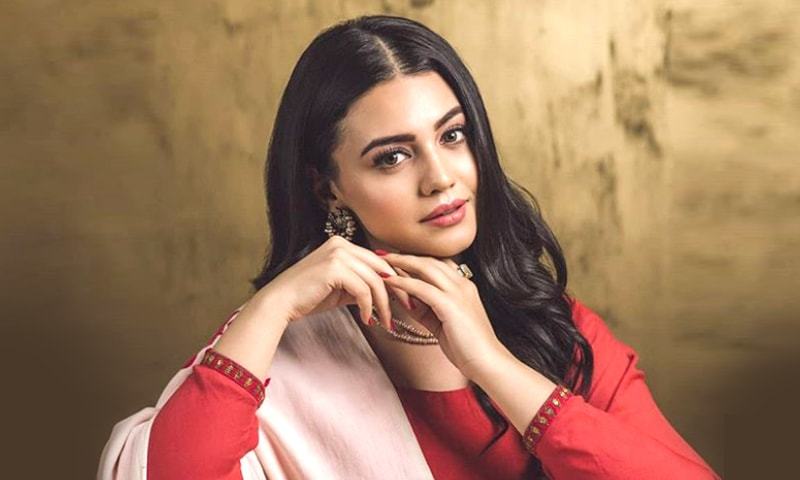 Movie buffs have high hopes in terms of meaningful cinema every year. Although cinema in Pakistani has indeed turned over a new leaf in the last couple of years; it's wonderful to see Lollywood, after years of producing films of lowest common denominator, is finally producing films of much more depth and professionalism. The year 2019 will mark the debut of many TV actors that will take Lollywood to the next level on the world stage. One such actress is Zara Noor Abaas, a promising name to look out for. She's all excited to grace the silver screen with back-to-back two films lined up for a festive release Wajahat Rauf's 'Chhalawa' (Eid-ul-Fitr) and Asim Raza's 'Paray Hut Love' (Eid-Ul-Azha).
Zara is known for portraying intense characters on television; however, she will be seen in an entirely new avatar in Chhalawa. The sultry beauty is paired alongside her real-life partner Asad Siddique. The talented actress, who is on a city tour promoting the film, took some time out to speak exclusively with HIP and shared her views and experience of working in Chhalawa.
HIP: How would you describe Chhalawa?
Zara Noor Abbas: Chhalawa is a beautiful project; I am very happy to be associated with it. It's a light-hearted film dealing with family and relationships with the perfect mix of romance, music, and drama adequate enough to pull in crowds to the theatres. I had a tremendous time working on it.
HIP: We saw a new avatar in the trailer as your comic timing was bang on. Tell us more about your character 'Haya'?
ZNA: Haya is a brilliantly nuanced character; she's a firecracker; she's singing - dancing, peppy and full of fun. Haya is very different to what I am in real life; not really poles apart but yes we do have similar comic timing. People will see a different side of my persona in Chhalawa, that I haven't portrayed on screen yet.
HIP: What made you sign the film as Mehwish has a meatier role?
ZNA: The kind off roles I prefer doing in my career hasn't been about choosing the meatier part always. This doesn't change my perception as to whoever is doing a lengthy part or something more vibrant; that hasn't been my concern ever. As an actor, I look up to the arch of my character and the journey it will go through.
HIP: How was the reel life experience working with Asad?
ZNA: Chhalawa has brought us closer to each other; it has affected beautifully on our marriage. It was a tremendous experience, to say the least; he's a darling to work with and I am glad I got the opportunity to work with him.
Read: HIP Exclusive: Asad Siddiqui Says "Overwhelmed Working with Wife Zara Noor in Chhalawa"
HIP: How was the experience working under the direction of Wajahat Rauf?
ZNA: Wajahat is an incredible storyteller; focused and dedicated towards his craft. He comes well prepared on sets; he knows what he requires from his actors, how many scenes to shoot in a day, where to take the shots from etc. Resultantly, we shot the entire film in thirty-five days and this happens only in Wajahat's world of cinema.
HIP: Actress can never be friends. How was your equation with Mehwish Hayat?
ZNA: Mehwish and I shared a professional and disciplinary equation on sets. One thing I liked about her the most is that she is very humble and focused on her craft. We play siblings in the film and we had a great time working together.
HIP: You signed 'Paray Hut Love' first but Chhalawa is coming out earlier. Was it a coincidence?
ZNA: No! It wasn't a coincidence, Chhalawa was scheduled to release earlier and Paray Hut Love was set to release later on. There wasn't any change in the release dates, but yes the first film I signed was Paray Hut Love.
HIP: Critical acclaim or box office success. What is more important for you?
ZNA: Critical acclaim for sure! I gave my best as an actor and want my film to do well as a lot of investment, hard work and dedication is involved in the process. It isn't in my hands; it's the audience to decide by watching Chhalawa that releases this Eid-ul-Fitr. Go get your tickets now (smiles)
HIP: As an actor what is more challenging TV or Film?
ZNA: I believe the character's arch and sketch that develops in my mind is more important as compared to any medium.
HIP: Acting is in your blood. Does it help to be a star kid?
ZNA: Yes, I do come from a showbiz family but having said that, it isn't really a cakewalk for us. It's very easy for people to say such things; we also go through the same process and hard work. The audience over time has matured and can easily recognize the difference between talent and nepotism.
HIP: Does this privilege create pressure?
ZNA: Yes, following a legacy has its own set of responsibilities. It does create pressure to an extent but that has its own charm.
HIP: Other than films, what's keeping you busy these days?
ZNA: My new venture 'The Rise' is keeping me busy; I'll let you guys know about it right after Chhalawa releases.
Chhalawa aims to be a light-hearted romcom written and directed by Wajahat Rauf. The cast also includes popular names i.e. Mehwish Hayat, Azfar Rehman, and Mehmood Aslam.
Watch the trailer of Chhalawa here: