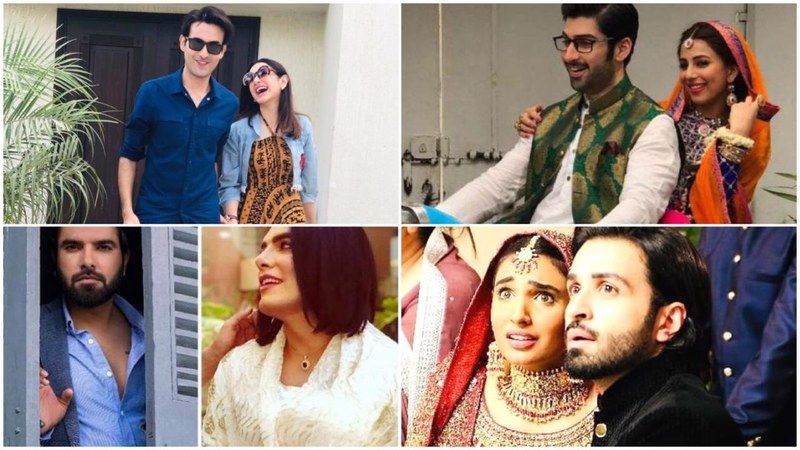 Eid shows promise bundles of laughter, and this HIP list gives no less...

Eid shows are always filled with laughter, and this list of HIP promises no less. So sit back, and enjoy your favorite telefilm. Of course, choosing one from these is definitely going to be the toughest task. Perhaps though, a little information may help you decide.
Pinky ka Dulha
Starring Ushna Shah and Muneeb Butt, and with Angeline Malik directing and producing, this telefilm surely promises to be worth the watch. Who will be Pinky's dulha? Want to find out? Gear up then, and put this rom-com down on your list to watch on Eid-ul-Fitr.
Read: HIP Exclusive: Muneeb Butt and Ushna Shah Wrap Up Shoot For Eid Telefilm "Pinky Ka Dulha"
Help me Durdana
Seeing Yasir Hussein playing the role of a woman, is sure to be a feast. This artist knows his comedy well. With the success of "Nach Na Janay", we can't wait to see this maestro in this role. This telefilm with Yasir Hussain and Ushna Shah will air on ARY Digital on Eid.
In an earlier exclusive with HIP, Yasir Hussein hoped that the audience would "like his attempt at doing something different". We definitely have high expectations and are highly anticipating watching this one.
Read: HIP Exclusive: Eid Telefilm 'Help me Durdana' Offers Double Dose of Yasir Hussain!
Na Jhaanki Na Taaki
After the massive success of Dolly Darling, Nadia Khan will be treating us this Eid in Na "Jhaanki Na Taaki".
Featuring an exceptional cast including Nadia Khan, Hina Dilpazeer, Azfar Rehman and Amna Ilyas this telefilm is bound to make you laugh. Based on a "watta satta" marriage, as Nadia Khan revealed in a HIP exclusive, the situations are going to get hilarious.
This is also a must-watch this Eid.
Read: Eid Exclusive: Nadia Khan's Eid Telefilm is a Hilarious Comedy with a Stellar Cast!
Shadi Impossible
And here it is ladies and gentlemen…Shadi Impossible! This telefilm had been holding everyone on tenterhooks. No name had yet been revealed nor any channel, yet the cast and the story were putting everyone on the edge. This mystery telefilm, as has now been revealed, will be airing on TV One.
We hope you find this Eid a special one with all these highly anticipated telefilms.