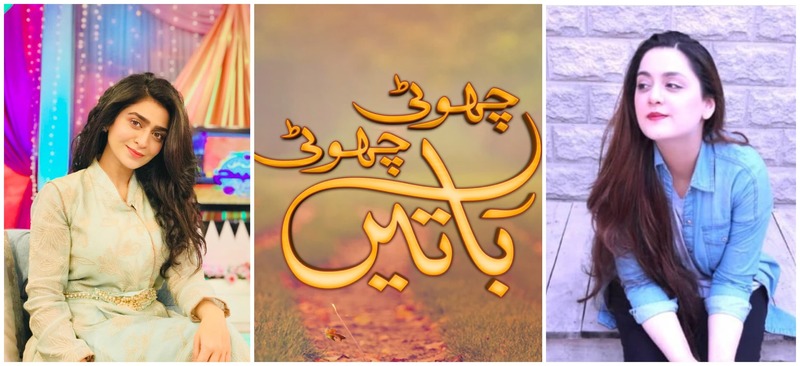 Starring Hajra Yamin the play is part of the series Choti Choti Baatein directed by Angeline Malik...

Where we love watching long dramas right there once in a while it is good to see a story which is short and sweet. With Choti Choti Baatein which is produced and directed by Angeline Malik winning us over with the well-made content, we recently came across the news of the show coming back on TV after a little hiatus during Ramzan with Dil Hi Toh Hai which has Hajra Yamin, Osama Tahir, Atiqa Odho and Sajid Hassan in the lead with a script penned by the Beinteha and Khudgarz famed Rida Bilal!
Yes guys with that news being the latest and us being a fan of Rida who writes from the heart and portrays reality we couldn't help but connect with the ace writer to know a bit more about her latest project and this is what she shared with us when we asked her why to opt for a short story especially after the audiences loved the Sami Khan starrer Beinteha and Khudgharz to which she said ,
'I decided to experiment with the web genre after Khudgharz as no one wants quality work at the moment. A mega web project went on hold due to across the border tension (International platform) so it is expected to go on floors within a few months '.
Read : Beinteha' proves to be an impressive piece of writing
Besides the four amazing actors mentioned above, Dil Hi Toh Hai also stars Mariyam Nafees and Saman Ansari to name a few. So what is the theme of the short play was our next question to Rida to which she replied,
'Choti Choti Baatein focuses on the cliches of society and self-created norms. My play (based on 4 episodes) revolves around the same theme and is a thought-provoking story based on finding love in old/mid-age and society's acceptance towards it'.
Even though Rida has written only two plays so far, her style of writing is mature beyond her years so how does she decide which story to pick has always left us quite intrigued to which she said,
'Whether the story is my own creation or proposed by someone else, it needs to have some soul. I can't get myself to work on it otherwise'.
So what is next for Rida after Dil Hi To Hai? Well, she is pretty excited about the web series she mentioned above is currently the channel scenario is quite disappointing for her.
With a story by Rida and direction by Angeline, Dil Hi Toh Hai sounds like a play not to be missed as it becomes part of the much loved Choti Choti Baatein series post-Eid.