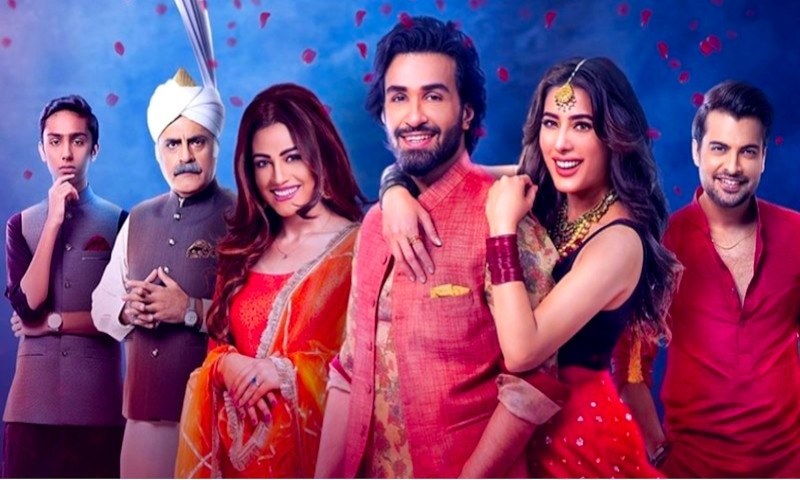 Chhalawa is just under two hours long but even with that tight a running time, its script is stretched at its seams...
Mahmood Aslam is one of Pakistan's most established artistes, who over the years has managed to generate quite a following through his appearances in laugh-a-minute sitcoms and television serials, and Chhalawa is his big leap (no pun intended) to cinema. Indeed, prior to the film's release his presence in the film along with current audience favorites Mehwish Hayat and Azfar Rahman aroused much curiosity, and one expected that this would ensure at least a few laughs. Sitting through the film, however, that is about all you get. While the veteran actor performs with much gusto and is pretty much at the center of proceedings here, even he cannot overcome the film's shortcomings. But more on that later….
Chhalawa sets its narrative in the large mansion of a Punjabi Chaudhry (played by Aslam) who domineers over his subjects as well as his two daughters Zoya (Mahwish Hayat) and Haya (Zara Noor Abbas) with Zoya being the eldest. Chaudhry Sahib is clearly not okay with Zoya's beau from the city Sameer (Azfar Rehman) and in one feisty exchange, Zoya makes it known that she rejects his plans to get her betrothed to his brother's goonish son, and that she will elope with Sameer whenever she gets the opportunity. In a parallel strand, Luqman (Asad Siddiqui), Sameer's friend is a swindler/fake pir, and together they decide to the head over to the haveli so to rescue Zoya in order for her and Sameer to elope.
While the premise may sound mildly interesting (it employs the familiar trope of a couple in love against a disapproving father) the screenplay is all over the place and the script is marred by inconsistent writing. Even the humor mostly falls flat -- as does the film's pace. Around the halfway mark when the story does pick up a modicum of momentum, the audience, along with Zoya is back to square one, or the haveli, a few scenes later. We also discover that despite the head-strong, feisty, force of nature Zoya is, she can quite easily change her mind in the face of a mild emotional upheaval.
Given these limitations, the film could have potentially worked on the backing of some creative character development and the synergy between its ensemble cast. The latter thankfully is in evidence to a certain extent but not quite enough to rescue the film. To their credit, Zara Noor and Asad Siddiqui do show a spark and energize the proceedings quite a bit. Zara, in particular, does well playing a diva with her heart rooted in cinema. The actress exudes a lot of effervescence and pizzazz and shares believable on-screen chemistry with real-life husband Asad Siddiqui. Their moments together are believable and elicit a few laughs as well. And although Mehwish Hayat experiences frequent accent-malfunctions and presents a somewhat mixed account of herself, she does an okay job showcasing the familial bond with her siblings. As for Azfar Rehman, he does not have a whole lot to do here but generally looks and acts his part quite well.
The father-daughter dynamic at the core of Chhalawa remains under-explored although Mahmood Aslam tries his best to inject some energy and verve into his village Chaudhry's act, whenever he interacts with his daughters. If their relationship was delineated more clearly, it could perhaps have lent some plausibility to Zoya's actions, but that is not to be. It has to be mentioned here that the writing for Aslam's character, in particular, makes all too frequent tonal shifts between lighthearted comedy and serious drama, sometimes even within a single scene.
Technically speaking, the film is competently shot by Asrad Khan (barring a glaring gaffe in the title song which needed to be edited in post-production) and the production design is on point. Indeed, the haveli looks suitably grand, and the interiors meld the contemporary with traditional rather well. On the music front, Shiraz Uppal throws some hummable numbers with the title track and Chiriya, choreographed with finesse by Wahab Shah.
Chhalawa is just under two hours long but even with that tight a running time, its script is stretched at its seams. Perhaps it can be watched to enjoy some well-shot song and dance sequences, if that is your thing, or for Zara Noor's diva-from-the-village act and her natural chemistry with Asad Siddiqui. However, with Pakistani cinema taking its baby steps towards gaining audience endorsement, it is all the more important to develop a tight, engaging -- and logical -- narrative which was sorely absent here. The audience has memory and every single film is factored into the local film brand -- that is provided the filmmakers are serious about developing one.