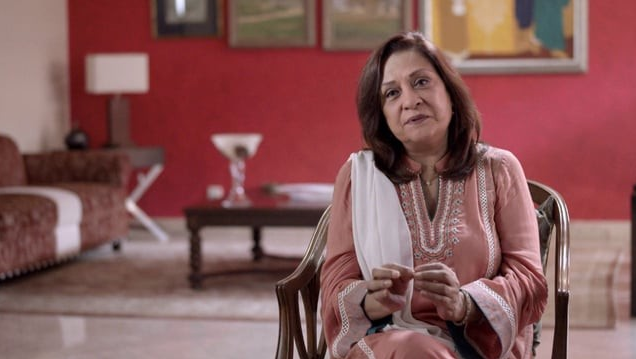 In this week's episode of Rewind with Samina Peerzada, Samina Ahmed talked about her life...

When we talk about Pakistan entertainment industry, one name speaks for itself and that is Samina Ahmed. With almost 50 years of experience, Samina Ahmed has not only proved her mettle as a legendary actress but aced all the other departments like direction and production. While she has given some of the most memorable performances in TV dramas, Samina Ahmed is no stranger to the theatre world. During her extraordinary career, she has also served as the Program Director at Alhamra Arts Council for 20 years. Some of her unforgettable dramas include Family Front, Akkar Bakkar, Alif Noon, Taal Matol and Such Gup. Recently, she appeared in the infamous drama, Suno Chanda, as Bi Jaan.
In this week's episode of Speak Your Heart with Samina Peerzada, Samina Ahmed talked about her life. During the interview, she spoke about her unfinished book which she has been working on for many years. She said that she will explore the history of Pakistani theatre from 1947 till date. She also said that during the research, she found out that there are not archives of theatre in Pakistan. Unfortunately, art councils of Pakistan neglected to keep the records and details of the plays. Therefore, Samina Ahmed faced some difficulties in the research process. However, she got the chance to meet and interview people like Safdar Mir, Naeem Tahir, and Shoaib Hashmi. When asked about the title of the book, Samina Ahmed said that she has not even thought about the title yet and the manuscript is still unfinished.
When asked about her childhood, Samina Ahmed revealed that her father suddenly passed away when she was young and the entire family had to start over. In this tragic time, her mother stepped forward and took over the role of the family head. With her resilience and patience, she brought up her five children. Samina said that although her mother had not even completed her bachelor's, she worked really hard for the well-being of her children. Her mother moved to England, and later, to the US, with her two younger kids and started a new life while her older children settled in Pakistan. Samina talked about her mother's bravery and courage for stepping out of her comfort zone and grabbing life by the horns.
Although we have seen Samina Ahmed as an incredible actress, we got to know her more closely through this interview where she talked about her childhood, career, and family.
Despite working for the last 50 years, Samina Ahmed is not slowing down. We will look forward to her future projects.