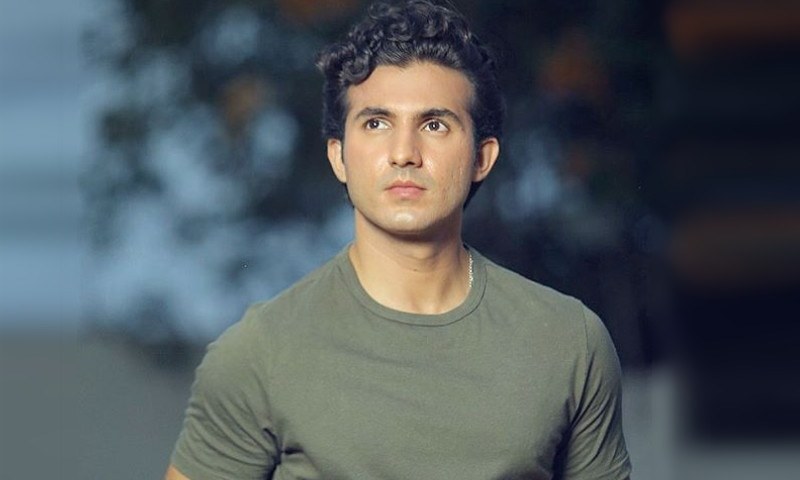 The young star talks about his forthcoming television projects in this HIP Exclusive.....

2019 has been a very good year for Shahroz Sabzwari. The talented young star was seen earlier opposite Mansha Pasha in television serial Juda Na Hona and he has also recently made his entry on the popular period series Aangan. Within a few weeks, another two high profile projects of his Deewar-e-Shab and Hasad are scheduled to go on air. Given all the humdrum of activity, HIP decided to get in touch with Shahroz to have an exclusive chat about these projects and a lot more. Here are excerpts from the conversation where the intelligent and suave looking actor shares his views…
HIP: So you have been juggling quite a few acting projects at the moment. How do you prefer to work – one project at a time, or are you more at ease managing multiple acting commitments?
SS: I think it's ideal to have a project at a time. That way you can stay in a character but from the standpoint of making a living, it is not the wisest thing to do. Also, sometimes you get offered two projects from great writers and teams, which is what happened with me in Hasad and Deewaar e Shab…both were great scripts from great production houses. And both the production houses have done great job -- Deewar e Shab has been produced by MD productions whereas Hasad is from Big Bang Entertainment (Fahad Mustapha's production house). I didn't want to say 'no' to any of them, so I picked up both the serials, and interestingly my roles in them are poles apart.
Read: Five times Sajal Aly and Ahad Raza Mir Gave us Major Couple Goals!
HIP: How do you manage to deal with the demands of being an actor, and balancing that with your everyday life? Do your roles affect your real life persona?
SS: I literally have a button in my head which when I go on set is switched on and as soon as they say 'it's a wrap', it switches off and I am back to being Shehroz the husband, the father, and the son – So I most definitely don't bring that luggage home. I think this comes naturally to me, that's how I have seen my father (veteran actor Bahroz Sabzwari) do it and so it runs in the genes. Also, I generally do not employ the method acting technique as I am the kind of actor who when he reads the script can go into that character and then come out very easily. Occasionally, there are some heavy scenes which are very difficult and very emotionally draining, in that situation you can carry their emotions for an hour or two. Like say a scene demands that I shout at someone, and I want to make it look believable for the screen, so I have to invest my energies into giving the right performance. Shouting just gets on my nerves and then for three or four hours, I don't want to be around anyone.
HIP: With Aangan already quite popular and two more projects set to go on air, tell us a bit about them and which of these are you the most excited about?
SS: These are three very different avatars in three very different projects, so I am pretty excited for all of them. In Aangan I am playing a character from the 1940s, who has a different set of traits from the that of the other two projects. The period depicted is around 1947 when Pakistan has just parted ways from India, and I am in a doctors' camp. The character comes from an aristocratic background so he has that kind of demeanor -- a little pompous, a little sweet, with definite traces of his colonial-era upbringing.
In Deeware-e-Shab, I am playing the character of Khayyam, who happens to be the son of a courtesan and who has grown up hating everything around him. So he detests every day that he lives in the red light area. As a result of his internal conflicts, he carries himself in such a manner that no one can tell about his background. This particular character trait of his was very new to me. It was certainly not a straightforward character to play – Khayyam is very conflicted -- he does not want to be a part of the red light area yet he always has to be there…he sleeps there and eats there. On the other hand, in Hasad I am playing an artist named Armaan who works in an advertising agency. He is very romantic and not very collected. He will say anything that comes to his mind, which sets the ball rolling for events later in the series.
HIP: Your character in Deewar-e-Shab seems to be a rather complex one. How did you go about executing it?
SS: My take on it, which I discussed with my director Iqbal Hussain (of Gughi fame) was that I want this character to be really well dressed and well spoken, in order to portray his detachment and revulsion towards the red light area, so that no one can tell that he belongs there, even the people close to him. Khayyam has a war going on inside him, a deep-seated internal conflict -- he has to take money from his family in the red light district and he is hating on them. I am looking forward myself to how this character comes out on the screen. I am also working for the first time with my cousin, my brother Shehzad Sheikh and we will be sharing the screen space so it is going to be a treat for our fans and our parents as well.
HIP: In Deeware-e-Shab you have also worked with an ensemble cast, featuring some heavy weights of the industry. How did that turn out?
SS: I really enjoy working with an ensemble cast because we can share the load and get to learn at the same time and I feel the performance just naturally comes out better in a scene with a couple of established stars because they know what they are doing. It is like doing a Tarantino movie, how he is able to bring all the actors together and get the best out of each. But I think only a good script has the power to do that.
HIP: Tell us about the drama series Hasad where you will be seen alongside Minal Khan…
SS: Yes, in Hasad I am working alongside Minal Khan for the first time, although both us have been working for a while. Hasad is very different from Deewar-e-Shab because it depicts a normal household with household issues, with 'hasad'/envy being the main issue. Generally, as a society we believe that when someone else envies you, that envy can affect you, it can harm you. So there are two brothers in the serial, me and Noor Hassan, another very good actor. Noor's character is that of a very sober, collected man whereas my character Armaan is quite the opposite. He is loved and hated for his particular demeanor -- basically, he attracts the envy of a close family member due to his relationships.
HIP: Do you feel that television programming needs to cater to a more diverse audience, including men? How do you think it can be made it less mundane?
SS: I think television programming needs to change not just to cater to the male audience but also for the female audience. The main issue at hand is that we don't read much as a nation. We need to read a lot of books, and trust me there are a gem of stories hiding in those books, some of which are structured perfectly for television with the right kind of cliffhanger ending at the end of every chapter. Why do we end up watching a lot of Turkish dramas or Hollywood shows? It is because that last scene makes you want to watch the next episode. That kind of a hook you will always find in books. If we look at Hollywood, they too have created a lot of material out of novels. And if someone (in Hollywood) writes an original screenplay, they are very well read. Coming back to our society, I feel we need to be more supportive and encouraging towards story-writing as we need a lot more good story writers. Although we have some, and they are well read, the demand (for quality writers) is a lot higher. We need a whole community of writers and we need to have a panel of writers working on a single drama serial. Writing is important, good writing is essential to win over the audience.
HIP: Your take on your experience with films, including your debut Chain Aye Na?
SS: I feel that Pakistani film makers need to evolve and move with the times -- you cannot get away with a below-par product. Chain Aye Na was Syed Noor's offering to the cinema, and he wanted to give the audience a flavor of cinema from another era….that was his take. Generally speaking, I find that working for films is less intense for the actor….in drama you have to perform 12, 13 scenes in a day, some requiring different moods and emotions, and there is definitely a lot more pressure (on an actor) on the sets. I have to give in my hundred percent for those 12 hours when I am on the sets performing the scenes, because the viewer will not know whether Shahroz when performing a certain scene was feeling tired or anything else. In films, we only perform a few scenes a day, so the demands are a bit different.
It seems things are definitely looking up for Shahroz Sabzwari, and we wish him the very best for his upcoming television serials and films!