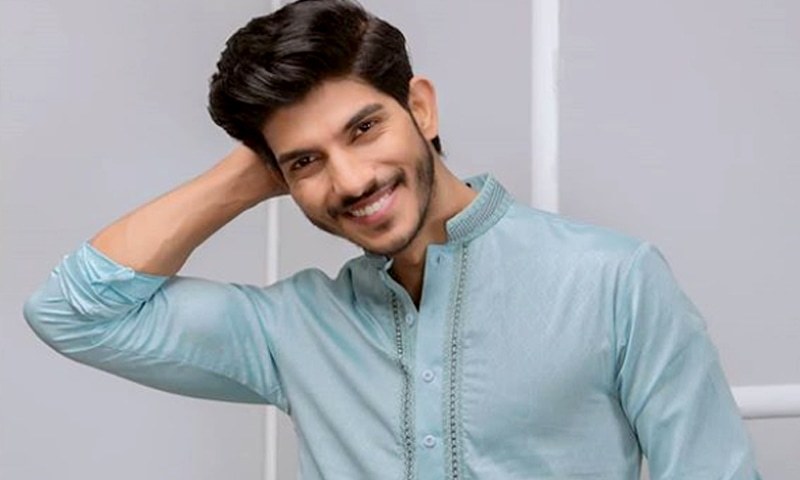 Mohsin Abbas Haider has been in the showbiz world for more than a decade walking multiple paths at the same time; from signing, acting, writing to hosting Mohsin has made a niche for himself with dedication and passion towards his craft. So what's next in store for him? Let's find out in this exclusive chat…
HIP: So Mohsin how's life? Have you finally overcome depression and removed the toxic people in your life?
Mohsin Abbas Haider: I am trying to remove such people from life and have been successful to quite an extent. As of now, I am keeping calm in dealing with such situations but still, there are some people who are well aware of the techniques to trigger my peace of mind so yeah I won't let anyone disturb my peace of mind and trying to fix things around me especially at this point of my career.
HIP: Let's start the conversation with your much-anticipated film Baaji.
MAH: I did a TV commercial with Saqib Malik; he was quite impressed with my work and energy. He told me that he would cast me whenever he will make a film. At that point in time, I took it as a compliment but I was really glad that he kept his words and actually offered me a role in Baaji. It was a great experience working with Saqib; he's a lovely person, a positive soul.
HIP: The trailer has hit the right notes; there isn't one negative review. How does it feel?
MAH: Yes! The response and trending has been great, the entire credit goes to Saqib the way he has knitted the story with the characters is commendable. The script by Irfan Ahmed Urfi is beautiful; the DOP Salman has done a great effort by presenting a film as a film and not a drama. I am very excited, let's see how the audience reacts to Baaji.
HIP: What's your character like in Baaji?
MAH: My character is of a guy from interior Punjab; deeply in love with a girl of her neighborhood (Amna Ilyas). She is very ambitious and aims higher in life, therefore, it motivates my character to match up with her standards. All the characters in Baaji are fighting for their survival and achieving their goals.
HIP: Why should the audience prefer Baaji over other films?
MAH: I feel the audience should watch and promote Pakistani films as we have limited access to it. The genre of Baaji hasn't been attempted in Pakistani cinema before; therefore the audience will get to see a film with a new flavor other than romcoms. People should watch Baaji as it's a perfect mix of music, drama, thrill, romance, and action with pure Lollywood essence. Earlier films like Teefa in Trouble, Manto, Shah, Na Maloom Afraad even Punjab Nahi Jaoungi stood out in today's contemporary cinema as they entertained with different subjects.
HIP: You chemistry with Meera in a recent promotional event was too hot to handle. How was the experience of working with her?
MAH: I don't have much interaction with Meera jee in the film as her track is with Amna, Ali, and Osman. I have most of my scenes with Amna, Nayyar Ejaz, and Ali Kazmi. I haven't shared much screen space with Meera but during the making and off camera I realized that she is very professional, she knows her craft and is truly dedicated towards her craft. I have said this before during my interviews that actor from old Lollywood knows the true meaning of a feature film. As far as the hot chemistry during the promotional events is concerned; Meera jee is a sweetheart; she likes to experiment; pose for the camera, doesn't make us feel that she's a star or diva.
HIP: How excited are you to be part of Deewar-e-Shab. Tell us about your role and experience?
MAH: I am doing a guest appearance as 'Faiz Ali' in Deewar-e-Shab; it's my kind of thing and I personally like to be associated with such projects. I was in talks with HUM TV for a couple of projects; we were willing to do something since quite long so we started off with a guest appearance. The project had a great director and superb cast so I said yes to it, finally breaking the jinx between me and HUM TV. There are some projects in the pipeline with HUM, let's see how they shape up.
HIP: What is Charlie Visits Lahore all about?
MAH: It's one of my thematic photos shoots with Mohsin Khawar. My first interaction with Mohsin was at a poster shoot for a film; after some time he contacted me and we planned to do a shoot. Khawar loves to experiment and with mutual discussions, we did our first shoot as a joker and subsequently came up with the idea of Charlie visits Lahore. I am lucky to meet and work with creative people like Mohsin; we already have started preparing for our next photo shoot.
HIP: You are tapping into the digital platform with Baadshah Begum. What made you say yes to it; the script, Rafay Rashdi or a fat pay cheque?
MAH: Digital is a new wave in Pakistan, therefore, I felt the need to be a part of it and what better way to start it with a positive soul Rafay Rashidi. I am always looking for interesting projects rather than getting stereotyped. Baadshah Begum is my first web series; the script by Saji Gul is amazing moreover I like the grandeur of the project too. It's about sibling rivalry, earlier Rafay was pitching me a positive character but with mutual consent, I am now playing a negative role in it. As far as the fat pay cheque is concerned I have a simple formula that I don't need to earn more than my requirements. The pay system in the industry is quite a mess, therefore, I don't feel like calling a zillion times for my cheques. I can settle down with less payment but not with delayed payment.
HIP: What's the update about your music? When are you releasing another single?
MAH: I recently did 'Na Jaa' with Sohail Haider, I wrote and recorded a special Naat for Ramadan. I am planning a couple of singles and hope they come out soon.
HIP: Meri Guriya was hugely accepted and loved by all. The love of the audience is the biggest reward for any actor (far bigger than any award) Do awards matter to you?
MAH: We were showered with immense praise, rewards, and appreciation when Meri Guriya went on air; it was our contribution to bring awareness towards the society. We don't have a neutral award show like LSA in the country other than the channel awards that have their own dramas in the respective categories. On behalf of my team and being a performer, it's just that we were looking for a token of appreciation and encouragement by just getting nominated instead of being overlooked. I am thankful to LSA for nominating my song 'Na Jaa'; I am not on a boycott spree; but still, I am hurt, I won't be attending LSA because of my Meri Guriya.