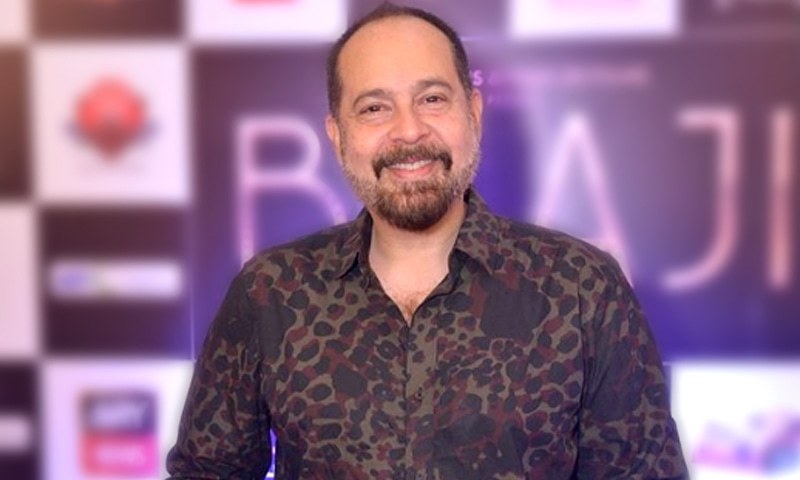 The excitement for the year 2019 had started long back with the number of exciting films releasing this year. Saqib Malik's debut film Baaji is one such film we've been waiting ever since it was announced. Saqib has been in the advertising business for more than three decades; he has been an avid Pakistani cinema buff his entire life. 'Baaji' revolves around the life of a once successful film star whose career is on the decline. Just two weeks away from its release; we at HIP caught with Saqib to know more about the film.
HIP: Baaji is ready for release. How does it feel?
Saqib Malik: I am overwhelmed with promotions, coordination, putting the finishing touches to the film and generally keeping my head above the water, that I don't have time to feel anything. All I know is that me and the entire team behind Baaji, have put their heart and soul into the film. Instinctively I feel good about the film but I am also on edge as one can never guess what audience reactions are going to be like. One thing I know for sure, Baaji is different than any other film at the moment. It's different in a way that it will hopefully appeal to people across the board.
HIP: What drew you to Baaji?
SM: I wanted to make a film that meant something to me, something personal and yet universal. I was drawn to the idea of people of different backgrounds intersecting, of eras colliding. We are at an interesting cultural moment as far as films are concerned; the almost end of a film era known as Lollywood and the emergence of new film culture. In this moment of transition and flux lies the story of a fading star desperate to remain relevant and a girl from the opposite side of the tracks who dreams of a better life and a future. When the destinies of the two protagonist's criss-cross, the drama is combustible. I was drawn to this story and its dynamics as the story is rooted in time, and that time is now.
Read: HIP Exclusive: Shameera is a Role of a Lifetime! Meera Speaks About her Comeback Film 'Baaji'
HIP: How did the title come about?
SM: The title Baaji was crystal clear to me from day one. It had an old world charm as well as irony. It's a homage of sorts to a cinema of another era, yet Baaji is a very modern film. Additionally, it's a word that is so culturally specific to us and thus as a title, it stays with us; story-wise it's all integral to what is happening in the film. It felt like a natural fit for the film.
HIP: How would you describe Baaji in your own words?
SM: Baaji is beautiful, Baaji is Bold, Baaji will bend your mind and break your heart. At the end of the journey, Baaji should leave you with an emotional buzz that should linger on an on. It's wishful thinking perhaps on my part, but that's what I am hoping for.
HIP: Why Meera?
SM: This film could have only starred Meera in the role of Baaji. I find her face very expressive and her persona fascinating. She brings this other-worldliness to the screen that is hypnotic. She is a fearless actor who isn't afraid to bare her soul; at least that's what I saw. She didn't prove me wrong, when I approached Meera it was a deeply emotional moment as she felt this was the role and the break she had been waiting for. She entrusted herself to me and I hope I have done justice to her amazing talent.
HIP: How did the actors come on board?
SM: The saga of casting this film within itself is an epic. Let's just say I ultimately got my dream cast. I wanted actors who were fearless, weren't afraid of taking chances and giving everything to the film; so I am blessed. Amna Ilyas came on board literally at the last moment and she has totally nailed the role of Neha. A lot of other actors were afraid of something or the other and kept dilly-dallying. Amna trusted me and literally thrust herself into the film. Osman, Mohsin, Nisho, Ali Kazmi and Nayyar Ejaz also have their back stories to being part of the film, but more on that another time.
HIP: Humaima Malik was earlier to do Amna's character, but was replaced due to unprofessional behaviour. How true is that?
SM: These are just rumours and its best not to pay attention to them. Humaima was very much considered and she was also keen to do the film. She was caught up in wrapping up 'The legend of Maula Jatt' and I was in a rush to start. She didn't have enough time to prepare for the role and we parted amicably. It didn't work out but I always wish her the best; she is a fine actor and a lovely person.
HIP: Baaji seems to be a perfect blend of content and commercial cinema. How did you manage to get it right?
SM: I wanted to make a film at once deeply personal and yet universal in its appeal and emotions. I kind of know what ticks with people: Baaji was a risk in that it wasn't typically formulaic, but if the teaser and trailer resonated, then I guess I am on the right path. The trick was to make a film that was seeped in our own cinematic culture but yet perceived as contemporary.
Read: "It has been my dream to work with Meera"
HIP: Did you research in order to present old Lollywood correctly?
SM: Baaji is set in a contemporary setting and isn't a period film so "old Lollywood" as such doesn't feature prominently. The film pays tribute to the era with many references; we have reproduced two classics 'Yeh Aaj Mujh Ko Kiya Hua' and "Don't be Silly".
HIP: As a director, what's the biggest challenge in filmmaking?
SM: As a director, one has to cast a spell and narrate an engaging story with compelling characters; If that is achieved the job is done.
HIP: Any specific reason to produce the film yourself?
SM: I am producing as I wanted total command over the film; no one would have taken such risk of this magnitude. I had a vision and only I could realize it without any interference from anywhere.
HIP: Are there any elements of facts in the movie? Or is it fiction?
SM: There is some Metanarrative in the film as Meera is playing a fading star from industry on its demise. Having said that, the story is authentic and a work of fiction. It isn't the least a film about Meera's life as some are assuming. If anything, I was inspired by Hollywood classics like 'Sunset Boulevard', 'All About Eve' and the recent 'The Talented Mr Ripley'
HIP: What has the music new to offer?
SM: Baaji's music is both eclectic and accessible. Zeb Bangash and Saad Sultan have done four tracks, while Taha Malik is behind two banging dance numbers. Jamal Rahman has done the hypnotic background score is also responsible for the terrific recreation of Yeh Aaj Mujh ko Kiya Hua. The jewel in the crown is the legendary Master Tafu, the maestro behind so many classic songs from the golden period of Pakistani cinema. Tafu Sahab has given the music to two thumping Punjabi songs rendered by the one and only Naseebo Lal. We also have Zeb, Aima Baig, and Natasha on the playback. Osman has wrapped in Khilti Kali as well; so we have it all from Jazz to eclectic to romantic ballads to pounding Punjabi numbers.
HIP: How relevant is Baaji for today's audience?
SM: Baaji's story is timeless and universal yet rooted in a moment of history that is now. It's a very Pakistani story and the themes it is dealing with like class, ambitions, desires, and betrayal are all very relevant. The backdrop is, of course, our entertainment industry that will resonate with audiences.
HIP: As a filmmaker, do box office numbers get on your nerves?
SM: As a filmmaker, I first and foremost want respect and they want the box office busted. While growing up I loved doing tours of cinema houses on Sunday afternoon in the city to witness which films went House Full. So yes box office matters and I would love to see a House Full sign for Baaji.
HIP: Who do you have a desire to work with next?
SM: I have no plans or desires for the future. I have been spoiled by a terrific cast and wherever I look, everyone pales in comparison.
HIP: My last question to you is why should the audience watch Baaji?
SM: The audience should watch Baaji as it's a compelling story with great music and wonderful performances. I hope Baaji seduces you in its world and leaves you bedazzled!
Watch the trailer of Baaji here: