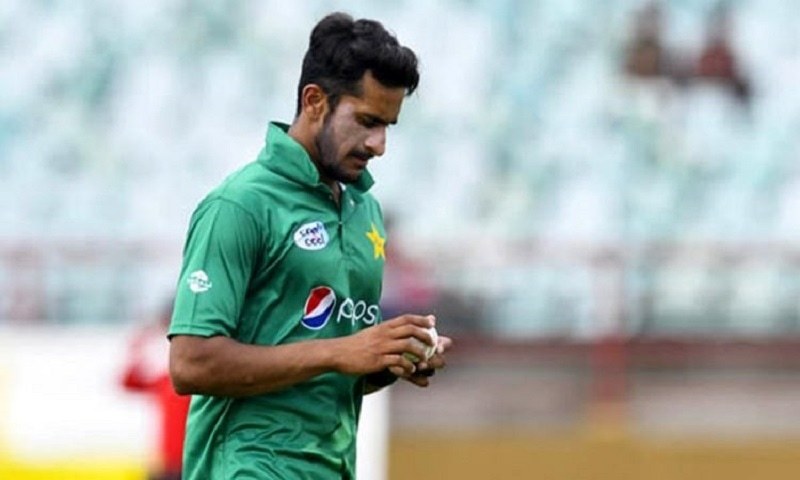 Pakistan's fortunes are tied with Hasan Ali's performance...

Pakistan had lost the ODI series 5-0 to New Zealand. They had been walloped in the 1st T20. Somehow they found it in themselves to fashion themselves into a winning position in the 2nd T20. Hasan Ali ran into bowl, and it was clearly against what he had decided with his captain. Sarfaraz needs very little to tick him off. He was fuming and had a go at Hasan. The fast bowler walked away in fury. Bowling a ferocious yorker next ball resulted in a wicket. He stood middle of the pitch and let out a roar. Rather than the batsman, Sarfaraz seemed the target of it. Hasan Ali didn't play the next match. Team management said it was an injury. Pakistan took the final game and won the series. No one batted an eye.
Fast forward to the final ODI against England in the pre World Cup series. 50th over, England had cruised to a 300 plus total. Hasan now bowling at the death, delivered a length ball. Sarfaraz was annoyed, gestured with his arm towards the batsman's feet. Hit the yorker he said. Hasan retorted by pointing out that the Square leg was up. It wasn't a confrontation but a discussion. Which shouldn't have taken place from this far? Hasan nailed the perfect a yorker next ball, glared towards Sarfaraz. Innings over.
A few days ago, my favourite cricket writer, Osman Samiuddin took a statistical analysis of what went wrong with Hasan. Having to come in with no wickets down is impacting his bowling, he summarised. Misbah ul Haq stressed that he needs to alter his lengths better against the different batsman. His pace hasn't dipped. His training methods remain the same. What has changed? The obvious factor is the lack of reverse swing. A damp English summer & scrutiny from umpires have taken care of that. Pakistan found some reverse against England & had picked up two wickets by the time Hasan came in. It was his most controlled spell in months.
Read: Pakistan Look to React as Vultures Start to Circle In!
Control might be the right word here. Hasan Ali is known as someone who trains ferociously. He wears his opinions on his sleeve and is extremely confident in his abilities as a cricketer. Perhaps he is trying too hard. In the India match, he did produce deliveries which beat Rohit Sharma. But then he served up short balls on a platter, both sides of the wicket. Against Kohli, he tried going full twice after the rain break. Both times, it was an easy shot for Kohli.
From the outside, he looks too eager to prove that he is good enough. 'I can still bowl magic balls', he seemingly wants to say to his captain and to the world. In pursuit of magic balls, he is perhaps giving away freebies. Amir, who has been our most successful bowler has succeeded by sticking to the basics. Batsmen, have given him wickets because he is unwilling to err from his lengths. Hasan could do much worse than look at Amir's spells. It might be time to make it simple. Not look for seam, swing or fancy deliveries. Just bang in it on the right length as per the batsman and the pitch.
He might need a talking to. One hopes he listens. Pakistan needs Hasan firing and going ballistic.