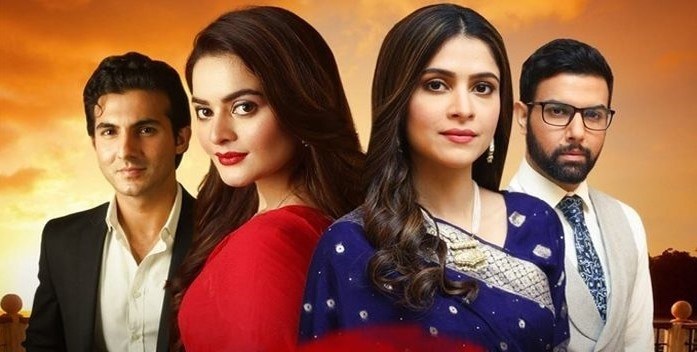 Hassad marks as Arij Fatima's comeback on the tv screen and she has definitely been doing justice to her character...

With the release of ARY Digital's new drama "Hassad" last week, the audience is already in for another twisted love story with all the major elements of a typical Pakistani drama. Written by Abida Ahmed and Maimoona Aziz, Hassad revolves around the life and turmoil of Nain Tara played by Minal Khan. The drama stars an ensemble cast including Shahroz Sabzwari, Arij Fatyma, Noor Hassan, and Saba Faisal.
From the first few episodes, the drama has established itself as definitely a stereotypical one, with the good bahu and the bad bahu, the inherently good mother in law who is being used by the bad bahu to make life miserable for the good bahu. All in all, Hassad ticks all the stereotypical notes for a mainstream family drama. Where Hassad does stand out is in its unique take on the love story dynamics between Nain Tara and Armaan (played by Shahroz Sabzwari).
In last night's episode, Armaan is shot and killed by some burglars who enter their home as he was trying to save his brother's life. Armaan and Nain Tara's romance was short-lived, but their on-screen chemistry definitely had us see a lot of sparks flying between the two.
Read: HIP Exclusive: Naintara is Very Close to My Heart - Minal Khan Speaks About 'Hasad'
Shahroz Sabzwari did a brilliant job in playing the ever-optimistic romantic guy whose life seemed to be about making others happy. To give credit where it's due, Hassad did not shy away from killing off a major character for the sake of its storyline. Instead of continuing the typical family drama that arrives from the "jealousy", Hassad took a bold step by bringing another dimension to the love story.
The evil eye on Nain Tara and Armaan's love was Zareen (played by Arij Fatyma). Though people falling dead because of jealousy or envy seems to be a bit of a far stretch, Zareen's character would definitely make you understand the sentiment behind the name of the play. Arij Fatyma is brilliant as Zareen, her versatility shines through as she goes from sickeningly sweet to downright covetous with her signature eye rolls that are enough to say what is going on in her head. Hassad marks as Arij Fatyma's comeback on the tv screen and she has definitely been doing justice to her character.