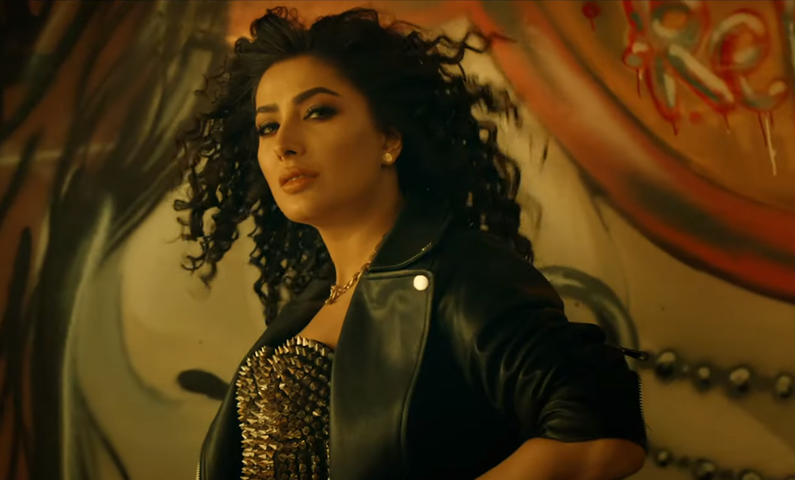 The music video features the very talented and one of the biggest name in the Film industry, Mehwish Hayat...

The upcoming Pakistani film Baaji which is to be released on 28th June is already making news on television and social media. Directed by Saqib Malik and produced by his Production company Page 33 Films, features Osman Khalid Butt, Amna Ilyas, Meera, Ali Kazmi, Nayyar Ejaz, and Nisho in pivotal roles. Irfan Ahmed Urfi is the writer of the film.
Read: Baaji's Song 'Badlaan' is Definitely a Treat to the Ears!
The theatrical trailer of the film was released 2 weeks ago and we saw the song 'Khilti kali' from the film 2 weeks ago featuring Taha Malik and Zeb Bangash trailed by the second song 'Badlaan' released a few days after the first song which featured Zeb Bangash and Saad Sultan.
But it does not end there. The third and the most awaited song 'Gangster Guriya' has just been released. There was a lot of hype of this song on social media prior to its release. The lyrics and the choreography is by one of the most creative-heads of our industry, Osman Khalid Butt. Taha Malik has also played a major role by producing and composing the song.
Sung by Sunidhi Chohan, the music video features the very talented and one of the biggest name in Film industry, Mehwish Hayat. The song has a very strong resemblance with the Bollywood songs "Husn Parcham" and "Swag Se Swagat" featuring the British Queen of Bollywood, Katrina Kaif! Mehwish's outfit, her hair and definitely the dance steps… everything matches Katrina's style from the dance number.
It seems like a lot of work has been done when it comes to the video, but the lyrics are just fine.
The Vocal tracking was done by Tanay Gajjar (wow & flutter studios, Mumbai). Talking about the vocals, they are perfectly pitched along with the beat of the song. The song is more of a Pop style mixed with Edm.
Coming towards the video, plenty of dancers can be seen dancing alongside Mehwish Hayat. Wearing classy outfits, dancing to the melody with well-choreographed steps, the music video is an absolute work of art. It seems like Meera's performance is still a mystery and we are just too anxious to see her perform on the big screen. But as per now, "Mein gangster guriya, kahay mujhay dunya'' is what's going to be in the discussion for a couple of days!