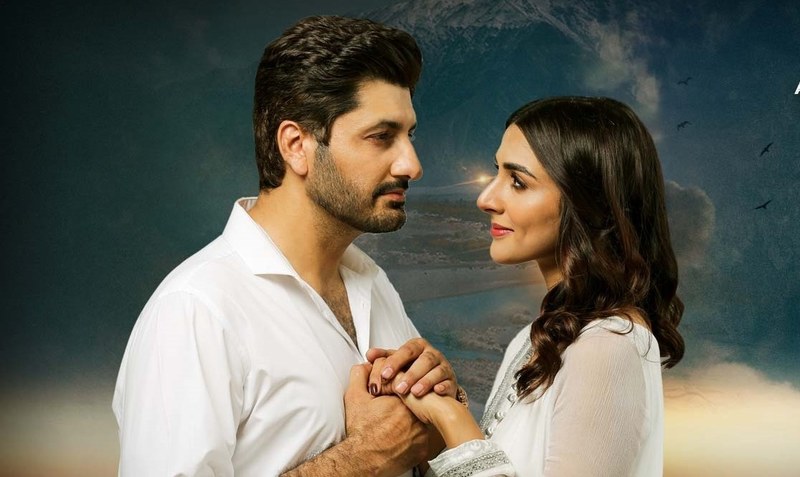 7th Sky Entertainment's newest drama serial Meray Mohsin aired its first episode last night...

7th Sky Entertainment newest drama under the production of Abdullah Kadwani and Asad Qureshi's Meray Mohsin aired its first episode last night, and it has already established itself as a modern-day love story, with some typical twists and turns. Starring Rabab Hashim and Syed Jibran, the drama has an ensemble cast including Saba Hameed, Gul-e-Rana, Mariyam Nafees and others. Written by Nadia Akhtar, the drama follows the story of two people in love, who are going to face some serious obstacles in life because of their backgrounds.
Meray Mohsin has all the elements of a typical rich girl-falls-in-love-with-poor-boy story, but with some very different dynamics. The poor boy aka Mohsin (played by Syed Jibran) isn't exactly poor, in fact, he is well established and is shown to be providing for his whole family on his own. Though, he comes from a middle-class family, where Soha (played by Rabab Hashim) ticks all the boxes of a rich girl who comes from an elite family and is shown to be extremely pampered. She isn't shown to be mean and obnoxious, rather very confident and headstrong - she knows what she wants.
Rabab Hashim stands out as Soha, she takes on this interesting character has given Soha's personality a new dimension. Her versatility shines through, as this role is very different from all the other roles she has dabbled in, which makes it all the more interesting to see her pull off this character. She has done a brilliant job in portraying Soha's changing moods as she goes from sweet to angry in the matter of a few seconds.
The first episode was a great introductory episode, all the characters have been introduced and how things go by in Soha and Mohsin's life is also pretty clear. From the looks of it, Meray Mohsin seems to be an interesting love story with a few stereotypical factors but our hopes are high from what is yet to come.