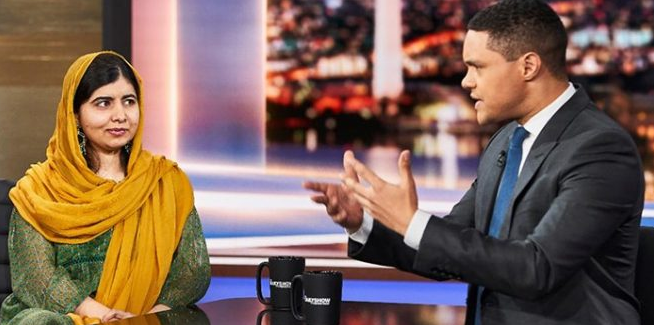 Malala aims to create a world where every girl can learn and lead...

Malala Yousafzai, the youngest Nobel prize winner, is also an author of several books including her memoir, I Am Malala. She shares her story to inspire other girls and encourage them to go after their dreams. For that purpose, she has established the Malala Fund which is a charity dedicated to the education of young girls around the world. Malala aims to create a world where every girl can learn and lead. She travels around the world to gather stories of those who are in need and shares to create awareness about the issues less talked about.
Recently, she appeared on Trevor Noah's show, The Daily Show, to talk about her new book, We Are Displaced. During the interview, Malala talked about the issues being faced by refugees and immigrants. She said that people often talk about refugees and immigrants in numbers. However, that is not impactful as we talk 'about' them and not 'from' them. That is why she needed to meet the displaced girls in person to hear their stories of resilience and bravery. She talked about the importance of putting a face to the displaced people and reaching out and meeting them in our communities.
In her book, Malala has shared stories of young girls who are immigrants and refugees and had to leave their homes for their safety. Furthermore, she said that becoming a refugee is never anyone's first choice. Mostly, it is the only choice they have to be safe and have a better future. Here she mentioned that she and her family were in similar circumstances when they left Pakistan.
When Trevor asked about her disappointment on Australia's anti-immigrant and refugee laws, Malala said that it is never easy to make someone understand refugees' situation. However, if people go out and talk to refugees and immigrants and try to understand their circumstances, they can have a better idea of things. She quoted her father who says that if you want to know about Muslims, don't watch the news. Instead, go to your next-door Muslims neighbor and talk to them.
Although Malala works for refugees in general, she has included the stories of young girls in her book as she believes that it is even harder for females to cope with being refugees and immigrants. It seems that Malala is on a mission to give young girls a better life and a better future.