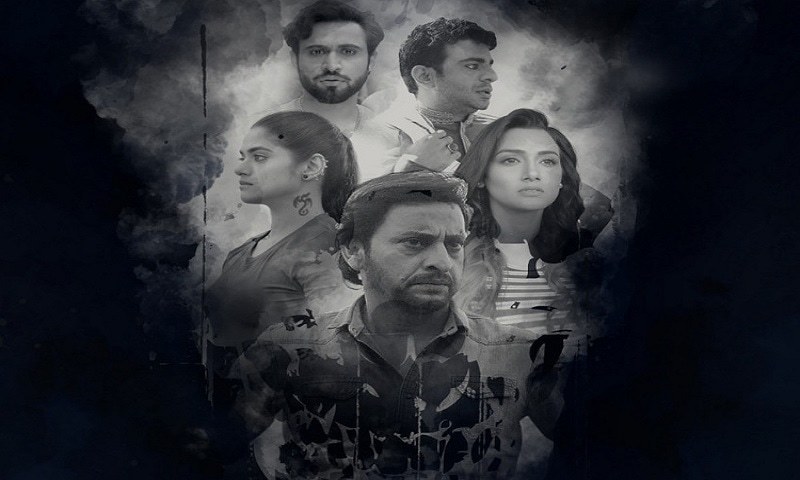 As a director and writer, Abu Aleeha is off to a decent start...

When you think of Pakistani films, you think of a rom-com which end with big fat weddings. It's a safe bet for filmmakers, especially on Eid (that is when most of our films release anyway). So, when a filmmaker dares to venture outside of this comfort zone, it is commendable. Kataksha was branded Pakistan's 1st psychological horror film.
Watch the trailer:
With its story, the film does take the same standard travel horror genre liberties. It's a story of 4 employees of a news channel, who are travelling to Katas Raj Temples to shoot a new program. Asharaf (Saleem Mairaj) is the sharp-tongued driver of the team, while Salu (Kasim Khan) plays the director of production (DOP) who is a pervert but also a self-taught philosopher. Aiman (Namrah Shahid) is the host of the show. She is courageous and takes no BS from anyone. Parenting them all through the trip is Nazish (Kiran Tabeer), the producer of the show. Mubeen Gabol plays the in-charge of the temples.
It was a wise choice to take Saleem Mairaj on board for this role. In horror flicks, no amounts of jump cuts or background music can replace a terrified human being fearing for his or her life. Saleem Mairaj portrays this fear without becoming overbearing. The lightening technique and the sound design also help, but Saleem Mairaj is exceptional with his expressions. Also, he has a thick Punjabi accent through the movie, and to his credit, he never loses it. The other three younger actor and actresses have played their part adequately without being outstanding.
Another important factor is that all these characters have been given backstories. They aren't a type or an emotion. If there is anger, there is some gentleness in each of them. Moreover, as it happens with most travelling groups, the official designations and statuses get ignored. So, Asharaf a driver, bonding with the director doesn't seem too odd. The writer also highlights the chauvinistic culture of news channels. There are sharp dialogues about men's behaviour which might pinch some.
From a technical point of view, the VFX, sound design, cinematography, and art design are all quite impressive considering the low budget and how limited expertise we have in the Pakistani industry. It is pertinent to mention that all post-production work was done in Pakistan, which is let's face it, a surprise.
Also, the film sets right into PM Imran Khan's tourism agenda. Katas Raaj's significance in Hindu mythology was discussed in the film. It was a bit of a history lesson but given how the film has shown the temples, one would want to visit and see it in person (hopefully, during the day only).
Read: Yasir Nawaz Gets the Comedy & Emotional Mix Just Right with Wrong Number 2!
There are some areas which could be improved, like with better editing the film could have been cut short about 10 minutes or so. One particular sequence at the climax fails to keep your attention because of its length. While the film is about supernatural creatures, it also talks about how your inner fears overtake you. This angle could have explored a tad bit more.
Read: "Kataksha" Heads Towards the London FrightFest Film Festival!
But to sum up, it's a decent first attempt from an independent filmmaker, working on a shoe-string budget. As a director and writer, Abu Aleeha is off to a decent start.