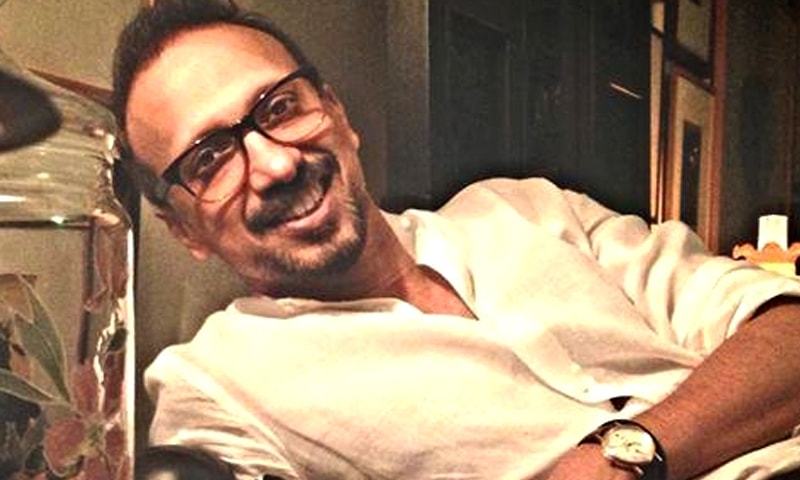 With a super busy schedule with Parey Hut Love, Asim Raza sat with HIP and we are super excited for the movie...
He's unabashedly a fan of Pakistani cinema since childhood, eminently talented and employs fresh ways to bind a film with story and substance. That has been director Asim Raza's attempt since his first film Ho Mann Jahaan. He returns to the big screen with his mammoth directorial project Parey Hut Love. The official trailer was unveiled last week that left us spellbound. The star-studded cast, rich wedding décor, beautiful landscapes, elaborate choreography, grand production design and stunning impact by the lead actors make it nothing short of cinematic delight. Parey Hut Love opens on Eid-ul-Azha and Asim is busy right now, but he was a gem of a person to answer all my questions.
HIP: Parey Hut Love is your second feature film. I would like to start the conversation with your early memories of cinema? At what age you were introduced to films?
Asim Raza: I have followed Pakistani cinema all my life thanks to my parents who introduced me to this culture at a very early stage and me being a big fan of cinema; I looked forward to such outings every time more than watching a Hollywood or Bollywood film. It was a ritual in my family to go to cinema halls and watch films. We got exposed to different genres of cinema with new age and time and got inspired by them too. Having said that, my roots come from the cinema of Nazrul Islam, Shabab Kiranwi, Hassan Tariq and many big directors of Pakistan.
HIP: Cinema is a universal medium. Do you think academic training is important for directing a film?
AR: No matter how universal a language we are speaking; I believe that academically it really helps you to be knowledgeable enough. It's always good to break rules but for that, you need to learn them first before you break them. Academic training is a huge help, you get to study the subject that you plan to take up as your profession.
HIP: What was your biggest learning as a storyteller from Ho Mann Jahaan?
AR: My biggest learning from Ho Mann Jahaan is summed up in the last dialogue that Fawad Khan says in PHL trailer 'Kamyabi Ka Asool Hai Logon Ko Mazaa Karao Jeena Maat Sikhao' (The rule to success is to make people enjoy themselves rather than teaching them how to live)
HIP: The trailer of PHL dishes spectacular visuals, songs, dance, colours, grandeur, and many famous faces. Are you playing it safe?
AR: The audiences aren't really excited to watch cinema that is rather serious or about life; they enjoy watching larger than life cinema vs life cinema. Unfortunately, we have trained them for that matter in a certain way. I am trying to push my limits within this context and want to talk about the realities of life. However, with PHL, I have attempted to give them a larger than life cinema which we have all grown up watching and that's why we are used to it. I am not playing safe as they say 'When in Rome, do as the Romans do' film is not a medium where you make things for your own satisfaction. It is an inclusive art you have to include your audience; this time around I have studied the audience probably a lot more and I have tried to give them something as palatable for both of us.
HIP: How did the idea of Parey Hut Love come to you?
AR: I wasn't even one film old when PHL came to me as an idea by the writer Imran Aslam seven years ago. Imran wanted me to make this film; I really enjoyed and I thought it was a great idea. Imran got busy with his work and us kind of lost the track in the process; I am happy we came back to it again.
HIP: How did Shehreyar land up the lead role in PHL?
AR: This film deserves Shehreyar as much as Shehreyar deserves this film more than anyone else for two reasons. Firstly the arch of the character; the way it's written needed someone who possesses the required qualities; he did fit in the role like a glove. Secondly, PHL was my unfulfilled dream, it was Shehreyar who picked it up as a producer and believed in it probably more than us. I must say he has really given his heart, soul; sweat, and blood just to make it happen.
HIP: What was the noise being drummed about Maya replacing Mahira?
AR: Yes! Mahira was signed as the main lead but unfortunately, Imran Aslam had fallen sick and couldn't finish the script at that time. The idea was to go with someone else to finish the story or wait for him. I and Shehreyar with mutual consent decided to wait for Imran. During this process we faced a loss that Mahira dates were locked by other directors, so she couldn't be a part of the film.
HIP: How did you sign this massive ensemble cast?
AR: It wasn't that difficult; my strategy throughout my life has been in giving love and in return expecting love. It's in my nature I can't help it but to love people, therefore, every single actor in the film didn't give me any star tantrums; I'll be lying if I try to make a big story out of it; everyone came up with open heart and open arms and I am extremely obliged and humbled by their love and support.
HIP: When one thinks of cinema, music has always played a big part in Lollywood. Tell us about the music album?
AR: Yes! Music is an integral part of cinema, particularly in Pakistan and India. We are tuned to music as we expect it from any other medium. I have been a huge fan and a great believer in music. The music album of PHL has six songs; each song has its own genre that shall entertain different people at different levels with soulful, celebratory, fun and spiritual thoughts. Azaan Sami Khan has given the music; he is a very talented young music director of Pakistan. He has a wonderful understanding of cinema and I can see him going places.
HIP: Tell us about Mahira Khan's special song?
AR: Mahira is doing a special appearance in the film that is much more than just a song. Her character has relatively lesser time on screen, but the scenes are very important to the film. It required someone with a lot of power in many ways needed to do justice to the role. She's a huge star of the country and still came on board to help us out. I discussed the possibility of this cameo and she was very kind to say yes. She owned the film and wanted to be part of PHL in whichever way.
HIP: How was it shooting the big Shadi number with 250 extras?
AR: There are three Shadi numbers; the biggest one was surely a deal and a half. There were only 250 extras along with 80 to 100 dancers accompanied by the main cast comprising of 15 to 18 big names from the industry. The song was shot in Bahawalpur; we were away from home and to make everything look larger than life was surely a huge task. We worked hard on the pre-production for three months to ensure that people should connect with our culture, celebration, and idea of fun. It was very demanding but a lot of fun.
HIP: How much do you give importance to box-office while you are making a film?
AR: It would be a lie if I say I wouldn't care about the box office. Personally, I do not have that kind of capital to invest in a project of such big scale, therefore, I can't be irresponsible with the investors that I don't care about their money and just want my art to go out. I have tried my best to cater the masses; I want them not just to enjoy but in return give that support to Pakistani cinema and independent producers in order to keep making bigger and better films.
HIP: PHL is competing with multiple films this Eid-ul-Azha. Your comments
AR: Yes! PHL is coming out on Eid-ul-Azha; some other films have also recently announced their arrival on Eid. I feel we need to understand that we keep talking about supporting the industry but with such things we are only damaging it. Due to the small number of cinema and audience, we are limited by the size of the pie therefore as many people would join in, the share of the pie would start getting smaller. The smaller films with small budgets might survive it, but people who invested more just to give a bigger and better experience of cinema won't be able to take their returns home. Resultantly they won't be coming back to invest. I feel some people have understood this idea very well; I guess they are trying to work on it and making sure that independent producers do not get investors; if they get it once they shouldn't get it twice.
HIP: Final question and a mandatory one: People should watch PHL because?
AR: Parey Hut Love is my ode to Pakistani cinema; the romance, beauty and larger than life wonderland experience that we are used to from the days of Zeba, Muhammad Ali, Nadeem, Shabnam, Waheed Murad, Rani Ji, and so many other names. This is my way of saying thank you to them and my learning from all those films. It's a humble attempt to revive that kind of romantic cinema in Pakistan.
Watch the trailer: