Baaji's music composer Jamal has recreated "Yeh Aaj Mujh Ko Kya Hua" for the movie also worked for the background score.
The soundtrack of Saqib Malik's soon to release Baaji has been creating ripples ever since clips of its tracks were released with the film's teaser and trailer. Leading the buzz is the modern rendition of the psychedelic anthem from the 70's "Yeh Aaj Mujhko Kya Hua", which was originally crooned by the golden-era songstress Naheed Akhtar. Ace musician Jamal Rehman was brought in to transform the vintage number to a contemporary chartbuster, and he has also scored the movie's background music. HIP spoke exclusively with the gifted music composer and producer to learn more about the aural landscapes he has produced for the film…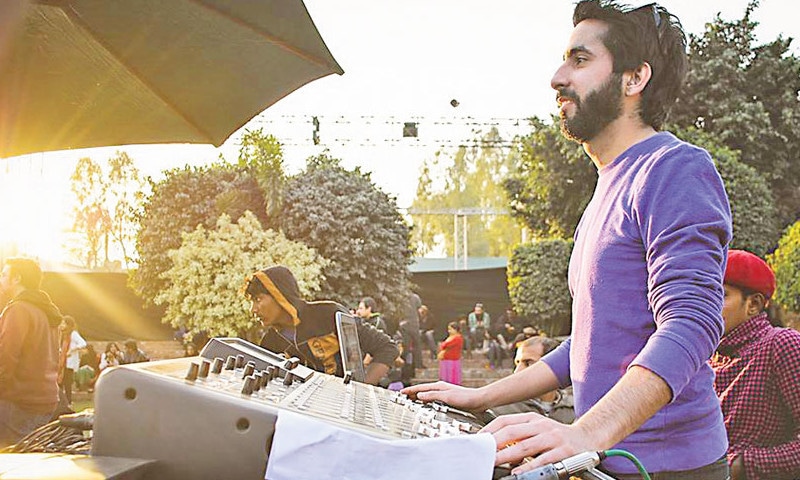 HIP: Tell us about your beginnings as a music composer/producer and your trademark sound, if you have one…
Jamal Rehman: I've been producing music for over two decades and my sound has been constantly evolving. As a child, I was first exposed to eastern classical, film music and qawwali by my parents. Then, when I first started producing and performing music as a teen, I was heavily influenced by the grunge rock music of the 90s and in parallel, house and electronic music as well. Later, when I moved to England to study, I was exposed to a wide range of genres from contemporary jazz and soul to trip-hop and drum n' bass. There was no end to what you could find in the music scene in London.
When I set up my studio True Brew Records in Lahore almost ten years ago, I was mostly recording live bands, frequently collaborating with various session musicians in Lahore. I had decided that for the first several years, I would stick solely to recorded music played by musicians, as opposed to electronically generated sounds, to build a solid foundation and experience in the recording arts.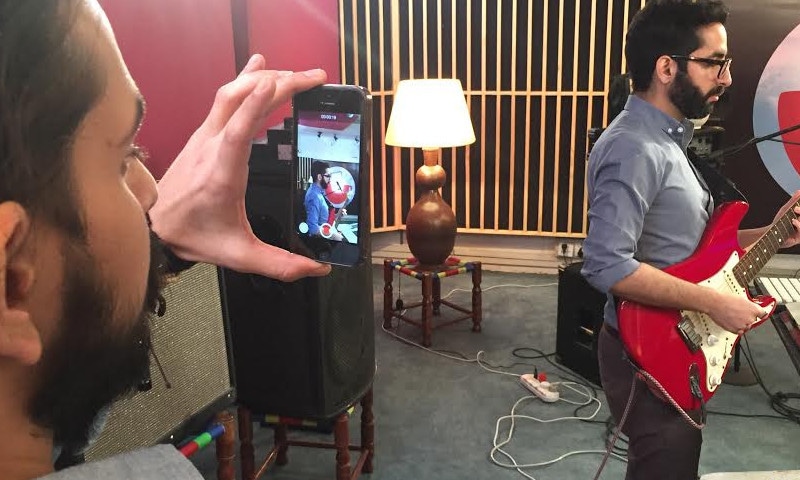 HIP: What project gave you your first big break?
JR: My first big commercial project was Sarmad Khoosat's Manto, for which I was able to delve deep into my wealth of exposure and contribute ideas varying from a wide range of genres. For Manto, I was able to utilize my wide array of musical influences and worked with Sarmad and his team to come out with four harmonically rich songs as well as a complex and layered background score.
HIP: What was the brief given to you by Saqib for working on the soundtrack of Baaji?
JR: For Baaji, Saqib Malik (the director) and I had many discussions about how he wanted to bring the old-world cinematic charms of Lollywood into a modern fold by using a contemporary score and doing new-age renditions of classic songs.
HIP: What challenges did you encounter in transforming the 70s number Yeh Aaj Mujh Ko to its contemporary version for the film? Was it an easy process?
JR: The original track is actually quite progressive for its time. Pakistani cinema in the 70s was in its Lollywood era, and musicians in the film industry had a deep fascination with synthesizers (or synths) and all manners of instruments can be heard in productions from that era. Generally, the more unique a sound the producer could come up with, the more 'groovy' (to use a 70s term) the track was considered. This gave me a lot of room to manoeuvre when bringing it into a contemporary fold. The intro in my rendition is a direct homage to the chaotic pattern of the synth in the original. The rest came about fairly organically.
I was really able to sink my teeth into the arrangements of the track, utilizing deep sound design and sampling techniques to build unique new instruments and sounds for use in the song. At one point, we went upstairs to a large, empty hall in the building where my studio is located. The hall had a particularly long reverberation time (echo) and we recorded huge sounding drums and claps there. The sounds were then edited and used sparingly in certain sections of the track.
Also, the lead sound of the synth in the beginning and for the first instrumental section is made from one guitar note that has been stretched and processed using a technique called granular synthesis. So there are all kinds of crazy experiments that no one in their right mind would want to try! But for me, I have a mission and that is to always push the envelope and develop a new palette for every project.
HIP: From what I have heard so far you chose to keep all of the original song's melody structure and lyrics intact, as opposed to changing the middle stanzas/antras and its melody (which has happened in some recreations in the past), which would have been a bit experimental. How did that come about…
JR: Saqib was quite specific about wanting to keep the lyrics of the track intact. He knew exactly which parts he wanted to use as he'd already visualized the sequence for the scene on the song. We kept most of the structure intact but removed the middle stanza and shortened the song to under three minutes. Some of the instrumental passages have also been kept unchanged, acting as a bridge between the two worlds, the old and the new. Also, I felt the composition really is fantastic and didn't need any tinkering. They don't write songs like that anymore.
HIP: How did you go about making the background music for the film? Was it a challenging process?
JR: Saqib and I discussed the film at length during the pre-production stage which helped me understand his neo-noir vision for the story. He shared a couple of references of films whose score he appreciated; though they had very little bearing on this project, but it allowed me to find common ground for his aesthetic. After that, I was left to go ahead and compose ideas as I saw fit.
For both feature films, Manto and Baaji, I've been fortunate and am grateful at being given the freedom to experiment and make the music my own. I've found that the best work I've been able to make, both commercially and critically, has been when this freedom has been granted.
Unfortunately, the vast majority of commercial projects don't allow a lot of freedom and especially where ads are concerned, the music is mostly derivative, formulaic and hence, creatively unsatisfying.
The main challenge was the short amount of time I had to finish the score for a two-hour film. I had composed the majority of ideas before I'd even seen one frame of the film, based mostly on the script and discussions with Saqib. But once the final cut arrived, I had only seven weeks to do roughly three month's work! At this point, I brought in Shamsher Rana to help flesh out some of my compositions for various scenes and he also helped produce some of the diegetic music in the film (which is music that originates in the environment of the film ie. playing in the car, in the club or other spaces).
At the end of the process, I was quite nervous when I played the score for Saqib as I'd been working for weeks without having shown anything to him. Fortunately, he was pleased with the work and asked only for very few changes. Now the film has been mixed in 5.1 and I can't wait to hear it in the cinema!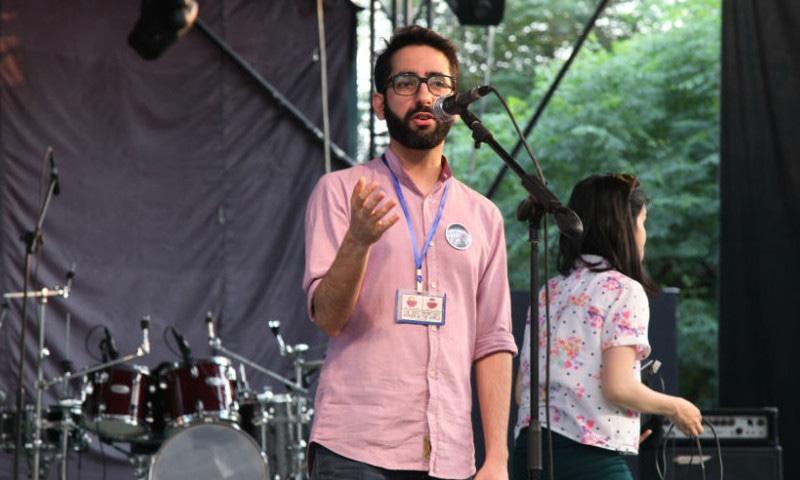 HIP: Why do you feel that Pakistan's film music from the 60s, 70s, which includes some quite interesting and unique sounding work has not been mainstreamed? As a musician, would you like to work on more tracks like "Yeh Aaj Mujh ko"?
JR: There is no doubt that the 60s and 70s produced some amazing music, but there is a larger issue at stake. Pakistan's mainstream music for the last decade has been backwards facing, where the vast majority of work produced has been based on nostalgia. This is mostly because brands and the advertising industry have a stronghold on its creative direction and for the most part, they prefer to go with something tried and tested rather than new and experimental. Therefore, a creative conservatism has become predominant in the industry. An independent artist or song can never compete with the marketing muscle of these brands and so, it all boils down to the economics of it.
Read: I Hope Baaji Seduces the Audience into its World! Saqib Malik
What this means is that open creativity, a need to move forward and write new songs has been eclipsed by pandering to the idea that nostalgia is an easy sell. Like I said in my answer to the previous question, there is a dire need for our artists and creative people to be given the impetus and the means to create new and exciting works. And so in this landscape, the need of the hour is to look forward, not backward. Having said that, of course we should also celebrate the heroes and works of our past. Our heritage cannot and should not be forgotten. But it should not happen at the expense of our current generation of artists. A healthy balance is the order of the day.
Personally, as a producer, I would love to work on more of these renditions but at the moment, I am looking to break new ground, both artistically and professionally.
HIP: What are some of your future projects?
JR: I have a myriad plans that I'm dusting off the proverbial shelf and putting into motion. After many years of deliberation, I'm finally ready to put together my first EP (i.e. an extended play record, which is shorter than an album) for which I'll be collaborating with artistes both old and new. The album will be a collection of five electronic/progressive tracks in Urdu and other regional languages. Each song will have a music video and will be released some time apart on my YouTube channel 'True Brew TV'. (youtube.com/truebrewtv). Other than that, I've recently signed up to do an exciting, edgy and new TV series for which work will start in October. I can't say much about that for not but it will be released sometime early 2020.