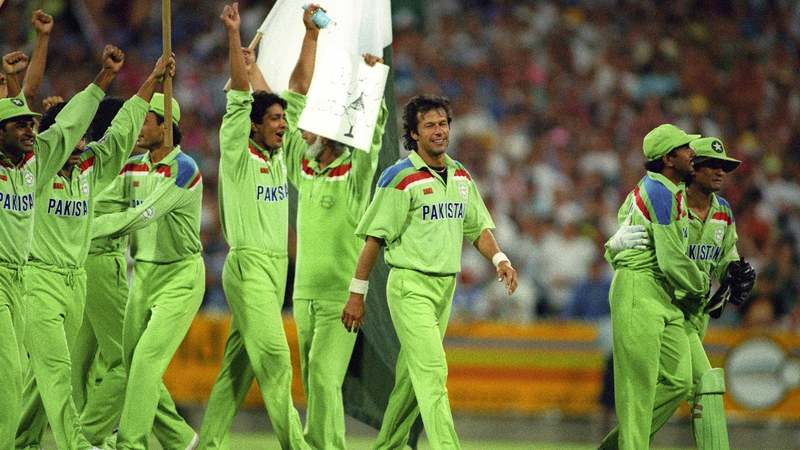 Under pressure, Pakistani stars shine to continue their World Cup journey

Eerie, freaky, spooky, whatever it is, Pakistan is doing it and making the world sit up and take notice. 27 years is a long time. Long enough to be forgotten. However, such has been the decline of Pakistan at a world stage, it still remains relevant. Terribly oversold, but still relevant.
We don't who started it this time. Perhaps it started with the unexpected election of the winning captain in 1992. Or later who knows. A WhatsApp forward, a Tweet or a Facebook meme. Again, who knows? There was as much conviction in that thought as Chris Gayle diving to save a single. Or perhaps it was faith. Faith doesn't need rationale, data analysis, or logical backing. It is just there.
But let us be honest. For the majority, it was a joke, a form of self-deprecating humour. Or at best hope and sort of a prayer to cling on to. Pakistan was going in the World Cup in terrible form, had given up on most of the ideas they followed for a good two years and it was back to square one pretty much. It wasn't an unravelling like the one in 2003, where players were in rebellion against the captain. Nor it was 2007 when your two premier fast bowlers had been left out because of an anticipated drug test and your main all-rounder suspended for aggressive interaction against a crowd member. Neither was it 2011, then again two of your main bowlers were banned because of you know what. 2015, was different too where again your two main bowling threats were nullified. 2019, Pakistan had the most stable preparation for years.
Read: Can Pakistan Turn the Tide against New Zealand?
11 losses pre World Cup and a shambolic performance with the bat against the West Indies, brought us back down. It wasn't about preparation any more. It was about 1992 again. We had lost to this team, it rained against them, and this team had a player of a similar name. With each loss, the comparisons become more consistent. But till the moment we beat New Zealand, it was just that about those comparisons. Yes, Pakistan did beat number 1 side the in the world, but that could be down to Pakistan being brilliant on the day. South Africa, was there for the taking. But New Zealand, unbeaten New Zealand in a must-win game. How can you be a naysayer of this belief that is 1992?
It has mushroomed in something global. Pakistan decided to take back the world back to that eventful year. The universe seems to be conspiring towards it. Long it may it continue in the cricket field!