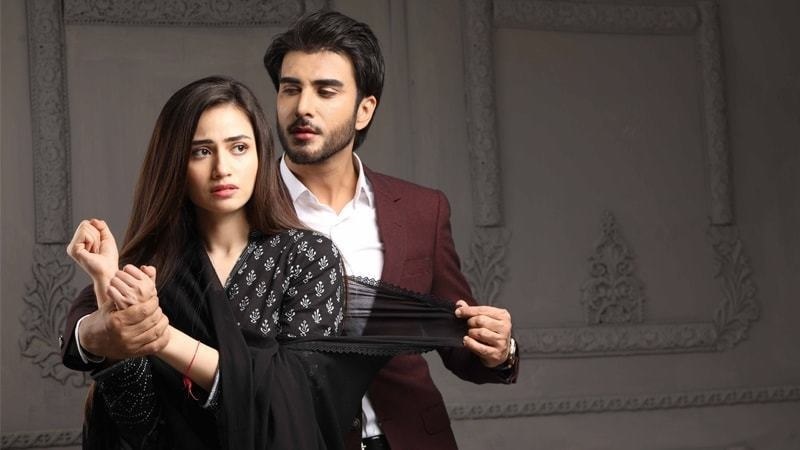 Imran and Sana are a delight to watch every week in Darr Khuda Se...

A drama which is keeping our interest alive these days in it happens to be the Imran Abbas and Sana Javed starrer Darr Khuda Se which sees the duo working in an office together and where Sana plays a very decent girl right there Imran essays the role of a womanizer who now has his eyes set on the innocent Afreen.
Written by Sarwat Nazeer, we like how well defined her each character is in the sense that despite being only three episodes old we have gotten to see many shades to each person and with the story moving at a fast pace our interest in it doubles every week.
So what happened in Darr Khuda Se last night? Well, read on to find out in case you missed it.
Read: HIP Reviews 'Darr Khuda Se' Episode 2: Sana Javed Plays The Independent Afreen With Grace!
Afreen is in not interested to return to work, not because of Shahwaiz's behaviour towards her but because she felt deeply hurt by the accusations hurled at her by Azhar (Ali Ansari) who should have known that his sister is not the type to roam around with men for the heck of it.
With Azhar now urging Afreen to go back to work one thing which we love about her is that she is no fool as she understood that the only reason why Azhar wants her to work is so the burden of the house is divided and he is not the only one left having to bear all the expense.
So a selfish person, Azhar also gets shut up call from his parents who tell him that being the male member it is his responsibility to look after everyone and his wedding has to wait as his turn will come after Afreen gets married.
Coming towards Shahwaiz well he is desperate to get Afreen back and she is not interested but with the thought of Afreen still in his mind Shahwaiz is a man that gives us the chills as he eyes every woman with a dirty eye and is now busy giving medicine over doze to his wife who is elder than him and the main reason for him getting so wealthy .
But how did this marriage occur is what we can't wait to find out and by looking at Shahwaiz we have a feeling he won't rest till Afreen is back in his office and in front of his eyes.
Directed by Anjum Shahzad and produced by Abdullah Kadwani and Asad Qureshi, Darr Khuda Se has two of the finest actors on board in the form of Sana Javed and Imran Abbas who are doing complete justice to their roles.
With the entry of Saleem Mairaj too let's see what the coming episodes have in store as we for one will definitely be watching the drama every Tuesday night at 8 pm only on Geo TV.