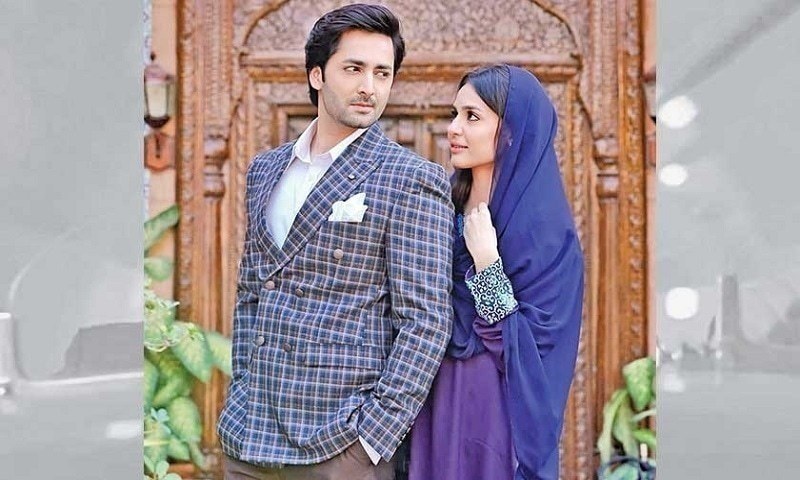 The talented actress continues to impress as she plays a character who shows how beautiful our religion really is...
The first time we saw Mera Rab Waris we were hooked to its unique storyline which shows a religious yet open-minded Ayesha played brilliantly by Madiha Imam who never imposes her belief on anyone but has had the misfortune of being married in to a modern family whose head of the family in the form of a mother in law completely hates her cladded attire and would do anything to get rid of her from her sons life played by Danish Taimoor.
Written by Jahanzeb Qamar and directed by Asad Jabal , the drama works in our eyes because for a change we have a heroine who feels very deeply about Islam and practises it in a very pleasant manner so watching a character like Ayesha is, in fact, a delight as she proves that religion, etiquettes and education can indeed go hand in hand and religion is in fact a beautiful thing if followed correctly .
But where we see Ayesha married to Harris who adores her it is her mother in law played by Seemi Pasha who hates her as she always wanted a modern daughter in law for her only son. With Ayesha never losing her calm with her another twist in the tale is in the form of Ayesha's childhood friend Faizi played by Mirza Zain Baig who has been in love with her forever but being the son of a driver who died and was raised alongside Ayesha he never had the guts to tell her how much he loved her.
Read: HIP Reviews 'Mera Rab Waris' Episode 23: Mirza Zain Baig as Faizy is an Exemplary Lover!
Fast forward to last nights episode, well it was a well made one as each episode till now is directed so well that never once does the tempo of the story break and that we feel is a brilliant achievement as often having come so far the plot either derail or becomes a drag but with Mera Rab Waris neither is the case .
So what happened in the latest episode? Well, Faizi upon Ayesha's insistence marries her sister in law Nimra who adores him but till now he has not gotten over his first love but not able to say no to Ayesha ever he agrees to the marriage. With the wedding festivities in full swing and Ayesha not liking the idea of having a joint gender function right there we see her feeling that she is indeed a misfit in the family and perhaps Harris does deserve to be amongst his own.
With Ayla never leaving a chance to be with Harris upon his mother's insistence we hope that Ayesha learns the truth soon that her husband has only eyes for her and no one else and Faizi is able to forget Ayesha and move on with his new life which now has Nimra on board.
Coming towards the acting well the star of the play is Madiha Imam, who has made Ayesha such a wonderful character that you feel like you know her personally and her joys, as well as sorrows, are felt deeply by us too. Danish Taimoor may be the lead but it is Mirza Zain Baig who keeps you glued to the screen with his presence as he continues to play Faizi with ease.
So with a lot still left in Mera Rab Waris, this production by Abdullah Kadwani and Asad Qureshi happens to be our personal favourite and we can't wait to watch it next week too at 8 pm, Thursday only on Geo TV.