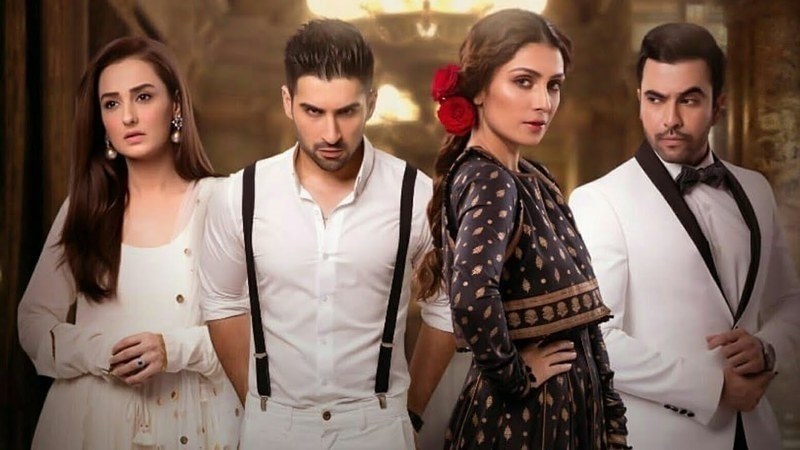 Never short of twists and turns, the story proves how different two real sisters can really be...

One thing which we are enjoying about this year is the variety which we are able to view on the small screen through our dramas which so far have showcased romantic, thrilling as well as heartfelt stories. One such play which has gained our attention right from the start happens to be the Ayeza Khan starrer Yaariyan which sees her playing a self-centered character called Zoobia who has now completely ruined her sister Sadia's (Momal Sheikh) life by a lie just to save her own neck.
Written by Samina Ejaz, her story depicts how different two sisters can be and where we like her concept as it is a highly emotional drama with lots of twists and turns right there we don't understand why Sadia continues to be heartbroken and does not gather the strength to let the world know that Umair (Muneeb Butt) that night had come to meet Zoobia and not her !
Read: HIP Reviews Yaariyan Episode 12: Muneeb Butt Continues to Portray Umair Perfectly
But with that misunderstanding not going away soon and Sadia and Umair married, last night the episode was also an interesting one. In case you missed it, read along to find out what happened.
Zoobia and Ahmer ( Junaid Khan) are getting married much to Sadia and Umair's sadness but the duo can't do anything about it and having no choice attend the mayoun of the two but that presence of theirs escalates another twist as by mistake Sadia falls on Ahmer and that sets the tongues wagging once again .
With Hina Bayat playing Umairs mother she is a wonderful character who always stands by her daughter in law especially when Umair hurls abuse at her in the privacy of his bedroom but since last night his voice was so high she quickly comes in the room to set him straight after she hears that Umair doubts the fact that Sadias child is actually his .
So a lot of twists and turns, the best part came when Umair goes to Ahmer's house to confront him and tells him about the baby which he says has to be Ahmer's as Umair doesn't remember sleeping with Sadia ever.
With Ahmer now utterly confused as to what is going on as Sadia and him never had that kind of a relationship, lets see what will happen next week because we have a feeling that now Ahmer will try to find out the truth which we hope he does because if at the first place he had more faith in Sadia all this havoc would never have taken place.
On the acting bit, all are doing a great job and even Mariyam Nafees is a delight to watch but we just hope that the drama is not stretched unnecessarily and wraps up soon because at the moment it seems to be stuck at showing Sadia crying all the time.
So hoping for the twist introduced at the end to turn the drama around and Sadia gaining more guts to stand up for herself, we look forward to watching Yaariyan next Friday too at 8 pm only on Geo TV.