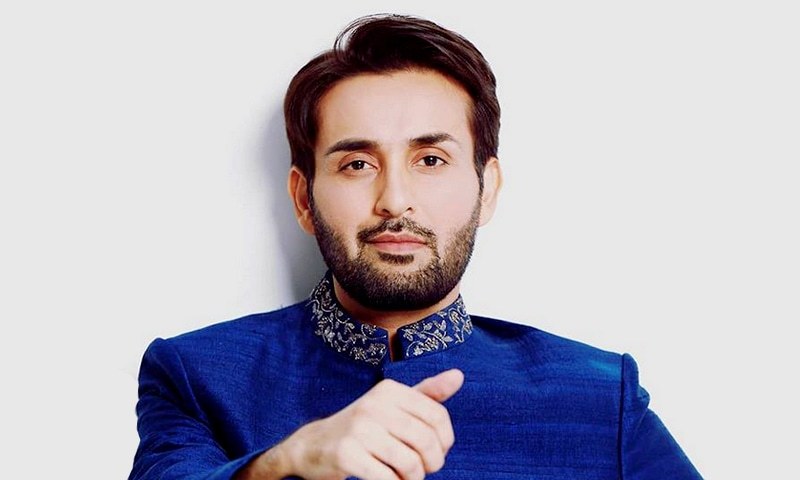 Affan's next project 'Mein Na Janoo' has already generated a lot of interest after its promos hit the air...
The first quarter of 2019 premiered a drama series which had the impact that only a few dramas have had. It garnered positive reviews and immense popularity worldwide and saw top trending on YouTube in Pakistan and India as well. Do Bol's phenomenal success won a place for itself in the heart of every viewer. The one name that made everyone sit up and take notice was the lead actor Affan Waheed. The talented actor, who debuted with 'Tere Pehlu Mein' in (2006) has remarkably made a steady rise and continues to focus on his job. Amid all the success and applause with Do Bol; the promising actor has the ladies go weak on their knees with his handsome looks. He is enjoying a golden run, garnering the audience's love across all spheres.
Affan's next project 'Mein Na Janoo' has already generated a lot of interest after its promos hit the air. It looks very different from what he has been associated so far. In an exclusive interview to HIP, Affan gives us insights about his character and shared his experience of working in Mein Na Janoo. He also opened up about enjoying stardom, working in films and much more.
HIP: My first question to you is how has life changed after the super success of Do Bol?
Affan Waheed (AW): Do Bol has been a great boost in my career; the play has been widely enjoyed and endorsed by viewers. The kind of love and acceptance I'm receiving has been phenomenal. Life has been changing every minute before and especially after Do Bol. For me, it is my job and I strive to do it to the optimum by exploring myself within an actor's capacity.
HIP: Are you like my next drama has to be a hit now?
AW: Yes, of course, it's great if a project turns out to be a hit. However, Do Bol's success was one of its kinds. Having said that, it's completely fine even if a project doesn't turn out to be hit (smiles). I aim towards being honest to the roles I portray on screen; most importantly I feel it should be well received by the audience.
HIP: Talking about your next let's talk about Mein Na Janoo!
AW: Mein Na Janoo is a love triangle knitted interestingly in many ways. It will surely keep the audience at the edge of their seats. It will make for an exciting, albeit intriguing, outcome.
HIP: What drew you towards Nehat? Can you tell us about his personality?
AW: I was excited to play Nehat because that's something I haven't experienced before. Every character comes with its own identity; I play the antagonist for the very first time in my career. Nehat isn't just another negative character. He has his reasons for being negative; Nehat projects himself as a well-behaved gentleman; he's a hopeless romantic person eventually turning into a complete psychopath.
HIP: How important is your role to the plot?
AW: My role is pivotal in driving the powerful narrative forward. As an actor, you should feel excited about whatever you do. Mein Na Janoo depicts a side of my persona that the audience hasn't experienced before.
HIP: The real test for any actor is to play different characters. Is it harder to find scripts which satisfy your soul?
AW: At times; yes! In the present scenario; people in the industry have started to push the envelope and are open to experimenting. It's a refreshing change, to say the least. It's a great time to be in the industry because actors are more fearless in accepting brave and fearless subjects.
HIP: Before going into a character, do you prefer doing workshops or you improvise on sets?
AW: It's a mix of both the elements. I feel improvising on set is relatively more conducive for me to build my character craft.
HIP: How did Furqan Khan's sensibilities and style fascinate you?
AW: Furqan is young and energetic; he's like a bullet on set. He is well aware of what exactly he needs from his actors. He firmly believes in giving actors their due space and freedom to nurture their characters.
HIP: How was it working with Sanam and Zahid?
AW: It was an absolute delight to share the screen with Sanam and Zahid. They both are gems and this isn't a customary statement to fit in the social media' political standards (smiles). I feel a good and healthy equation with co-actors will eventually benefit the final product. They both have worked very hard on their roles and the audience will be nicely surprised by their performances.
HIP: A lot of TV actors are doing films. When will you be gracing the silver screen? I am sure there must be a lot of offers coming your way.
AW: I have been offered a couple of films but that didn't land up to my expectations. I didn't want to jeopardize my television status over the desire to just be visible on the silver screen. However, if a good script comes my way I will surely do it.
HIP: How do you feel about your journey so far?
AW: My journey has been both fair and consistent at the same time; I believe that's part of life. It took some time for people to accept me in the mainstream league. I believe a positive and honest approach is the prerequisite to achieve success.
HIP: You have a keen interest in writing poetry, singing and of course painting. Are these left behind?
AW: Unfortunately; Yes! Acting doesn't leave you with much.
Concluding the chat Affan gave us an update about his future endeavors and said: I hope 2019 has many good surprises for me in store. I have signed another project with Hira Mani titled 'Ghalti'. The play also marks the directorial debut of veteran actress Saba Hameed. I hope me and Hira recreate the Do Bol magic again (Fingers crossed)