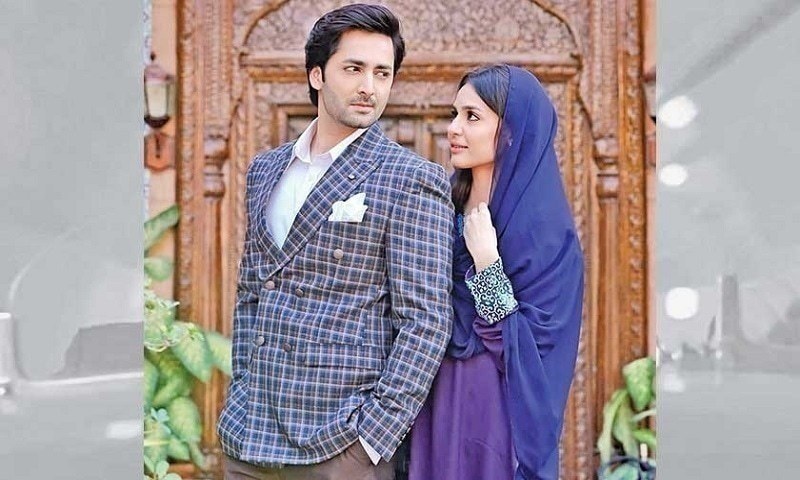 The duo share great on screen chemistry and play a married couple who are poles apart beautifully ever week.

Where we are currently enjoying watching many dramas on air at the moment right there Mera Rab Waris stands out from the rest as it shows a girl like Ayesha played by Madiha Imam who is quite religious in her beliefs but never imposes them on anyone else and that is what makes us want to follow her life journey every single week .
Written by Jahanzeb Qamar, his story is very fresh and with it has passed the midway mark the plot still is quite interesting as it continues to show how difficult it is for a girl to adjust in a new family especially when the mother in law is just fixed on getting her out of the house.
Now where elements of the saas-bahu relationship is shown in Mera Rab Waris right there we have never seen Ayesha be rude in fact she has always tried to remain calm but last night we saw that finally her mother in laws (Seemi Pasha) attitude was getting too much for her and it then that she thinks that it was about time that she stood up for herself .
Read: HIP Reviews 'Mera Rab Waris' Episode 25: Madiha Imam Makes You Love Ayesha!
So what else happened in the latest episode last night? Well, read along to find out in case you missed it.
Ayesha is left hurt by her mother in laws cunning remarks as she tells her that Harris looks only good with Ayla and she with her entire attire brings her son down. With Harris having come back after dropping Ayla home, Ayesha lets him know that she does not approve of their relationship but that upsets Harris as he does not like the fact that she is suspecting him of being disloyal to her.
On the other hand, we saw Faizi (Mirza Zain Baig) marry Nimra and where that was very tough for him we were glad to see him melt down a little towards her and accept the fact that she was his wife now.
With Harris still quite with Ayesha, he is beginning to suspect that his mother might be the one who is mentally torturing Ayesha and that is something he doesn't like one bit.
Directed by Asad Jabal, we like how each week he puts together an episode where each frame allows all the characters to make appearances and keep the story flowing at a steady pace. Now where we like Mirza Zain Baig right there last night we loved the chemistry between Danish and Madiha as they indeed did look like a couple madly in love and hurt by one another's gestures.
So will Faizi forget Ayesha and move on in life and will Harris let his mother ruin his relationship with Ayesha is what we can't wait to see this coming Friday night at 8 pm only on Geo TV.