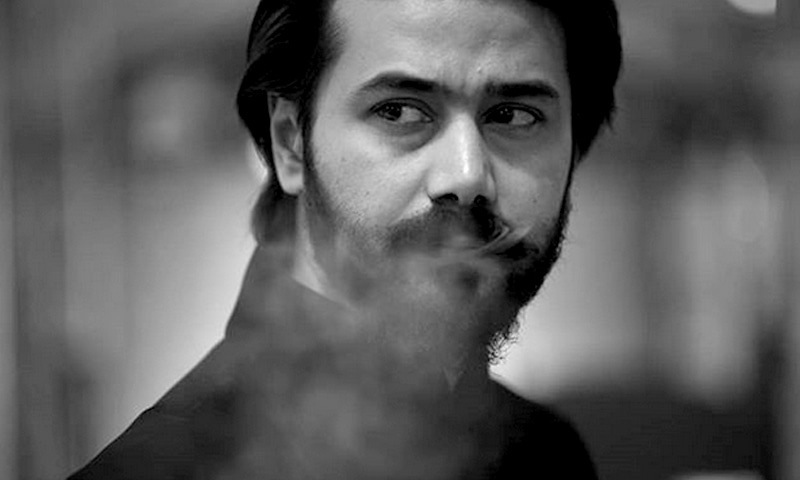 He was just 17 when he started working as an assistant with actor Faisal Rehman. He is not being accepted because he...

He was just 17 when he started working as an assistant with actor Faisal Rehman. He is not being accepted because he is Waseem Abbas's son. Ali Abbas has made it on his own by relying on his hard work and stellar acting skills. Though he began his career with a supporting role in Ladoon Mein Pali, he had his first major breakthrough in drama serial Tum Kon Piya. A string of commercially successful projects such as Khaali Haath, Mera Khuda Jane, Titli, Rubaru Tha Ishq and Kisay Chahoon made him a saleable star with producers lining up to cast him in their projects. Abbas is not just an excellent performer but a desirable celebrity among the audience. So what makes him so endearing? Read on in our detailed interview…
HIP: My first question to you is did you imagine in your fantasies that you would be an actor?
Ali Abbas (AA): Yes! I always wanted to be an actor; I have grown up in a family of actors, my father and even my grandfather were actors. I believe I am the only third generation actor in Pakistan. In spite of being a corporate lawyer; my only fantasy was to join this field. It was a huge task, as I had to convince my father who was quite reluctant with my decision.
HIP: Acting is in your blood. Does it help to be a star kid?
(AA): Yes it's always an added pressure; we are always judged and constantly compared against our parent's work and acting skills. Media limelight is constantly on us and it doesn't work in our favour. I have worked really hard to find a zone on my own.
HIP: In a successful career, there are moments of good fortune that change one's graph. Have you counted yours?
(AA): My first moment of fortune was Tum Kon Piya; it was a big role with a stellar cast. I shared the screen for the first time with Imran Abbas, Ayeza Khan and Hina Bayat under the direction of Yasir Nawaz. I tasted commercial success with Khaali Haath and joined the big league of actors. Time changed and big channels and producers took notice of me and invested their faith that I could pull off good ratings and TRP's. I embarked a new journey as the solo lead with Mera Khuda Jane with Hira Mani. Tittli with Hania Aamir was another title role that depicted a complicated husband and wife relationship. I portrayed a brutal cop in Rubaru Tha Ishq, a young and naïve guy in Kisay Chahoon. I got the opportunity to play diverse roles early on in my career and Alhamdulillah they have been a landmark.
HIP: What works in the industry & what doesn't….Professionalism more than talent? OR Luck more than professionalism?
(AA): I feel it's a combination of the three elements. You have to be talented and professional and more than anything luck plays a vital role. I work hard towards improving my craft; with sheer commitment as this is my bread and butter. As for luck; I pray for it as people in the industry support you when you're lucky (smiles).
HIP: We saw you in an intriguing new avatar in the first teasers of Naqb Zan. With what conviction you opted for this role?
(AA): I play the leading role in Naqb Zan, I found the idea very unique; I was very excited about the story and that's the reason I wanted to explore it. It's a very unique genre and I haven't tried it.
HIP: How would you actually describe Naqb Zan or its genre?
(AA): It's difficult to describe the genre as it deals with a lot of emotion. I can say it's a suspense thriller that is tremendously relevant with ample twist and turns. The entire cast has performed very naturally; I am sure the audience would definitely relate to it.
HIP: How do you see Adeel (the director) interpretation and your own into building the character?
(AA): I enjoyed working with Adeel; his brilliant vision and his courage to build characters in a unique manner will surely take him places. He is young and fresh; with time he will master his craft.
HIP: Tell us about your bonding with Saboor and Hajra. What did you all bond over?
(AA): Hajra and Saboor are one of the most talented actresses of Pakistan. Saboor has already proved her mettle; Hajra is relatively new but she is amazing and here to stay. I am lucky to have great crackling chemistry on screen with both of them. The set of Naqb Zan only had positive vibes; none of us was insecure from each other, we discussed our scenes together; had great fun in spite of playing such difficult roles.
HIP: Do you prefer doing workshops or improvise on sets?
(AA): As an actor; I believe in living the moment. I feel improvisation if done correctly helps one to get the gestures and postures or even dialogues that come in that particular moment. Workshops are important in building the characters and bringing out the extra essence but improvisation is my kind of acting style; I enjoy it as long as I am not crossing the line and it's not affecting other characters.
HIP: How difficult is it for an actor to reinvent himself and stay relevant in today's time and age?
(AA): It's a difficult yet important process to reinvent with time. If we look at the history of Pakistan television actors the ones who reinvented survived; those who stayed in their own glory gradually faded away. I feel five years from now; I'll be directing and for that, I have already started my journey of learning and observing many local and international directors. I feel it's important for actors to explore and update themselves with various avenues.
HIP: Has social media made any difference in your life?
(AA): Social media is all about overexposure. I am an introvert, therefore, it doesn't attract me. I couldn't be a singer as I was very shy (smiles). As of now my friends and family are pushing me to get into it; I am trying and that too is making a lot of difference. I have realized its importance by using it in a positive way for my profession.
HIP: Tell us something about your upcoming projects.
(AA): I was working non-stop for the last three years. I took a break for a couple of months to spend time with family and friends. I am really excited as I have five projects ready to go on air for HUM, ARY and Geo (Fingers crossed).