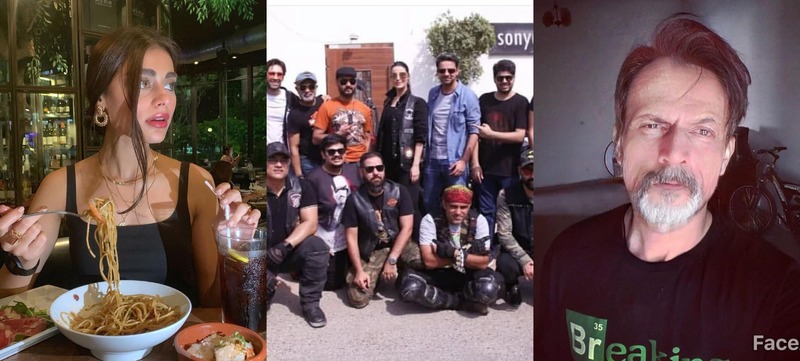 Maybe you could pick activities from the posts ahead and make the most of your weekend!

We have selected some of the fun posts by the celebs this week! Maybe you could pick activities from the posts ahead and make the most of your weekend!
Here we have our supermodel Sadaf Kanwal having fun on her shoot, Why not make it fun when going out to eat? Click some not so candid pics and pose away!
The Heer Man Ja cast making the most of their promotions! It doesn't only work for them, there are passion and fun involved! Heer Maan Ja cast riding it with The Iron BrotherhoodMc on Harley Davidsons this morning around the city!
Ali Noor takes his fans to memory lane with Manwa Re, an acapella for Strepsils stereo. The song takes you back to when you first heard it and it totally revamped it making it relevant all over again!
Get ready for our performance together at Cosby Park, Maryland - the ultimate duo comes together after years to finally perform on stage #SUNO SUNO from our very own film Chief Saab.
Many stars have been jumping on the FaceApp where they transform you into an older version of yourself, Usman Mukhtar being one of the many put up his picture and put up the funniest caption saying,
"You think I wouldn't know? If you're in my street and if my daughter is on the balcony at 5 pm, I will know. And I will find you, and I will make you watch morning shows for 24 hours before you ask me for death and I won't give it to you"
Saboor Aly inspires us to take a stand for the society and talks about women equality.. she says "I feel different because now my words will serve a purpose... a purpose to complete the incomplete to create paths for the stopped to fulfill the unfulfilled.
Women are equal to men not just in words but in purpose, I will change the world... will you?
watch out for her drama Naqab Zan, where the story revolves around the same issue.
Have anything else to add? Share your fun stories with us and let us know.