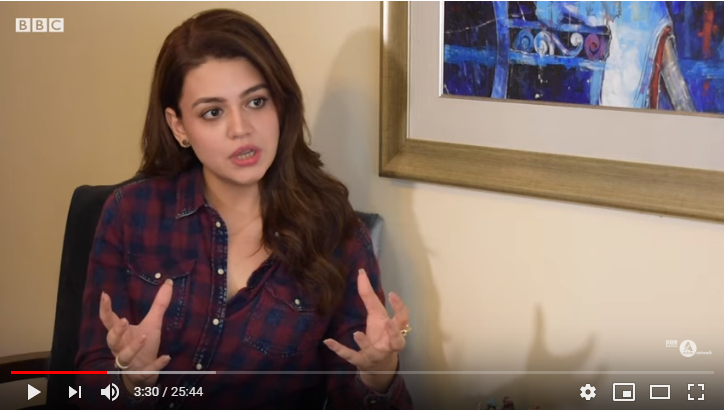 Zara Noor Abbas sat down with Haroon Rashid from BBC Asian Network. Her discussion revolved around her having to face alot of body shame and how at one point in life, she let that get to her to the point that it was becoming a barrier for her growth.
In the interview, Zara Noor Abbas talks about nepotism, being body shamed and being accused of trying to talk like Mahira Khan..
"There was a point in time when I had to tell myself to stop and make it a point where I have to embrace myself and embrace my flaws – no matter what size I am," the actor said. At the start of her career, people would tell her to get liposuction done, people would tell her not to wear jeans because of being 'too big' , The "Khaamoshi" actor said.
About imitating Mahira Khan, Zara said she was proud to be compared to an actor like Mahira khan, she said Mahira Khan was an asset to the industry, it's a good thing being compared to someone like her.
'Im a curvy woman and i love myself' says Zara Noor Abbas.
She says it was difficult for her father to accept her being into modeling or acting because of belonging from a feudal background where as, her husband Asad Siddiqi never had a problem since the start because he sees them as equal. One can do the same job living in the household and the same household duties.
She talks about herself being so confident and independant on her own, that even though Asad as amazing as he is as a husband, even if he wasnt her husband, she would still be fine as a person where as her parents might not be.
**Watch the interview here:**
She proudly stated that the backlash she got from bodyshaming has never stopped her from growing. She is a confident woman in her own body.
The trauma that comes with being a victim of body shamed goes largely unnoticed. Abbas says that it "always hurts". She shared incidents where people's comments on her body made her cry and sob over her identity.
Zara Noor Abbas will be seen in her next movie 'Paray Hut Love' and we wish her all the best for her future endeavours!