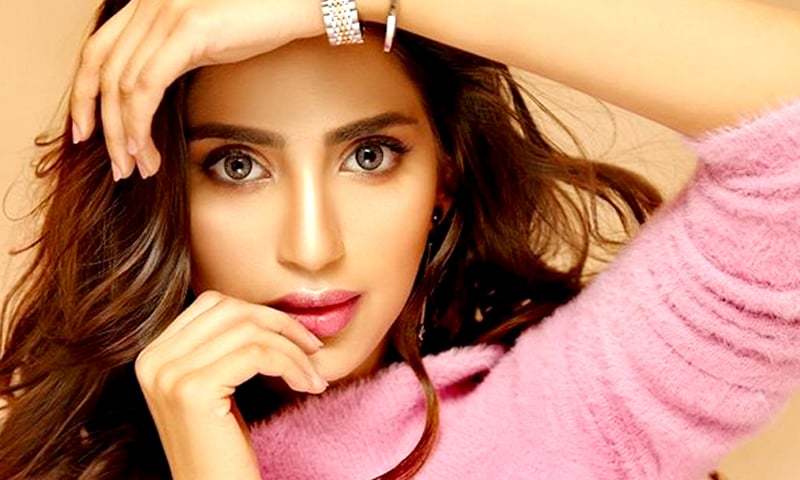 Saboor got candid about her success, her upcoming projects, comparisons with Sajal and much more...

Her unconventional choices and stellar performances have always made her one of the most buzzed young actresses of Pakistan. Saboor made her acting debut with 'Choti Se Kahani' but rose to fame for her act in Mehmoodabad Ki Malkain. She further earned praise for a series of hard-hitting performances in Mr. Shamim, Rang Laaga, Bay Kasoor, Bhai and Visaal. Today firmly ensconced in a space of her own Saboor in an interview with HIP got candid about her success, her upcoming projects, comparisons with Sajal and much more.
HIP: I am trying to figure you out and so are a lot of people? You have these very sensual eyes. Your smile is very open and friendly, yet there is something about your personality that's a bit intricate. How is Saboor Ali as a person which people don't know about?
Saboor Aly (SA): There is nothing that people don't know about me. I am the way I am; I don't pretend. (smiles)
HIP: You couldn't have asked for a better debut with Choti Se Kahani, written by Haseena Moin, followed by Mehmoodabad Ki Malkain in 2011. Both the projects turned out to be successful. Were you expecting such a response?
(SA): Not at all, I was really surprised by the huge response! Honestly, I never wanted to be an actor initially; I got into this profession after a lot of encouragement from my mom. I received a lot of love and support from my audience and it has been very overwhelming.
HIP: What made you join the industry? What were you like before joining showbiz?
(SA): I wanted to become an aeronautical engineer, acting came as a stroke of luck. I have always been the shy one; Sajal was always into singing and acting. However, it turned out to be perfect for me eventually, as of now I have fallen in love with it.
HIP: Mubarak Ho Beti Hui Hai, Meeras, Teri Meri Kahani, Ishq Mein Kaafir and recent Gul-o-Gulzar prove your versatility as an actor. What do you look in a script for?
(SA): It couldn't get better if you could use your talent to spread the message of positivity. A good and strong script is the most important thing especially those that focus on a social cause.
HIP: What is Naqb Zan all about? Tell us about your character in detail? How important is your role to the plot?
(SA): Naqb Zan is a heart-breaking story on sexual abuse. My character is of a girl who is raped on her wedding day. The life of a rape survivor, its consequences and the social impact of such trauma are what the audience will witness. The hardships she has to face within the family, friends, and society is depicted with utmost intricacy. My track is linked with Ali Abbas and Hajra Yameen who also portray pivotal roles in the play.
HIP: Are you looking for glorious peaks? Or you are happy with consistent success?
(SA): I am a woman of substance; I don't want to be known just a diva/actor. I feel we all should live in the moment; live each day for its worth, and be happy for what you've got. I never expected to receive so much love and success, I am extremely grateful for it.
HIP: Have you ever been nervous about how you look? Does looks really matter?
(SA): I think everyone is beautiful in their own way and so am I. It's just about embracing your own self. I don't have any complexes about anything at all! Beauty comes from your attitude, nature and how you are from the inside.
HIP: How do you prepare for your roles? Do you follow your instincts or the character's instincts?
(SA): I go with the character's instincts. In order to make a role a successful, you need to get entirely absorbed into the personality of your character and mold your reactions according to what it requires.
HIP: Is there a dark side about the people in the industry? How strong are you for this industry?
(SA): The industry itself cannot have a dark side - it's just a profession. It's the people who bring out the dark side of it. Everything depends on how you take it, and how you deal with it. I can't comment on how strong I am for this industry, but I do know that I give it all my all; that's in my power, and I fully play my part to pursue my passion.
HIP: How's your relationship like with Sajal? Do you discuss or criticize each other's work? Does a comparison with Sajal bother you?
(SA): My relationship with her is just like that of a typical sibling. We fight and laugh together in fact at times we fight against the world for each other. I am aware of the fact that whenever she needs me, I'll be there for her. Sajal is the most sincere person in my life; we usually discuss our work with each other, and she does criticize and appreciates my work wherever she feels it's necessary. As far as comparisons are concerned, that's natural and can't be avoided. I firmly believe that your success depends entirely on how you work and how passionate you are about your profession. There is no competition between me and Sajal, and will never be.
HIP: What are your interests besides acting?
(SA): Besides acting; I like to write, you'll find me with a notebook and a pen in hand. If there's something other than acting that I would take up professionally, I will choose interior designing.
HIP: How was the experience of working for the silver screen? When do we see you next in a film?
(SA): The silver screen has taught me all that I know; it's where I continue to grow. It's always a dream for any actor to grace the big screen. In the future, if I get a good script, I'll definitely go for it.
HIP: What dreams are you chasing in 2019?
(SA): God has given me success and with that comes great responsibility. I have always wanted to contribute to society by breaking social taboos. I have taken an initiative to do something significant and started my campaign titled #AbKarnaKyaHai. It deals with the everyday struggles and various social issues faced by people. We try to figure out the next step for them - a way for them to reach a solution. This campaign is like my child and is really close to my heart. In 2019, I just want to make it grow and reach a wider audience, so that more and more people can benefit from it.