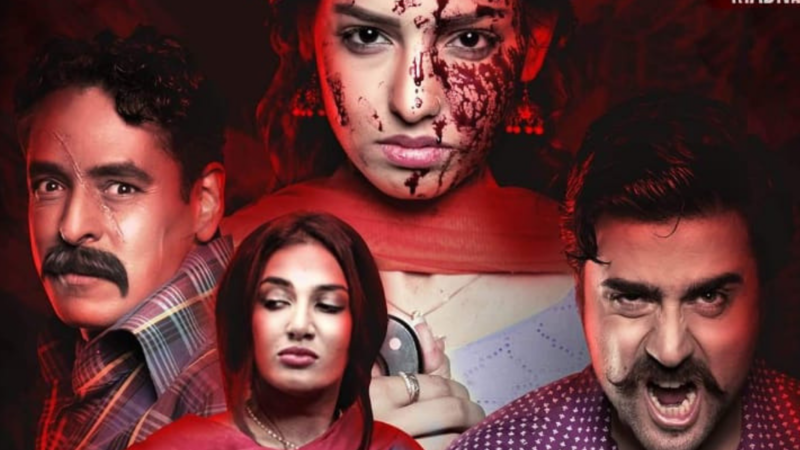 The film focuses on Karachi's turbulent period...

After Kataksha, Tevar is Abu Aleeha's 2nd film. Tevar is set in the era of 1986. A period of turmoil and violence in Karachi. It's a story of a middle-class family with two daughters, Arifa and Hina, who live with their father (Akbar Subhani) and the unsurmountable difficulties they face on a fateful day.
Not many filmmakers have focused on Karachi's violent history (some might say present) as the backdrop of their stories. Abu Aleeha as the writer and director dives right into it. Those who have endured those difficulties or heard stories will relate to the film.
This is primarily the story of Arifa (Sukaynah Khan). A headstrong girl, who knows what he wants from her life. Shaukat (Taqi Ahmed) is her cousin and is interested in her marrying her. He has traveled from Hyderabad to talk to Arifa and her father about their marriage. However, Arifa is not interested and tells him to return to his home. Both are interested in shairi, and we get to hear quite a few nice ashar.
On the other hand, is Dawar (Sharique Mehmood). He heads a small gang, which is involved in crimes. Dawar goes in and out of prison. Nonetheless, the gang members, Tony, Moju and Baali follow his instruction to the t. Also quite interesting names these characters have been given.
One that tragic evening, riots start and Dawar senses that this is their opportunity for loot and plunder. At home, Arifa is worried about her father and sister's safety. While her father returns, with injuries, Hina's whereabouts are unknown. At this moment, Shaukat takes charge to bring Hina home. But tragically she has been sexually assaulted.
Licking their wounds, this family is wondering what has happened. Yet suddenly, Dawar's gang targets them. Shaukat is hit on the head with a rod. Arifa and her father now hostages, while Hina hides.
Soon, Hina confides to Arifa, that it was Dawar's gang who gang-raped her. This enrages Arifa, who till now was submissive. She takes matters in her own hands and aims to get her revenge. Can see find enough strength in her to take on the goons? What happens to Shaukat? Watch the film to find out.
As for the performances, all the actors do a decent job without being marvelous. The antagonist group gets the most room to perform alongside Sukaynah. You feel her anguish and evil amongst these men. Cinematography is good. However, there were some issues with sound mixing.
All in all, Tevar is a story of a woman seeking revenge and a man proving his love.