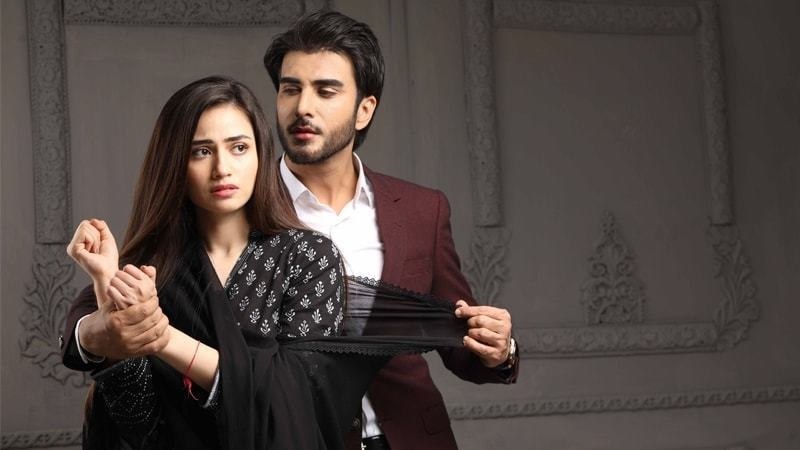 The actress dedicates herself to every character she plays and that is what makes her such a delight to view on screen.

One thing which we are thrilled to see these days is actress Sana Javed being part of plays which show women as independent but at the same time they are quite obedient towards their parents and that is something which we like to view as it gives out a positive message that you can be confident but don't move away from your basic values regarding elders . Portraying a girl with all these qualities yet again in drama Darr Khuda Se , Sana makes Afreen a very lovable character who this week also gained the attention of a very handsome family friend played by Hammad Farooqui .
Written by Sarwat Nazeer with direction by Anjum Shahzad, the duo is complimenting each others style of work and that is good to see as each week the story is developing at a steady pace by not including anything unnecessarily and slowly building the tempo for when the issue of sexual harassment at work will be addressed .
Read :HIP Reviews 'Darr Khuda Se' Episode 5: Sana Javed and Kiran Haq Play On Screen Sisters Perfectly!
Produced by 7th Sky Entertainment which is owned by Abdullah Kadwani and Asad Qureshi , this week Darr Khuda Se focused more on Afreens family and we did not get to see Imran Abbas at all but knowing that the drama will be revolving around him soon we were quite okay with the focus on Afreens family as Azhar ( Ali Ansari)) holds his valima where everyone joins in .
It is there that Afreen meets her old family friend played by Hammad who is smitten by her from first sight and we were happy to see that as she deserves someone who adores her from the heart . With Azhar and his wife looking like a duo who are not going to help the family financially in the coming days , Afreen decides to go back to work .
But will Shahwaiz accept her back with dignity is what we cant wait to see next week . Talking about the performances well Sana Javed never disappoints and her pairing with Hammad is also fresh so we also look forward to seeing more scenes of them together in the future too .
A well paced episode , Darr Khuda Se has all our interest and we make it a point to view it each week and as Afreen returns to work the story we feel will really begin from now so to watch how will things unfold we will tune in to Darr Khuda Se every Tuesday night at 8 pm only on Geo TV.