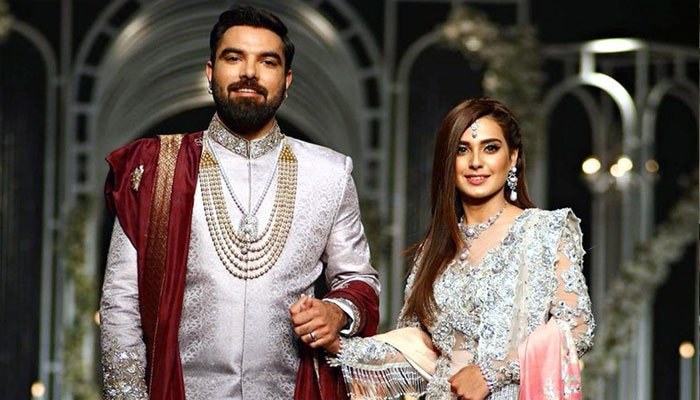 Yasir breaks silence and advices the people on minding their own business and being happy...

Sidra Aziz (Iqra's sister) shared a picture on her social media Tuesday night that looked a lot like Iqra and Yasir's engagement. As soon as the picture was posted, people started speculating and most of them thought Yasir and Iqra had gotten married. Soon enough Yasir Hussain shared a picture on his instagram and explained that the picture was from their engagement in febuary. He shared the same picture that went viral after people were speculating they had already been married and the LSA proposal was fake. Yasir Hussain announced on instagram that him and Iqra Aziz got engaged in february in a private event with their family and friends.
Also Read: Iqra Aziz Openly Says 'We Have Chosen To Be In The Public Eye'
In this post he called out people on being jealous and passing on rumours without any backup or backbone. He goes to say that people should doing investigation like his marriage is a subject to study and rather pray for them, they'd be alot happier.
He says 'Doston I'm in love and alhamdulillah I'm happy . Aap log Khush ho ya Jal k kukkar ban jao , dil mai bura samjho ya Pagal ho k Sarak pe nikal jao . Mai ne ab tak bhi apni zindagi apni marzi se guzari hai aur aagy bhi aisy hi karonga. Khushyon mai shareek hona seekhen .. Khush rahengy.'
'Yeh tasweeren Feb mai hui baat pakki ki hain . Mangni aap log angoothi pehnany ko kehty hain toh woh sari dunya k samny kia . Lekin aap logon ne meri zindagi ko subject bana k study karna shuru kar dia hai us se aap logon ki faraghat bhari zindagi ka bakhoobi andaza ho raha hai,' he added.
He also mentioned that Iqra was surpried at how Yasir proposed infront of everyone at the award show, not because He proposed.
'Aur awards pe iqra is liye Heran thi k usy nahi pata tha k mai itny logon k samny usy angothi pehnaonga.'
Have anything to add to the story? Let us know.