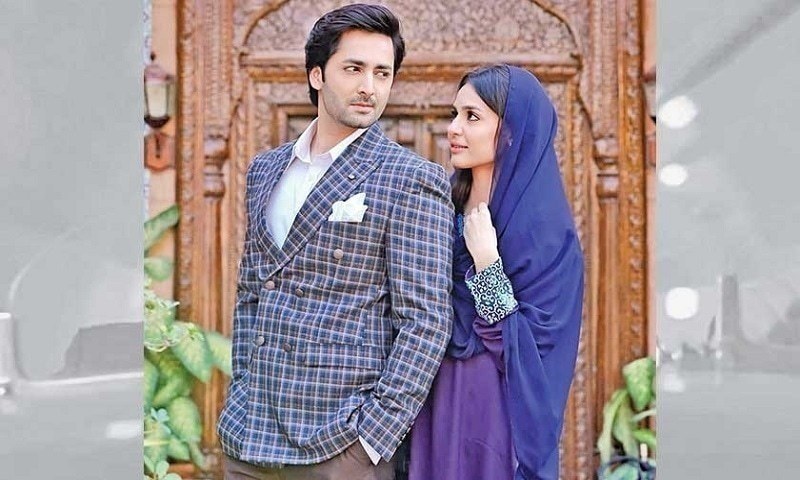 Madiha Imam and Danish Taimoor make a wonderful on screen pair and a delight to view every week...

On air for a long time , Mera Rab Waris is a drama we have not missed a single episode of mainly because the story is quite different and interesting as well . Revolving around a religious yet intelligent girl called Ayesha , it shows how she has married in to a modern family and tackles all the hurdles with a big smile which is good to see especially in this day and age where tolerance in all relationships is seen to be going away .
Written by Jahanzeb Qamar with direction by Asad Jabal and production by 7th Sky Entertainment , every week there seems to be a new emotional saga taking place but last night was actually the turning point of the drama as Ayla finally succeeds in planting lies in Ayeshas head against Harris played by Danish Taimoor whom she adores and he loves her too but sadly is not able to recognize Aylas wickedness and continues to get trapped by her .
Read : HIP Reviews 'Mera Rab Waris' Episode 27: Mirza Zain Baig Steals Our Hearts Yet Again With Faizi!
So was last nights episode of Mera Rab Waris an interesting one ? Well yes because all this while Ayesha thought that Harris only had eyes for her and despite her being religious he was okay with that but now with Ayla sending her a picture of Harris sleeping on her couch without mentioning how she had drugged him in the state Ayesha is devastated because the ring which she saw in her husbands pocket is now being worn by Ayla!
With Ayeshas mother in law ( Seemi Pasha) also involved in the game , we feel sorry for her and actually wished she had married Faizi ( Mirza Zain Baig) who is a pretty strong character and loves her to bits .
But will Harris tell Ayesha that all that is cooking in her head is a lie and will he get hold of Ayla for trying to ruin his relationship is what we cant wait to see soon .
Talking about the acting , Madiha Imam continues to win us over as Ayesha and even Seemi Pasha is a delight to view as she stands out in every scene that she is in . Mirza Zain Baig is doing a brilliant job along with Danish Taimoor and Anumta Qureshi who plays Nimra.
With a lot still left in the plot , we look forward to watching Mera Rab Waris every Thursday night at 8 pm only on Geo TV.