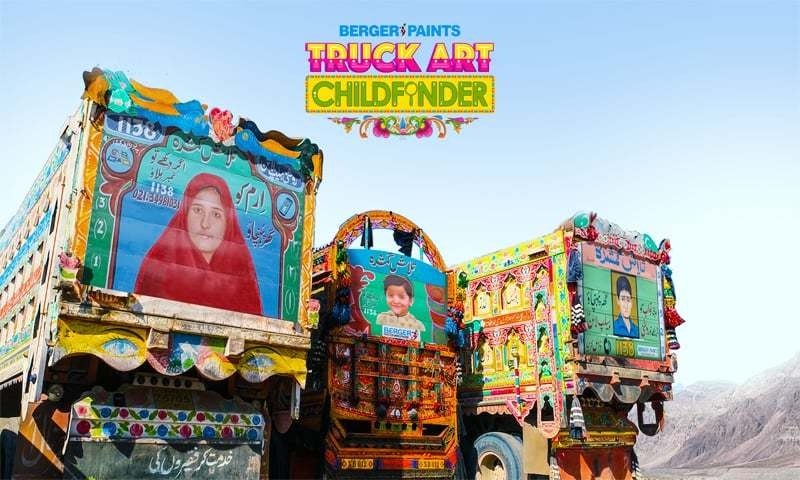 "Truck Art Childfinder" is part of Berger Paints' initiative to effectively find missing children.

At the prestigious Cannes Lions International Festival of Creativity, held between June 17 and 21, 2019, BBDO Pakistan, this campaign won two silver lions and two bronze lions.
Truck Art Childfinder aims to find missing children and educate people about how they can report a missing child or person through the Roshni Helpline. This activity required teams to paint the backs of trucks (which are famous for traditional truck art), with portraits of missing children and Roshni's helpline number.
"Truck Art Childfinder solves the strategic problem of disseminating information about missing children in a nation where not much infrastructure exits to locate them, and where traditional media does not penetrate remote locations," says Rez. "Using the most mobile form of media possible in the country – trucks – we felt that the usual portraits on the back of trucks could easily be replaced with portraits of missing children and a hotline number."
Conceptual artist and human rights activist Samar Minallah Khan and her team collaborated with BBDO on the project to create the portraits of 20 missing children on the back of trucks. When asked what drew her to truck art, Khan states, "Beyond the unique aesthetic, it was the idea of a billboard on wheels that blends so seamlessly into any local setting". Filmmaker Sarah Tareen, who produced a short video to promote the project, adds: "It is an honor to represent Pakistan at such a prestigious platform and to be bestowed with the recognition. We hope that through this effective campaign more children will be reunited with their families."
According to Rez, 20 trucks have traveled thousands of kilometers and the response has been "overwhelming." Roshni Helpline has received over 3,000 calls from 39 different cities, and seven missing children have been found so far.
Rez says that the biggest outcome of this project has been that other missing peoples' reports have been filed by people "who would not know where to go otherwise." BBDO plans to paint 25 more trucks next month in Karachi.