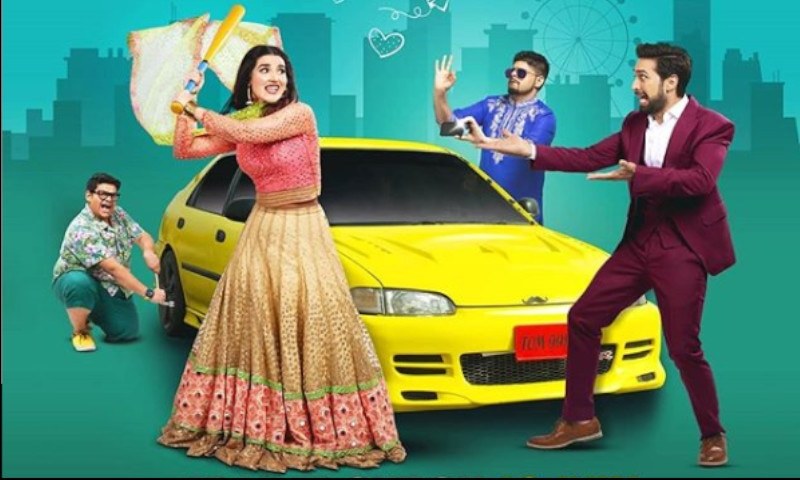 The film packs in just the right balance of lighthearted sequences, romance & emotions into its chase-driven narrative..

Often, in their zeal for showing off high-tech special effects and action set-pieces, moviemakers tend to put the emotional underpinnings of a film's storyline on the backburner. Fortunately, with 'Heer Maan Ja' writer Owais Baloch and director Azfar Jafri ensure that the film does not lose that critical sentimental quality which allows the audience to connect and relate with the characters' motivations, it's fast paced and action packed storytelling notwithstanding. It would not be a stretch to say that the film packs in just the right balance of lighthearted sequences, romance and pain into its chase-driven narrative, allowing it to rise above the usual action-comedy fare one has come to expect from South Asian cinema.
Starting with an engaging opening sequence where Ali Rehman Khan, playing Kabir, discovers that he has limited time at hand to make amends to his past flame Heer (Hareem Farooq), the movie progresses swiftly to introduce its main villain, Wajdaan (Faizan Sheikh), Heer's menacing goon of a cousin who is forcing her hand in marriage for the sake of appropriating her wealth and property. Thus begins the chaos laden ride to save Heer from Wajdaan, interspersed with nostalgia filled sequences where the two protagonists try to reconnect and build bridges over a soured relationship.
While the plot may not exactly sound groundbreaking, the screenplay and direction is watertight, ensuring that your attention will not waiver from the screen much. Also thrown along the way for a good measure, are some well-meaning social messages about gender empowerment and giving relationships their due importance in face of stiff career demands. Highlighting these themes enhances the relatability and relevance of the plot and is applaudable given how misogyny and hefty career demands are part and parcel of contemporary life in urban Pakistan. Moreover, none of the film's issue based messaging appears jarring or forced and is woven rather well into the narrative.
When it comes to performances, Ali Rehman Khan shines as Kabeer. The actor strikes the right body language and mannerisms required off his fish-out-of-water character, especially during the initial reels where he emotes hilarity inducing haplessness to convey his awkwardness at encountering Heer in a somewhat surreal scenario. Ali has definitely come a long way from the days of Janaan, and also proves here that he can execute action and emotional sequences with equal ease.
Not far behind is Hareem Farooq, whose histrionics especially during the latter half of the film give the film much of its heart. The talented actress shows much flair for comedy and emotional melodrama here. Faizan Sheikh playing her on screen nemesis brings a larger than life quality to the malevolent Wajdaan, which will definitely be the break-out role for this very capable actor.
No review of Heer Maan Ja would be complete without the brilliant supporting performances and cameos. Mojiz Hassan delivers his lovelorn-fat-guy routine with a certain panache that ensures that you will be enjoying every second of his screen time. Especially noteworthy are his scenes with Amna Sheikh, who also excels in her very sensational extended role – together, the two are bound to bring the house down. Meekal Zulfiqar and Shaz Khan are among the many scene stealing special cameos in the film and suffice to say they are integral to the movie's plot and not just included to enhance the film's starpower. Newcomer Shamayale Khattak does well as Ramzan aka Ramzy, the somewhat arrogant London returned software engineer with a crush on Heer. Credit has to be given to the film's casting director and Azfar Jafri for bringing an ensemble cast on screen that shares effortless chemistry throughout, be that the first-timers or the more seasoned performers.
In another positive, while most films suffer from the curse of the second half, here contrary to expectations, the screenplay's graph actually rises after the intermission. This is largely due to some intelligent screenwriting that introduces Heer and Kabir's backstory as well as some quirky characters during the portion, spicing the proceedings intermittently with some action-laden thrills. And talking about thrills, which are aplenty here, the camera work in the film's many chase sequences is actually quite decent for which DOP Rana Kamran should take a bow.
All in all, Heer Maan Ja has something for everyone, be that adrenaline fueled action sequences, romantic melodrama or tongue-in-cheek, but tasteful, comedy. There is even a bhangra sequence that is bound to appeal to the frontbenchers in mass centers. Moreover, the film's positive issue-based messaging is indicative of socially responsible filmmaking which must be lauded. The film easily has all it takes to keep you entertained for the over two hour of its runtime and will definitely spice up your Eid festivities. Go, check it out!