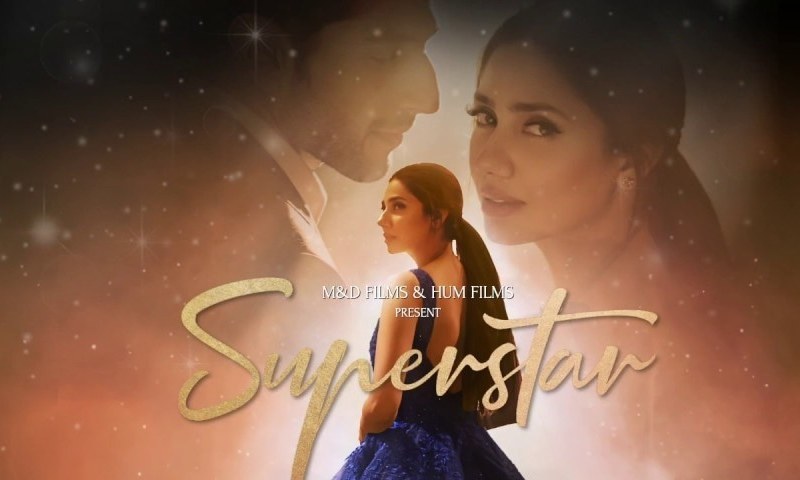 The interval, the much dreaded commercial requirement which builds unnecessary pressure on script writers and directors. Film reviewers give it another 'the curse of the 2nd half'. Mahira Khan's latest, Superstar suffers from this curse.
The acclaimed TV director and actor Mohammad Ehteshamuddin is the captain of this ship. The opening sequence has Noor Malik (Mahira Khan) performing in a theatre. Its small but an impactful scene. She is an artist at heart who believes in her abilities. Largely thanks to her grandad Saleem Malik (Nadeem Baig), a big name film director from yesteryears. Noor, awaits her big break, and keeps pestering her agent.
That comes when she is a last minute replacement, in an advertisement starring Sameer Khan (Bilal Ashraf). The muscular, sapno ka raj kumar, and the King of Pakistani film industry. Sameer and Noor, come from different backgrounds. But their desires are similar. Noor wants to be a superstar, to break the shackles and be free of her mother's constant bickering. Sameer despite being a huge celebrity, feels the need to push harder. A disapproving father (Javed Sheikh), his primary nemesis and motivator at the same time.
Yet the two find solace with each other. Noor plays hard to get. Sameer finds a way to Noor's home through her younger sister played beautifully by Alizeh Shah. He meets the family including the grandad. This cute little love story blossoms, slowly. The director does it tactfully. Professionally they are to play the lead pair in a film by 1st time director Shan (Ali Kazmi). Shan is the lone friend of Sameer and one who has supported him through thick and thin. Things start falling into place for Sameer and Noor
And suddenly, booms the big twist hits you like a wrecking ball. The whats, the whys and the hows dumbfound you. The film never really recovers from that. Part of the problem here is that the 1st half shows the journey of Noor. Mahira Khan makes us believe. She is struggling to get somewhere, and you will her on. In the 2nd half, the story focuses more on Sameer Khan. He is someone, who needs to learn about life. Its a tough and demanding role as his personal and professional life changes suddenly. Despite his vast improvement from his last outing in a film, Bilal Ashraf's performance is patchy. It doesn't help that the director seems to be in a hurry.
We do get a moving scene with Javed Sheikh and Nadeem Baig. Yet the screen play by Azaan Sami Khan never really grabs your attention like it did in the 1st half. Even the beautiful Bakaran Ishq, seems like its being forced down. What started as a beautifully simple love story, turns into a rushed melodrama.
As for the technical aspects, its again a mixed plate. Cinematography seems adequate without being mesmerising. However, poor editing perhaps was a major reason the film felt rushed. To put it simply, its very choppy. But the saving grace of the film was definitely its music. The songs and the background music are just beautiful. This is the USP of the film. If this was the 90s, cassettes of Superstar would have been in demand.
All in all, its a bit of a lost opportunity given how well the film starts off. An excellent half is ruined by an outlandish twist & rushed climax.
Lets look at what people had to say about the film :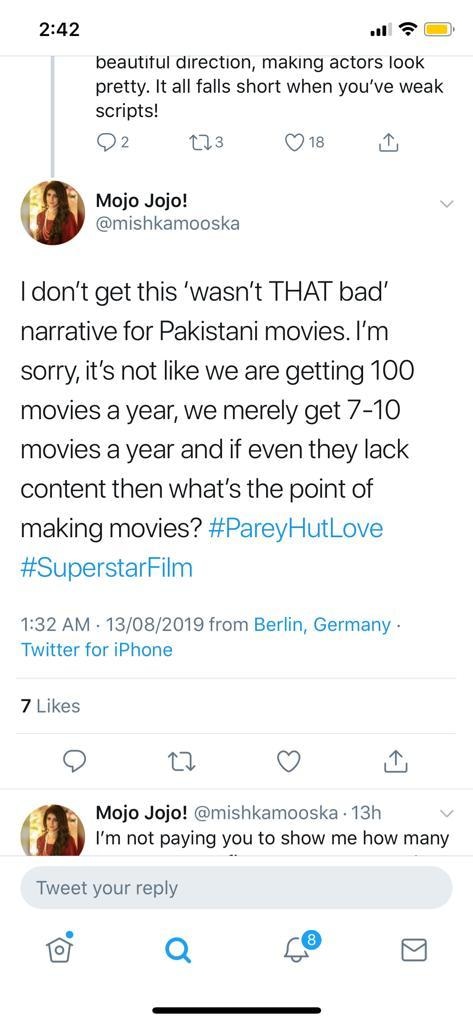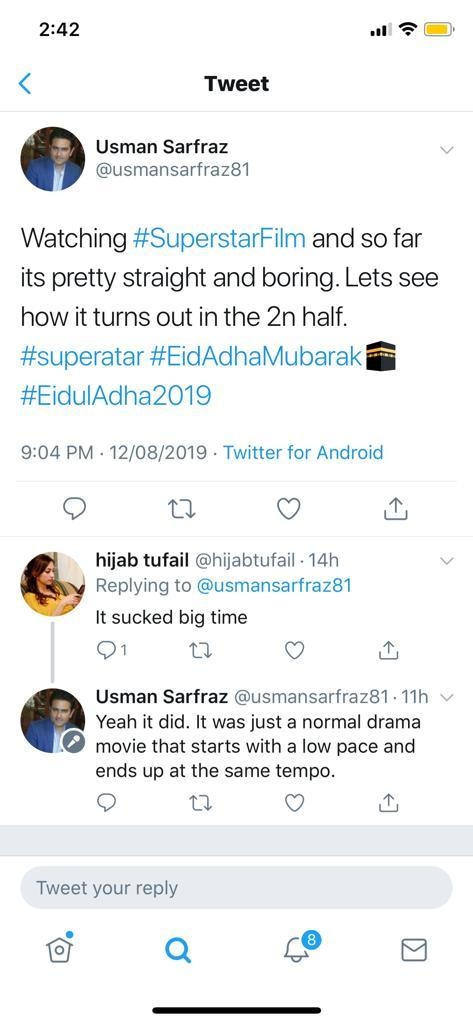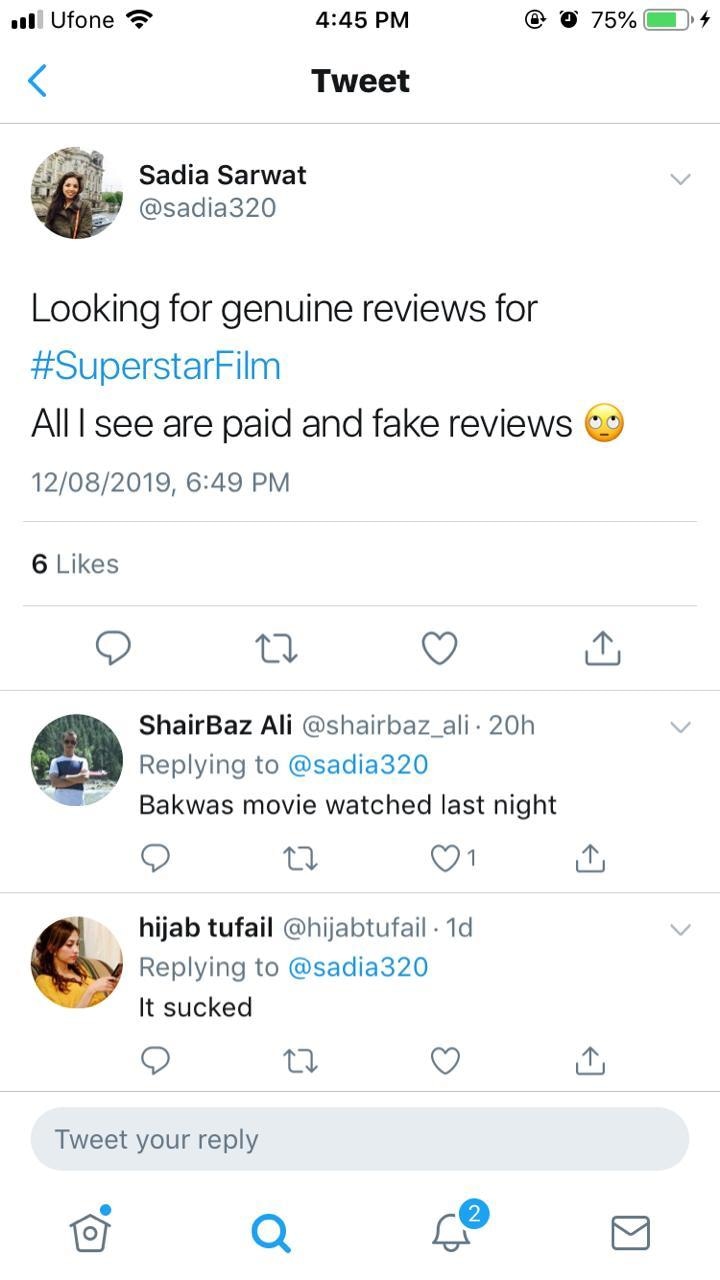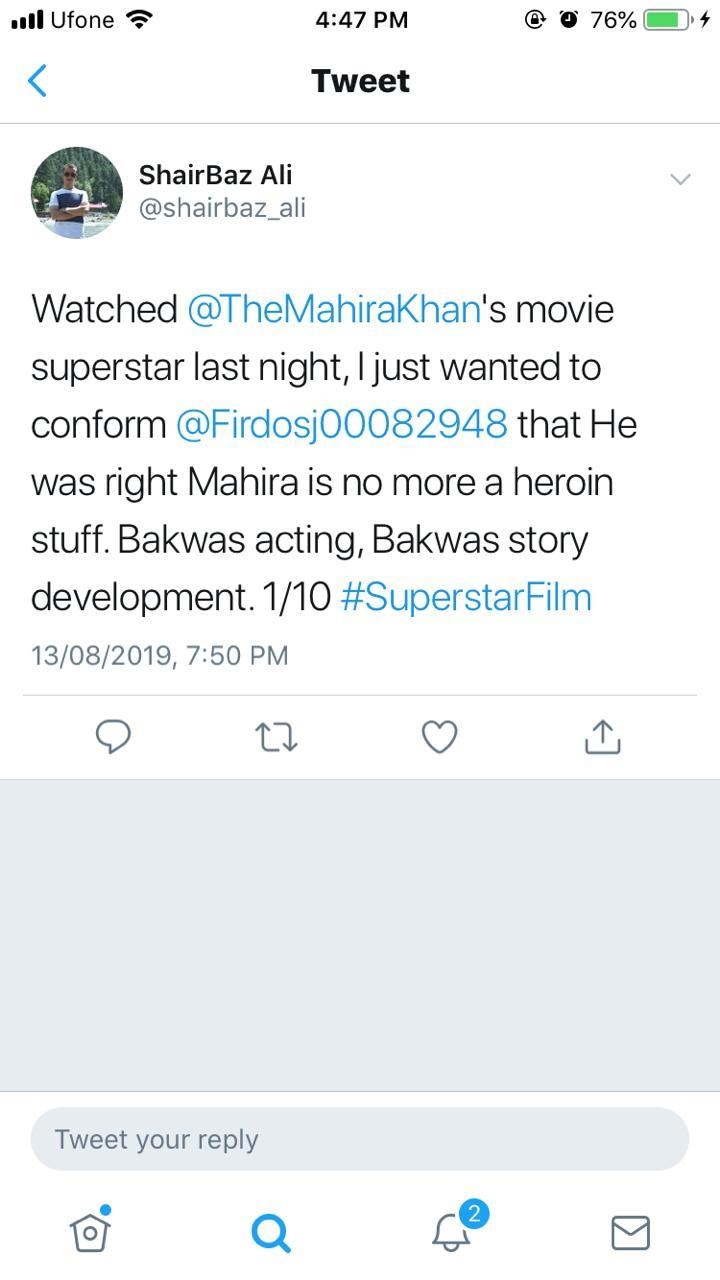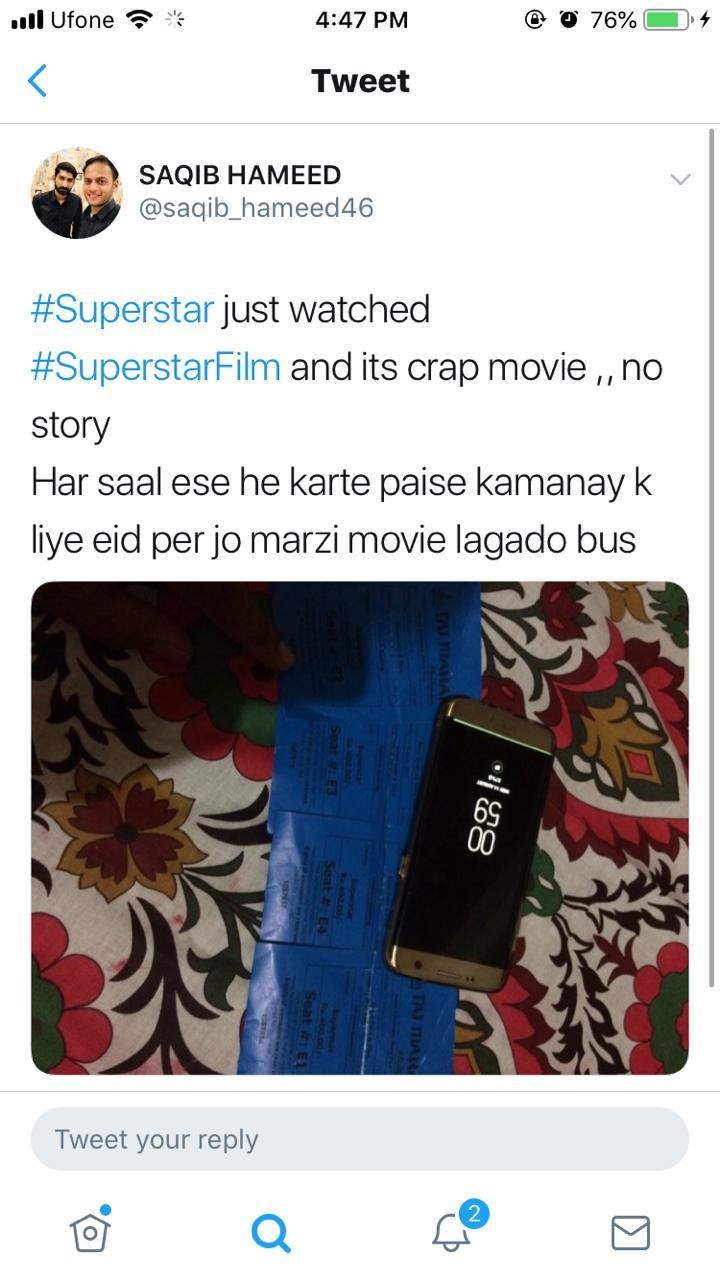 Watch the trailer here: