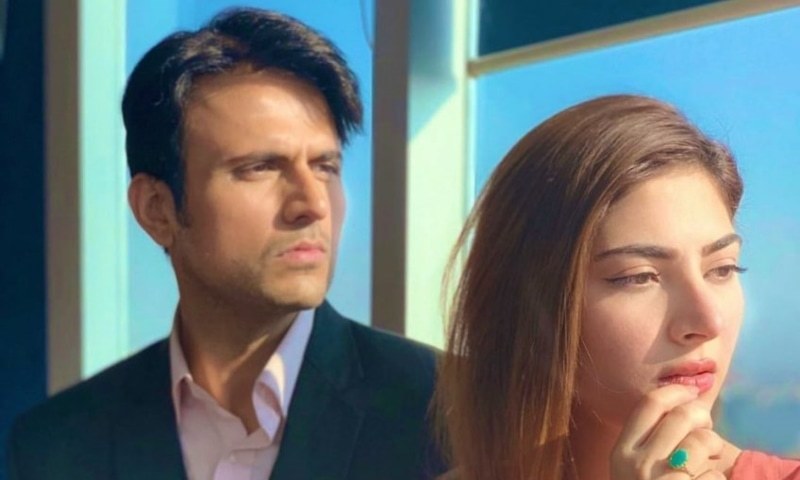 Usman Mukhtar and Naimal Khawar are the attraction of the drama and credit for this goes to director Shahzad Kashmiri.

With many dramas on air at the moment , one play which we began to follow religiously after its third episode was Anaa which has Shahzad Sheikh and Hania Aamir in the lead but it is in fact the second pair in the form of Usman Mukhtar and Naimal Khawar as Altamash and Izza who have made us a loyal fan of it as their on screen pairing is fresh and story line far more interesting than Areesh and Daneens .
Written by Sameera Fazal , the plot revolves around two families who are related but circumstances have left a void in between which still shows no signs of going away but last nights episode was a very special one as it showed Izza getting married to her cousin Kabir much to our horror !
So sitting sharply at 8 in front of the television to see what will happen next as we along with many fans of the drama really want her to be with Altamash who is far cooler than Kabir were relieved to see her say no to the Nikah after her father played brilliantly by Farhan Agha gives his consent to decline if she wanted to .
Read : HIP Reviews 'Anaa' Ep 23: The Duo's Relationship Is Progressing
With that tension out of the way right in the beginning , the rest of the episode was good but we feel that the case of Areesh and Daneen is being dragged a bit too much and a conclusion should be reached soon as it really is unfair to Ania ( Areeba Alvi) who is about to give birth to his child to witness her husband running after another girl.
Complications everywhere , one thing which we loved about last night was seeing the scene where Altamash gives Izza a flower as this was the scene for which we actually stay tuned to the drama for so long as after Fawad Khan and Mahira Khan as well as Ahad Raza Mir with Sajal Aly comes a on screen pair who makes you want to root for their love story and the credit for that goes to director Shahzad Kashmiri for picking these two actors who have blended in to their characters so well .
Coming back towards Anaa , Nashwa is the new hitler in town who like her father played extremely well by Shammal Khan wants to take over all the wealth and cant stand the fact that Areeshs child whom everyone is assuming is a son will be the heir and not her .
So what will Nashwa do to make sure she is the rightful owner as well as what will be her reaction once she sees Altamash and Izza together is what we cant wait to see next Sunday night at 8 pm on Hum TV as this is a drama which starting from its script to all the actors on board is not to be missed at any cost and we hope that a second part is indeed made which will focus entirely on Usman Mukhtar and Naimal Khawars characters as they truly are the main attraction of the show.