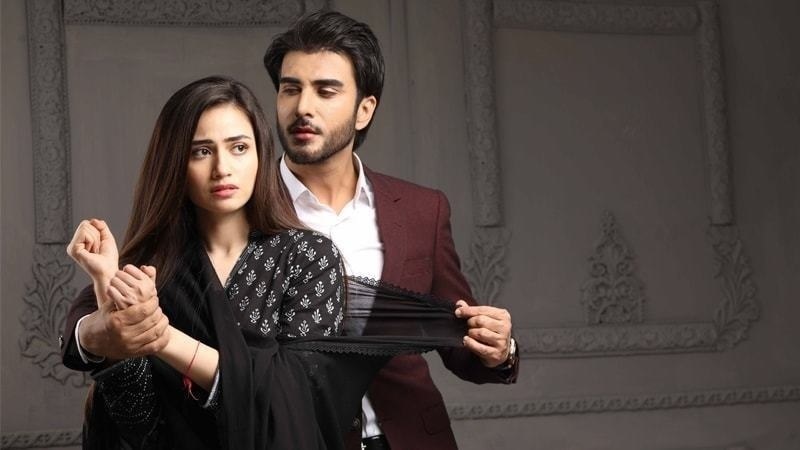 Characters like these are a must watch as they show that there is no need to compromise on principles....

One thing which we have always said is that this year has been exceptionally great for television as it saw many diverse topics go on air which also won the love of the audiences proving that everyone was ready for a change . With the latest Darr Khuda Se which deals with sexual harassment at work , we are happy to see such a topic go on air and star the versatile Imran Abbas and Sana Javed in the lead .
Written by Sarwat Nazeer and produced by Abdullah Kadwani and Asad Qureshi, we like how besides dealing with such a sensitive topic she has also shown the emotional ups and downs of a family who by todays standard is still a bit orthodox as seen with Tamkeen (Kiran Haq) who is divorced but still not allowed to go out alone and as she got a bit late last night her parents have told her to not go out at all .
So what else took place in last nights episode ? Well read along to find out in case you missed it .
Read : Darr Khuda Se Episode 7 In Review : Sana Javed Wins You Over Yet Again With a Stellar Performance
As we said Tamkeen is not allowed to go out alone but we don't think she will abide by it as she has fallen in love with Saleem Mairajs character who too seems madly in love . Nothing in wrong with this relationship we still have to keep in mind that the play is showing majority of the families in Pakistan who do not allow freedom to their daughters but then again with Afreen ( Sana Javed) allowed to work and be independent we did feel that the parents were being un fair to Tamkeen .
Moving away from Afreens household , Shahwaiz (Imran Abbas) has his heart set on her but she does not think of him in a romantic manner at all and that is shown once again when he asks her to go out with him but she again refuses him and that is where Afreen wins our respect as she was quite stern in her no which actually made Shahwaiz quite angry .
So not willing to compromise on her principles lets see how Shahwaiz plans to make Afreens life miserable and how she will come out of it is what we cant wait to see every Tuesday night at 8 pm only on Geo TV .
Directed by Anjum Shahzad , we like the pace of the drama as slowly it is getting quite intense and that is how it is keeping us engrossed in it . Acting by Sana Javed and Imran Abbas is top notch and even Kiran Haq along with Ali Ansari are doing a superb job . Legendary Qavi Khan is a delight to view and we cant wait to see how will it really end for all involved !